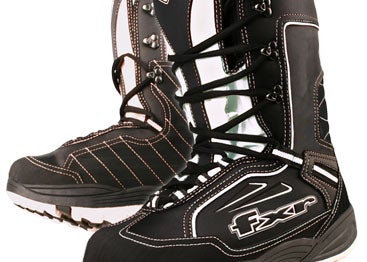 Apparel company introduces Backshift for active riders
No matter what type of snowmobiling you do, reaching your destination in comfort is a must.
A lot of people wear a pair of their favorite hunting boots or the least expensive things they can find at the local department store. It may be the most economical thing to do, but it causes a lot of discomfort if you have to trudge through waist deep snow. That excess work causes your feet to sweat—like the rest of you—leaving two ice blocks on the running boards for the rest of your ride.
Having a boot that insulates your feet to a consistent temperature is essential for all riding conditions. The FXR Backshift, with its removable insulated liner, offers you that type of comfort.
New this season and made by FXR Racing (http://www.fxrracing.com/) of Sanford, Manitoba, the Backshift replaces the Adrenaline X from 2006-07 and is priced at C$179. Fashioned in all black with white stitching, accents and embossed FXR logos, it certainly stands out.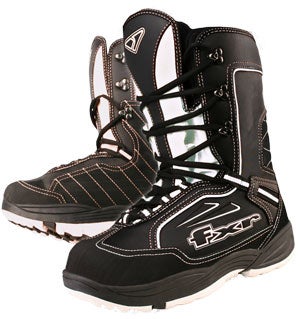 Simply put, the Backshift is a great looking boot that keeps you dry. In this case, more than 500 miles of riding has already been spent wearing these modern mukluks in all sorts of riding conditions. Whether it's four feet of powder, heavy snow or trail riding, these boots perform. Side to side transfer for the hard-line rider is a breeze as the lightweight design doesn't hinder movement. Add to that how the noticeably aggressive bottom grip sticks to the running boards for much needed balance and you've got a recipe for some serious riding.
Getting off the sled and heading into the warm up shelter? Not to worry. While providing ample support in the fun stuff, the Backshift is a flexible design that doesn't have you leaning forward like you're walking around a ski chalet. This dual purpose styling is attributed to the re-enforced PVC upper. The strategic Achilles flex zone provides an Easy Walk Technology users will be thankful for after a while off the sled.
FXR is a major competitor in the snowmobile boot market. With the lower priced Team (C$149) and higher priced Octane (C$199) available, the company has given riders of all ages a chance to experience lightweight comfort at its finest. While all boots are tested to be warm to at least -40C, the Backshift is rated at -50C. Truth be told, if you find yourself in weather that frigid, you've got bigger problems on your hands than cold feet.
The lace system is a standard eyelet on the bottom half with a quick lace system up top on all three styles. Just make sure you double the laces around the top half of the boot, as this keeps you from having wet or frozen laces when you hit your destination.
While the pros to the FXR Backshift are plentiful there is only one issue. While the majority of the boots are covered with a soft compound TPU upper, rubber toes with rubber midsole and outsole, there are a few small spaces around the top of the foot that are made of a softer, more porous, material. Since this is the case you may need to do some aftermarket detailing. The pair we tested hasn't been coated with any aftermarket sprays, so we can't offer a recommendation. However, the best advice is to approach your local shoe store (heck, even bring the boot in so they know what spray to recommend) and see what they can offer up as a preventive measure. You may not need it, but better to be safe than sorry.
Related Reading: Ski-Doo Goes MX with Pro Sno Cross Helmet No Fog Mask Helps Riders See Clearly