Ski-Doo Goes MX with Pro Sno Cross Helmet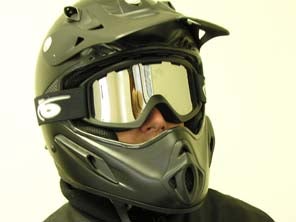 Style and safety among the key features of this latest model headwear
MX style snowmobile helmets are more popular than ever, especially among riders who regularly venture off trail and into the deep stuff.
The Pro Snow Cross helmet from Ski-Doo is among the most stylish of those available, and for 2008 it comes in three limited edition graphics packages, including a pink version for the ladies.
Gone is the ever popular matte black, with this color option now offered only on the regular Snow Cross helmet. You might still be able to find a left over matte black model from last year, but don't hold your breath. This helmet has been featured heavily in Ski-Doo's marketing materials and was a big seller in past seasons, so the chance of finding one is slim. Whatever color you choose, you're sure to look hot while riding in the cold.
This lid, with a fiberglass/Kevlar shell (yes, the stuff bullet proof vests are made from) is Snell and DOT approved, so in addition to looking good, you can expect your noggin will also be well protected. Sizes range from XS to 2XL, so there's bound to be a model to fit just about every head.
We tested a Pro Snow Cross helmet (fortunately, despite several close calls, we never had to actually test the shell), and found it to be quite comfortable, with great cold protection, yet adequate ventilation.
One of the reasons these Snow Cross helmets are so popular with cross country and mountain riders is that goggles are more resistant to fogging than face shields. This is especially true when moving at slower speeds or exerting maximum effort when boondocking (or, ah, getting unstuck).
And because these riders often find themselves looking upward (climbing mountains will do that), they also appreciate the adjustable visor. The peak can move up or down over about a one-inch range. Lowering it is convenient when riding on bright days or when the sun is low in the sky. Lowered, it also helps prevent 'helmet lift,' a sensation often felt when wearing peaked helmets while riding snowmobiles with short windshields. Rough black rubber patches on either side of the helmet—what Ski-Doo calls Strap Grips—keep your goggles secure.
The padding inside the helmet is thick where needed and creates an air-tight seal to help block out cold air. However, wearing a balaclava is recommended, particularly on cooler days. The padding is also removable for washing, but nearly a dozen strategically placed non-adjustable vents do a good job of keeping you just cool enough to prevent sweating. After several hundred hours, ours still smells new (although the balaclava has been washed repeatedly).
Unlike their snowmobiles, most of Ski-Doo's apparel is manufactured overseas, and the Pro Snow Cross helmet is no exception. Our model was made in China, so one immediately questions quality. Surprisingly, though, there were only some minor issues with our test model.
The biggest gripe we had was with the neck collar which, although removed, is not supposed to be removable. Closer inspection reveals it was fastened to the helmet with two lines of glue—each about as thin as a hair—on either side. A brush full of contact cement should fix the problem, but you would expect that on a helmet costing US $219, or C$279, they wouldn't hold back on glue!
Overall, after many rides worth of use (and abuse), the helmet has held up very well, with only a few nicks and scratches to show that it has been pressed into regular service.
If you're thinking about making the switch to an MX style helmet, the Pro Snow Cross model from Ski-Doo is an excellent choice.