2012 HMK Snowmobile Gear Review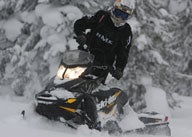 The affordable choice for functional gear with style
Always fashionable to wear, HMK is a company that prides itself on being a sound choice for products that deliver function without killing your Christmas budget. In business for nine years, HMK has established itself as a keeper.
HMK has not always been an outerwear company. The company began in Oregon as a humble boot company building a boot that was used and preferred by many extreme video freestylists, Winter X Games and Red Bull's Fuel and Fury contestants. After selling a lace up boot for several years, HMK moved to the BOA boot.
Its famed white outer shell and BOA steel cable latchet system quickly elevated it as the boot to have. For several years, I have worn the BOA boot and have come to rely on its easy-on and easy-off fit and its boot-tightening system. Through several years of use, I have not snapped a cable.
Kirk Zack, founder and owner, has kept himself busy growing the company. He rides the mountains near his hometown and explores many others with his dealer and customer base. He rides so he can sell. According to his bio, Kirk…"in '90…he began working with Kemper Snowboards. He then moved to Oregon in '94 to work with Nitro Snowboards as the Sales and Marketing Manager. It was here in Oregon that a core group of friends would gather every weekend, fire up their sleds with snowboards loaded, and search out untracked powder in the Pacific Northwest backcountry.
"While at the X Games in Mt Snow, Vermont, Kirk noticed most of the Snocross riders were wearing snowboard boots. After talking with a few of the top guys about what their dream boot would consist of, he went home and created the first HMK Highmark prototype. This innovative boot had the look of a snowboard boot, but was technically superior to the current snowmobile footwear out on the market.
"A lightweight boot with great heel hold, forward lean, aggressive tread pattern, and an extra toasty Thermal Foam liner, the HMK Highmark series boots were born. Top competitive riders, as well as weekend enthusiasts quickly discovered that the Highmark Boot really added to their overall riding performance, and it didn't take long for the boot to get noticed amongst the snowmobile industry."
HMK followed up on that success and currently offers clothing from toe to head. The company's standard membrane liner is REISSA. This product allows perspiration and heat to flow off and away from the body and to the outershell. It's used both for the upper-end coat / parka and bib / pant.
A second membrane product, which HMK uses on its higher-end products is Humax. This new product competes with E-vent and Gore-TEX in function and use. Humax allows moisture to move from off the body while preventing outside moisture from moving in.
Another moisture wicking and waterproof material HMK uses is Sympatex, which is specifically designed into the HMK boot bootie to keep your feet sweat free. It is a different kind of waterproof barrier.
Cordura, a rugged material, provides the windproof and other impact protection. These fabrics are either extremely water resistant or waterproof. This is due to the fact that Cordura fabrics are largely made up of Nylon66, an extremely durable and waterproof material, or of other types of Nylon that are water resistant.
Thermalite provides insulation that helps a rider stay both warm and cool. Generous amounts of fleece are used where skin meets material. HMK recognizes that winter enthusiasts wear gloves or may have cold fingers, so the company specifies YKK zippers with large pull-tabs, which are used throughout. Proper material welding and stitching are effectively used, where needed, to assure the REISSA membrane is not compromised. The moisture wicking and wind and waterproof membrane that is attached to the outer layer's underside is laminated.
Pant and coat seams are properly taped to attach two cloth panels together for a seamless fit that will not compromise wind and water proofing. And, since we live in the age of mobile communication, HMK makes certain that its coats have ample room for a cell phone, GPS or MP3 player. There are headphone slots to keep the tunes pumping into the gray matter.
Since HMK started out by making boots, you can count on them being first rate. This past season I wore HMK's new Voyager BOA boot, which for 2012 is in its third season. The boot, which looks like a hiking and hunting boot, has a narrow sole pattern that allows a driver to stay properly fitted into a running board. The boot is flexible and provides warmth and comfort. Again, its BOA steel cable latchet and ratchet system makes the BOA Voyager easy to use. Under the boots are strong Vibram soles that, from my experience, resist the slicing and dicing from a runningboard's serrated edge.
The BOA and lace-up boots work best with HMK's Summit Thermal Sock. This sock provides breathability and comfort that mates well with all HMK boots. I recommend this sock, as it is a good companion to the Sympatex boot membrane. The over-the-calf sock is made of a moisture-wicking poly blend.
As snowmobilers know firsthand, layering is the key to warmth and comfort and that is one reason HMK is offering underlayers that are much needed when riding in frigid temps. Layering allows the outer layer, the coat and pant to function at its highest level. Furthermore, layering helps control body temperature and assures efficient and effective moisture wicking. The Microthermal undershirt and long john pant are dual layer knit of spun and filament yarns that trap air for improved insulation and moisture transport. The underlayers use HMK's exclusive ec2 Qwik-Dri electrostatic process which modifies the fiber to improve moisture transfer and release. This is in turn a keeps rider dry, warm and comfortable.
All HMK clothing is covered with a limited two-year warranty.
For more information on HMK, go to http://www.hmkusa.com/. Product descriptions are found here: http://www.hmkusa.com/_catalog_2011/.
Related Reading Understanding KLIM Snowmobile Gear Top Deep Powder Products Seeing the Light on Lite