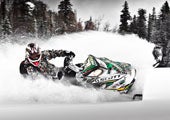 Add your own style to snowmobiling's style leader.
When it comes to style leadership, the folks from Valcourt, Quebec set a standard for powersports flair whether it's in ATVs, three-wheeled motorcycles, personal watercraft or snowmobiles. BRP's Ski-Doo snowmobile line traces its fashion flair to the earliest vintage 1959 oversnow vehicles that took the sport from industrial to recreational. Those bright yellow Ski-Doo models created a market that briefly hinted at 500,000 unit annual sales, but earned the brand more than 50 percent of the market.
Times have changed and sled sales never reached those high marks and Ski-Doo marketshare dominance dropped below 50 percent. Still, Ski-Doo satisfies brand loyalists with styling flair and innovations that make the yellow and black models standouts on the trail. That's not to say that Ski-Doo riders have to settle for factory standards. No, indeed, as many aftermarket accessory manufacturers look to Ski-Doo owners as their best customers for putting their own stamp of personalization on their Ski-Doo snowmobile.
Making a standout sled even more of a personal statement becomes easier if you thumb through the 100-plus pages of the Ski-Doo parts and accessories catalog. The folks at BRP Ski-Doo are not shy at offering ways to spiff up their factory's models. But, you can check out other options from everything from bumpers to bags to top of the line drivebelts or colorful and bold wind-beating windshields. Here's a sample of the customization options available to you.
Sled Wraps
Ski-Doo makes bold statements with its optional "wraparound" designs. You can choose your own style from a grouping available from Ski-Doo and its dealers or you can look to the aftermarket and companies like SledWraps (visit http://www.sledwraps.com/ for design ideas), based in Pawlet, Vermont and one of the more radical sled design teams on the snow. If attitude is your style, SledWraps can help you out with basic designs starting around US$300. If you want custom, check out the company's gallery portfolio with designs for standard REVs and even some concepts for Ski-Doo's Tundra Xtreme.
Wind Cheaters
If overly bold is too much, try a new "look" with a handsome windcheater from Cobra. If you have a REV you might like the 14-inch height of a Cobra tinted windshield with yellow accents to freshen your sled. Unlike the stock unit that pulls off, the replacement unit will be bolted to your sled. You will need to remove the stock windshield and its attachment fixtures. This specific unit will fit 2008 to 2013 Ski-Doo REV XP models, but will not fit the XS, XR or XU chassis Ski-Doo models. The unit retails for approximately US$90 and can be found at online stores like Dennis Kirk or at Powermaddstore.com.
Tunnel Bags
If you look in the Ski-Doo accessories catalog you'll find ample storage solutions, including the new Linq system that allows you to attach select gear directly to the extended tunnel area on the newest 2013 Ski-Doo models. If you are more traditional, there are other options for on-sled storage such as the Snobunje Tunnel Bag that provides upwards of 1,280 cubic inches of added space.
The unit, which retails for about US$60, measures eight inches deep by 15-inches long. For maximum space, the unit expands from a height of six inches to 10-inches. Easily mounted to your sled with supplied straps, the bag features padded sides. You can check out the bag at http://www.snonunje.com/.
Handy Tools
What will you put in your storage bag? How about some "just-in-case" tools such as this handy folding tool kit from Cruz Tools, the supplier of tool kits for action sports riders like motorcyclists, ATVers and snowmobilers. Cruz Tools offers an assortment of kits designed to accommodate the needs of Harley riders and metric bike enthusiasts. But the Cruz Tools Outback'r M14 may be one of the handiest kits you can stow on board your sled.
Its compact size belies the fact that it contains 14 tools, including four hex keys, two screwdrivers, a socket driver with 8, 10 and 12mm sockets, plus both 13 and 14mm open end wrenches. The tool houses all these pieces in its 3.5 inches of length. Retail is about US$20 for this heat-treated steel and chrome vanadium constructed set from Cruz Tools. To check out this kit and discover more trailside tool kits, visit http://www.cruztools.com/ for selected retail outlets.
Get A Lift
While a snowmobile lift won't make your sled or you stylish, it will help you get the sled's track off the ground and save wear on the suspension. The Powermadd lift has a lifted height range from 18.5-inches to 33.5-inches and allows you to raise the front or rear of your sled.
You can raise the track about 7-inches off the ground, which gives you ample clearance for running up the engine and drive for cold morning startups. The bottom line is saving wear and tear on your expensive drive belt and virtually eliminating frozen up tracks. Made of steel with a polycoated finish the Powermadd lift retails for about US$120. Find out more about the lift at Powermadd.com.
Suction Vac
Have you noticed that what sled makers say about four-stroke sleds is basically true? You rarely have to add oil except for the beginning of a new season. But, what no one tells you is that changing that oil on a modern four-stroke snowmobile engine can be a real pain. Like changing the oil on an inboard-outboard, action sports vehicle manufacturers frequently never give any thought to the do-it-yourselfer. And, when you do manage to drain the oil, what do you do with it? Pour it out of a catch pan into what? Does the word messy come to mind? It does for us. And it did for the guy who came up with the LiquidVac.
This device may find itself as a handy shop accessory for owners of four-stroke 600 ACE or 1200 4-Tec Ski-Doo snowmobiles. Instead of messy, dripping on the floor oil changes, the LiquidVac uses a pressurized tank to suction oil out of the engine and into the holding tank. According to the manufacturer, you simply pressurize the tank with a pump, insert the kit's suction hose into the engine's dipstick tube and release the suction hose clamp. The oil will be suctioned out and housed in the two-gallon holding tank (that's eight quarts, more than enough to accommodate most four-stroke sled motors). The tank allows you to make easy disposal of the oil. The system retails for about US$50 plus about another $10 for shipping and handling.
You can learn more about the system at http://www.liquidvac.com/. Snowmobilers will also find the LiquidVac available through Starting Line Products at http://www.startinglineproducts.com/.