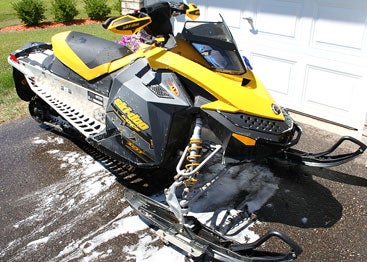 Take pride in your ride with a weekend's worth of elbow grease
A snowmobile is a substantial investment. A current model year 600 or 800 trail sled has an MSRP of $7,000-$11,000, so it only makes sense to protect it. Even if you don't own a new or newer sled, keeping your sled clean and lubed pays dividends. You may be thinking, "Yeah, so what if it's dirty, it will still run fine." Yes, it will still run, but there is a difference between a clean, well-maintained sled and a poorly maintained one. The dirty sled with a greasy engine and grime-soaked parts will run hotter and less efficiently.
Beyond the practical, I also have to mention a less tangible but certainly pertinent factor when it comes to sled appearance and cleanliness. And that's the pride factor. It's fair to say most people take pride in their ride, and therefore, feel a sense of pride on a clean or relatively clean machine. I don't know anyone who'd rather ride a greasy, grungy rat sled. At least for me, I feel better about riding a sled that's clean, well maintained, and of course safe. In addition, a clean sled will take less time, money, and effort to prepare for sale. Hence, a clean sled should present well in a competitive marketplace, command a higher price, and may be the difference between making the sale or not.
The chemicals, techniques, and procedures in this article enhance cosmetic appearance and in some cases provide a performance benefit. While this is not a comprehensive 'how-to' article for placing a sled in or taking it out of storage, I recommend a good spring, fall, and in-season cleaning. Since most sleds are in storage at least half of the year, a good fall preparation will protect finishes, surfaces, and help prevent vital components from corroding. Once you establish a level of cleanliness and appearance for your sled, it will take less work and time to maintain that level.
Sleds operate in a clean environment compared to other vehicles, such as ATVs. Whether on the trail, lake, or traversing the highlands, sleds typically run across snow, but often sleds have to run on roads to gain access to a riding area and are exposed to salt, dirt, and grime. In addition, many owners tow their sleds on open bed trailers, which expose their sleds to more contaminants, requiring a higher level of maintenance than sleds towed in enclosed trailers. If you use an open bed trailer, you should use a use a full cover and/or a salt shield to help protect your sled's finishes, surfaces, and sensitive parts. The salt and road spray will definitely affect the paint, aluminum, plastic and other finishes on the sled.
The subject of our story is a 2008 Ski-Doo MXZ T'NT, a fine precision instrument for the trail. Over the course of the winter, it had been trailered a few times without a cover on an open trailer, so the runner boards, tunnel and slides had been exposed to road salt and became oxidized and corroded. The engine compartment had not been cleaned or degreased so a fair amount of carbon and gunk had found a home under the hood. In addition, the hood and windshield did not receive any more wax or TLC so I was compelled to take action.
Turtle Wax Car Wash
– A clean up job should always start with a thorough washing. Automotive car washes are specifically designed to wash away dirt, grit, and grime without harming painted or polished surfaces. Remember to cover the air box intake. You don't want water in your air box or carbs. I used a simple sponge and the wash to reach into the belly pan and rear suspension. Do not use dishwashing soap or solution. Since it's designed to strip grease, it will strip off waxes and other protectants. Cost: $14.95 per 128 oz. bottle.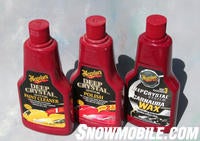 Meguiar's Deep Crystal System
– There are so many brands and waxes to choose from that it's almost overwhelming, but you need to lay down a barrier of wax or sealant to protect your hood and all painted exterior parts from salt, dirt, and other harmful elements. If the clear coat is breached, there's no easy way to fix it. I take a somewhat old school approach to setting up that protective barrier, using Meguiar's three-step Deep Crystal system. With a snowmobile, the surface area to wax is so small; it doesn't take much time to do it. You need to choose between a decent Carnauba wax or paint sealant. Carnauba brings out the deepest most brilliant shine on a sled, but paint sealants are tougher and last longer and provide a great barrier against salt and grime. While some opt to choose one over the other, you don't have to. You can lay down a base of Carnauba and then put a sealant on top. Meguiar's has long been a recognized leader in car products and it doesn't cost you an arm and leg to buy these waxes. The Deep Crystal system provides an immaculate cleaning, shine, and protection of painted and plastic surfaces. This three-step wax system includes Step 1 Paint Cleaner application and removal, which removes light blemishes and prepares the surface for waxing. Step 2 Polish creates a high-gloss finish prior to waxing. Step 3 is the application of high-quality Carnauba wax providing a protective barrier between the paint and outside world. I used a microfiber applicator and then removed the wax with a cotton baby cloth. Meguiar's Deep Crystal System – Cost: $4.95 per bottle.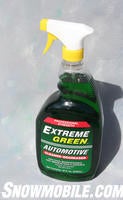 Extreme Green Degreaser
– Remember, a greasy or dirty engine will run hotter and is less efficient. Therefore, a clean engine rewards the rider with improved performance. It's important to select a degreaser that's compatible for sleds. Some degreasers are only intended for use on metal surfaces, and these will attack paint, plastic, rubber and other materials. Non-toxic and biodegradable Extreme Green Cleaner from Stearns Corporation was easy to spray into the engine bay and onto runner boards. It cut through the grease and allowed me to easily wipe off the crud. Best of all, this chemical won't harm carb boots, air boxes and ignition components among other non-metal items.  Cost: $2.59
AmsOil Synthetic Water Resistant Grease Lithium Complex  – This isn't a cosmetic product, but grease provides a protective envelop for bearings, suspension parts, and pivoting equipment. Squirting grease through a zerk fitting and into a component displaces hidden moisture. In turn, grease helps inhibit rusting of vital components. If you want to get the best out of your suspension, grease it consistently.  Grease it in the spring, so your sled doesn't have moisture sitting in these areas until the following fall. Cost: $9.95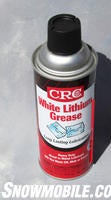 White Lithium Spray Grease
– You need to protect sensitive, exposed metal components, such as tie rods, sway bar ends, bolts, and suspension pivot points. Many have used WD40 to coat these components, but WD40 quickly evaporates and leaves these components susceptible to rust. This low-temp lithium spray is made of the same material found in most low-temp greases. It cocoons the component so air doesn't penetrate it, and as a result, it doesn't rust. I sprayed it on the vital front and rear suspension parts. It provides a great lubricant and it can be easily removed with WD40 or other petroleum lubricants. Cost: $3.99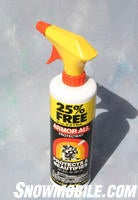 Armor All Protectant
– Now I am not breaking new ground here. This product has been on the market for over 25 years, but it still provides a deep rich shine and protection for rubber, vinyl, and plastic parts, such as the belly pan, dash, skis, seat cowling, side covers, taillight housing, and more. It renews the plastic and gives it a like-new appearance. Do not apply it to the seat. Most riders know this, so if you do bear with me, Armor All Protectant will make your seat super slippery, and it will be difficult to maintain control. Cost: $7.99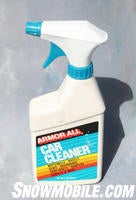 Armor All Car Cleaner
– This is great for cleaning rubber, vinyl, plastic or almost any surfaces on a sled, especially the dash and speedo and tach dials. It quickly absorbs grease and exhaust residue. I applied this to the seat because it is a safe cleaner and not a protectant. Therefore, it won't turn the seat into an ice rink. Cost: $4.29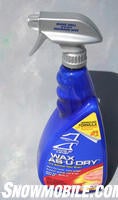 Eagle One Wax as U-Dry Spray Wax
– Set up a good base coat of wax with the Deep Crystal System or some other wax or sealant. Once you've established that solid base coat, a spray-on Carnauba wax like this maintains that protection and reduces clean up time.  Cost: $7.49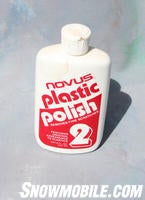 Novus Plastic Polish No.2
– This quickly freshens up windshields with minor scratches. Apply with a clean damp cloth in a circular motion and wipe off. It renews the windshield and provides better visibility, which is always a good thing. Cost: $5.99
Arctic Cat Cleaner – This proprietary Arctic Cat cleaner easily and safely applies to any painted, metal or vinyl surface. It's particularly useful for removing oil and exhaust residue from colored belly pans, and these stains can be very stubborn to remove. Cost: $11.99
Well, that sounds like a good weekend project. While there is definite elbow grease involved, the results of your labor will be worth it. And, when you clean your sled this well, you'll also have the opportunity to look for potential wear spots that may need fixing before you hit the trails.