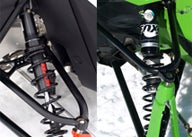 Model Year 2016 offers innovations in shock set-ups
The fact that Arctic Cat spearheads a new wave of simple but effective front shock development may lead you to think that setting up suspensions on 2016 snowmobiles will be simple and easy. If you get a new 2016 Cat with the QS-3 shocks that were developed jointly between Arctic Cat and Fox, you should find suspension setup easy-breezy. Simply twist the quick adjust dial to one of three settings: soft for an LXR quality ride; in the middle for a firmer Sno Pro-like ride; or all the way to an RR type setting. This QS-3 promises to effectively give you three Cat tuning settings in one aluminum-bodied coil-over shock. And it is simple.
Keep in mind that Arctic Cat, despite its hands-on sharing arrangement with Fox, is not the only sled manufacturer to offer this shock on select 2016 models. As you'd expect since the Vipers are built by Arctic Cat and share technologies, the Fox shock appears on certain Yamaha Viper models. But, you'll also find Polaris' latest 800 Switchback Adventure featuring a Fox QS-3 on the rear suspension instead of a plain gas or multi-adjustable Walker Evans brand shock.
We like the idea of a more simplistic approach to suspension set up for overall ride and handling. The Fox quick adjust shock supplies it, but the result will vary on just how much other suspension work the sled brand's engineers did to accommodate the shock. To get the Arctic Cats to deliver the range of soft to firm to race-like settings suggests that Cat engineers also diligently worked the overall suspension calibrations for spring rates. We'll give Arctic Cat engineering the edge with this sled.
Still, you should expect noticeable results when playing with the three settings on the Yamaha and Polaris, but keep in mind what the ultimate aim of the sled is designed to meet. The Polaris 800 Switchback Adventure is not a performance sled in the sense of a Switchback Pro-X and the overall suspension parameters have been set for quick and easy adjustments while touring long distances.
We find all of this new-for-2016 shock advancement quite intriguing. On the one hand there is the simple and quick fix offered by this new Fox QS-3. But, there also are the wider ranging settings available on higher performance sleds with the Fox Float 3 Evol or Walker Evans Clicker shocks where adjustments to compression or rebound or both is sought. This is what the serious riders want – and understand. They will use the air pump to finesse these air shocks to get that perfect set up.
This is hardly the first attempt by snowmobile manufacturers to simplify suspension tuning. In the 1990s Polaris offered a Dial-Adjust rear suspension that used cam blocks to dial in more torsion to affect the movement of the rear torque arm. Like a number of Polaris suspensions of the time, a multi-sided block was used to make major adjustments to the preload. Even earlier, in the 1970s Ski-Doo fitted its TNT Everest with a suspension adjuster block to accomplish quick trailside changes.
How to Set Up Your Sled's Suspensions
When Yamaha gained a majority stake in Swedish shock maker Ohlins in 1987, the company utilized the brand on various models, including an electronically adjustable suspension. Of course, with Ohlins buying back the majority of its shares, that left Yamaha to work with KYB, another partially owned partner. You will find a variety of KYB suspension products utilized by Yamaha. But these are mostly straightforward gas-charged shocks and not the higher tech versions that Ski-Doo uses on its top of the line MXZ XRS and Renegade racer-styled sleds.
If the Fox QS-3 is a starter clicker shock, the top of the shock food chain has to be the Fox Float 3 Evol series seen on high performance big bump sleds like the Cat RR, Viper RTX and Ski-Doo XRS and X versions. Since these shocks are not cheap, they are nominally offered on the top of the line early purchase sled programs. While there may be three clicks to achieve handling prowess with the QS-3, you will find upwards of 20-plus clicks of compression settings on these top-flight shocks. They have to be top flight because that's what these big bump sleds endure – soaring over deep moguls and lifting off berms.
For the most simplistic sled set up, there is always the base hydraulic shock, but we found the Fox QS-3 to be a very promising upgrade for the majority of riders who like to feed some extra throttle when playing in the corners or blasting a few pockets of trail jitters. The Fox QS-3 is a serious shock, but we think if the costs can be contained that it will become more prominent in the seasons ahead.
The new for 2016 Fox 1.5 Zero QS-3 is designed as a performance shock with tool-free adjustment. Check out its breeding:
• 6061-T6 aluminum body• Hard chrome steel shaft • Three-position compression damping adjustment (QS-3) • Adjustable velocity sensitive damping with Hi-flow piston spring • Repeatable settings • And FIST – FOX Ice Scraper Technology
Perhaps the key advantage of the QS-3 isn't just its simplicity, but its ability to give you easy, repeatable suspension settings with a wide range of compression adjustments that provide noticeable changes of ride quality and handling without the complications of counting clicks.
That's not to demean the likes of the Float 3 or Walker Evans. These shocks are designed to be very sophisticated sled tuning tools that can satisfy the most demanding snowmobiler. The toughness of the Fox Float 3 Evol is unquestioned. These are shocks of choice for the professional racer, stunt maker and most serious trail riders. These shocks feature an infinitely adjustable dual air spring; extra volume (EVOL) air chamber to regulate the "bottoming-out" characteristics of the shock; Kashima coating for durability and a decrease in friction; and the obvious value of weight reduction as these shocks don't require coil-over-spring assistance.
While these are the top line shocks seen on most of today's premium performance sleds, they are not for everyone. If you are not tuned into serious sled ride and handling, you might want to think about a more simplistic set up. You can still manage a very good ride and bump control without spending big bucks. The QS-3 is a step in that direction. You need to know what kind of rider you truly are.
If you want the ability to make quick adjustments along the trail, consider a sled with a clicker option, but if counting clicks isn't your thing, you can get noticeable performance changes with the new three-position QS-3 type shock set up.