Best Electric Snowmobile Helmets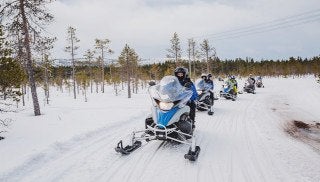 Are you looking for a new helmet for the upcoming snowmobiling season? Check out these electric snowmobile helmets to find the right one for you.
Your helmet is the single most important piece of clothing you can possibly wear when you're on your snowmobile. And while you may be riding the same sled you've had for years, and even the same jacket, your helmet is a one-and-done deal. One good hit and you need a new lid. You don't have to buy a new helmet if you don't wreck, but I like to just because I seem to collect helmets like my wife does shoes. The good news is, if you need a new helmet, or just want one like me, there are some amazingly cool helmets, loaded with features on the market today. Here some of the best adventure-style electric snowmobile helmets that I'd be more than happy to put on my head next time I head out into the snow. Chances are I'll probably buy at least one of these…if not two.
Lead photo courtesy PRESSLAB/Shutterstock
1. Editor's Choice: GMAX AT-21S Adventure Snowmobile Helmet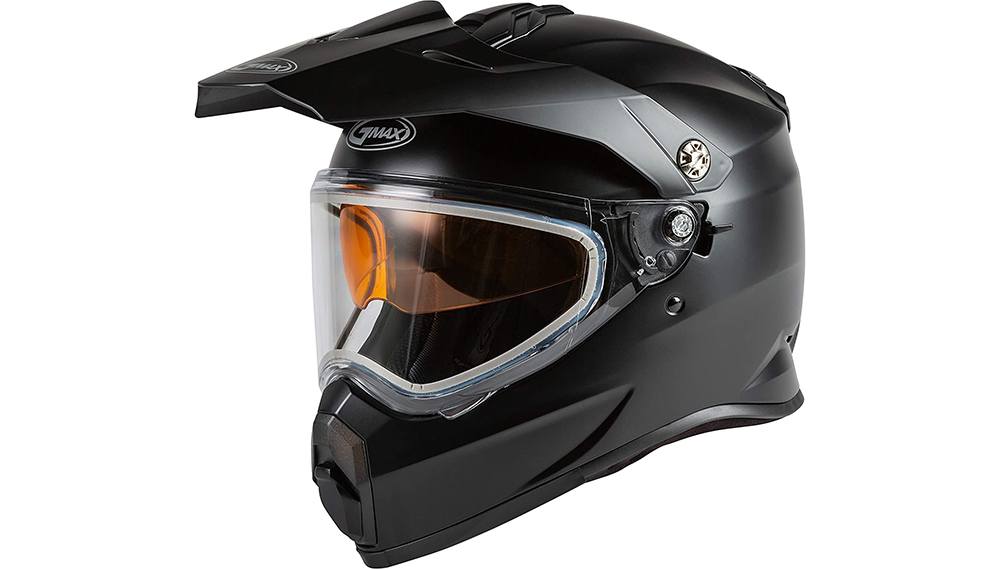 While GMAX helmets don't have the high pricetag that comes with higher end helmets, this AT-21S Adventure helmet comes with many of the same features that they do. This dual-sport designed helmet features a large eye port that has a full face electric heated flip-up shield to ensure fog free vision, built in, drop down sun visor, COOLMAX moisture wicking interior and a solid construction that is both comfortable, light, and offers plenty of ventilation to keep you cool and comfortable on those long rides.
2. Runner Up: FXR Maverick X Modular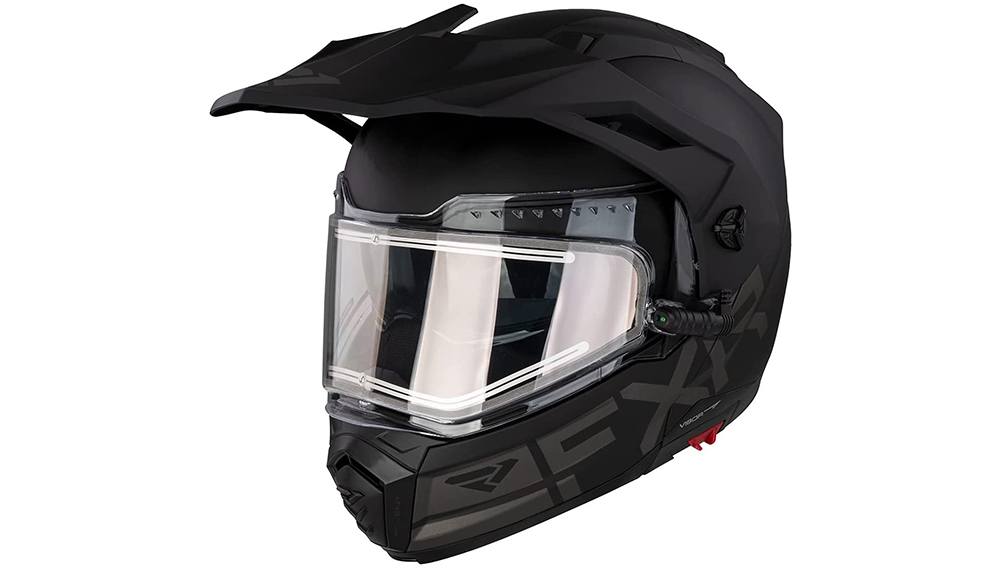 I bought my wife a complete outfit from FXR last year and she loved it. So much so that I'm going to get myself a set this year. And, of course, I'll need a matching helmet, right? The FXR Maverick X Modular is a sweet looking helmet that has all the features you could ask for an an electric snowmobile helmet. This modular adventure style helmet is constructed from a lightweight, strong, polymer alloy, has a motocross style visor to block those bright rays, easy to open high lift chin bar, and an electric shield to ensure fog free vision. Even with all of these built-in features, FXR also made sure that the styling and graphics were on point!
3. Castle X EXO-CX950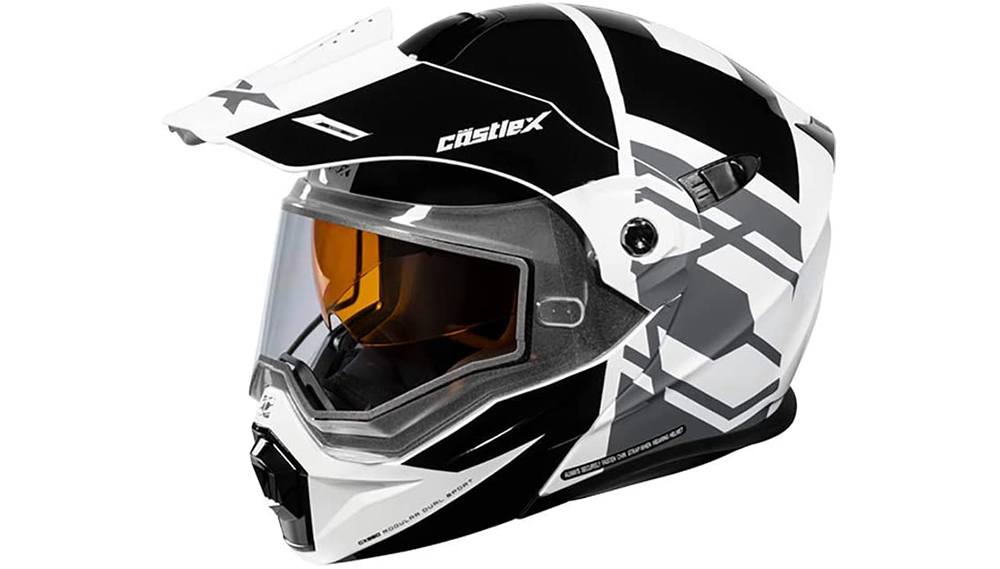 At first glance, you might think the Castle X helmet is just like the other adventure-style electric snowmobile helmets on this list. It has the flip-up electric shield and the motocross-style visor. And of course, the new styling is pretty sweet, too. On closer inspection, you'll find that the EXO-CX950 is a modular helmet, that adapts to how you want it to fit. The chin-bar flips up, making it easy to chat with riding buddies, or to take a sip of coffee from the thermos. It has an LG polycarbonate shell and is set up for easy install of a communication system. This is a really cool helmet.
4. 509 Delta R3L Ignite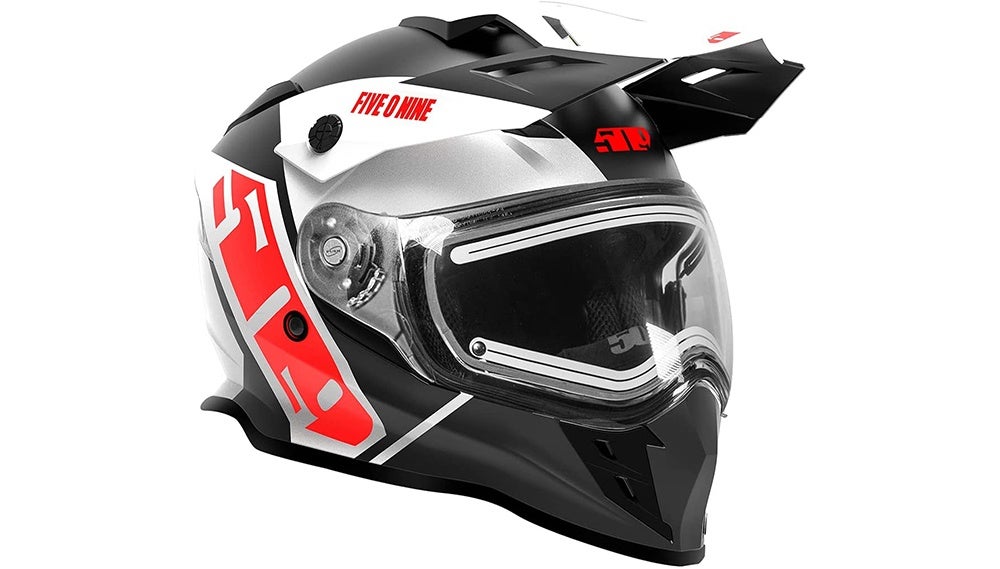 509 is quickly gaining popularity, especially among the extreme riding crowd. It is a company that makes a sweet product, and then listens and quickly responds to customers about that product to make it better. The Delta R3 2.0 is improved for 2018/2019 with enhanced control of airflow when you want it, and better wind blocking when you need it. 509 also enhanced the heating elements in the shield for durability and effectiveness. It has the Fidlock magnetic locking chinstrap buckle for easier removal.
5. HJC DS-X1 Snow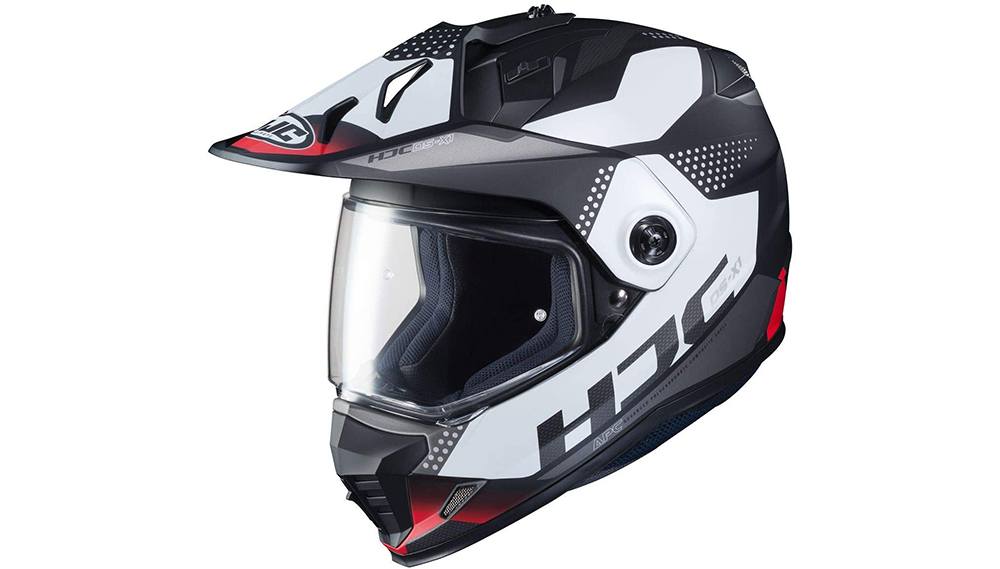 HJC is the number one selling brand of helmet in the world. Let that sink in for a moment. They are sold in a lot of different shops and are used for motorcycles, ATVs and snowmobiles, along with just about every other form of motorsport there is. The DS-X1 Snow is the winter version of HJC's dual-sport helmet. Is has a dual-pane electric shield and a breath box to help keep you warm. The shell is advanced polycarbonate and a glasses groove can help fit the helmet for those who wear glasses.
What are the best features to look for in an electric snowmobile helmet?
The main thing is that you're able to purchase replacement face shields. Most companies will offer replacements, but when you think you might have scored the deal of a lifetime on a cheap electric helmet, there might be a reason why. You also want to make sure that anything you need to open or operate is glove friendly. There's nothing worse than having to pull your warm hands out of gloves to turn on or off your electric shield or just open your shield.
What are the advantages of having modular helmet over a conventional helmet?
With a modular style helmet it's easier take a snack or drink break without having to fully remove your helmet. It also makes it easier to communicate with friends when you're stopped. Honestly the only downfall that we've ever found with modular helmets in comparison is that they're a little higher priced, but its par for the extra feature.
Additional Resources
Recent Updates
11/16/2021: Ranked Products, updated product descriptions, updated product links, added FAQ and added additional resources
---
We are committed to finding, researching, and recommending the best products. We earn commissions from purchases you make using the retail links in our product reviews. Learn more about how this works.