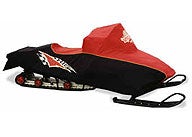 If you trailer your sled, a good cover more than pays for itself
Whatever the reason, not all of us trailer our sleds in the luxury of a fully enclosed trailer. That's the ideal for protecting our sleds from road salt and grime, but it's not always affordable. And, then, there are some of us who actually prefer open trailers because we use them for other things in the non-snow months. Regardless of our reasons for not having a fully enclosed trailer, we are left with one simple question. How can we best protect our sled?
If you trailer your snowmobile on an open trailer, you know how grime can get into the suspension arms and build up on the hood and windshield. It can get pretty darn ugly on particularly slushy roads.
There are options for us, but it helps to shop carefully. Yes, you can hit Sam's Club or a super discount store and get a relatively inexpensive snowmobile cover. Some of them even let you trailer with them. The good thing about the generic sled covers is that they are not terribly expensive and they come in a variety of sizes. That was always handy for us as we changed sleds a lot and didn't really want an investment in sled-specific covers. A few years back, when we settled in on a specific personal sled for our family, we cared more about the fit of the cover because we wanted our sled to last as long as possible.
Generic Classics
You can buy what Sam's Club calls its Deluxe Snowmobile Travel Cover. These will sell for under US$80, depending on size. You know what? These covers are actually a good value if you tend to store your sled more than trailer it. If you ride from your backyard and need a cover to protect against sunlight, tree drippings and birds, these are really quite good values.
If you trailer for long distances or trailer frequently, we think you may find better value in a more expensive or custom-sized cover. The discount store covers are usually supplied by one or two makers who import them from China. These covers are usually comprised of heavy-duty UV and mildew resistant fabric with a polyurethane backing. The ones we've used — and, yes, we did buy from Wal-Mart among other places — featured an elastic hem cord for fit. The better versions will have a non-scratch hood liner, fuel tank access door, reflective rear safety markings, 'never-lose-it' attached storage bag and an integrated trailering system with built-in quick adjusting straps.
After a few episodes of trailering with these covers, we learned that since they are 'generic' covers, you should plan to add your own bungie straps to hold down areas where the wind can make the panels flutter. You'll figure this out after a few miles on a freeway. The basic cover comes with its own tie-down straps, but adding a few bungies keeps the cover tighter on your machine. Since flapping leads to ripping and tearing, keep an eye out for excessive flapping of the fabric. If the fabric looks loose with the sled on the trailer, we tend to tighten those areas before we depart.
You will find that these trailerable sled covers come in three basic sizes: Medium fits snowmobiles up to 115-in. long; Large fits two-person snowmobiles from 116-in. to 130-in. long; and, XL fits touring and working snowmobiles from 131-in. to 145-in. long.
We do not have anything against using these covers at all. Just keep in mind that you get what you pay for. We have gotten almost three good years out of some that we've tried, and much less from others. They are very useful for summer storage on a budget. Because they do not wrap around the suspension arms of modern sleds, they can't offer as much protection as can more custom-sized designs.
Dow Covers
DOWCO offers Guardian Snowmobile Covers in both a trailerable and storage offering. The Guardian custom-fit covers have been designed to fit specific sled models. Made from breathable 10-ounce cotton canvas, the DOWCO trailerable covers should protect well against rock damage, road tar, road salt and wind abrasion. You will find most of these designs have a convenient zippered fuel tank access flap so you can refuel your sled while it's on your trailer. These covers come with a two-year limited warranty and generally come in basic black. Expect to pay US$110 or more.
The more basic Guardian Snowmobile storage cover also features breathable 10-ounce cotton canvas, a sewn-in elastic shock cord along the hem, extra top straps and quick release buckles. There is also the same zippered fuel flap. The difference is that the design is cut a bit different and is not recommended for long-distance trailering.
If you want serious sled protection while trailering, then you need to consider covers that are more customized and feature A-arm suspension coverage. There are two brands with similarly sounding names that fill the bill.
Sno-Skinz
Coming out of Colorado and sold through distributors and dealers is Sno-Skinz. Made in the USA by this Littleton, Colo. firm, Sno-Skinz offers its Super VI Polyester Plus Snowmobile Cover.
The company points to the fit and finish of its product. Sno-Skinz custom tailors each cover to fit specific snowmobile makes and models, which means in most cases Sno-Skinz covers fit better than factory covers.
This is important because one of the primary reasons that covers wear out is wind vibration. Loose fitting covers flap and quickly destroy themselves. The better a cover fits, the less wind vibration.
Durability is important to Sno-Skinz. As textile technology improves, Sno-Skinz notes so do its covers. The use of Super VI Polyester Plus came after eight years of R&D into many industrial fabrics. Sno-Skinz chose the fabric for its resistance to abrasion, stretching, the elements of nature and tensile strength, which far outperforms cotton used by the factories and other cover manufacturers. Super VI Polyester is approximately five times more durable than cotton duck.
If you ever put a cover on your sled, you are painfully aware there are specific points on a snowmobile that are sharp and abrasive — such as suspension components, body panels, running board edges and handlebar hooks. These points typically cause rips and tears fairly early in a cover's life cycle. Sno-Skinz covers are reinforced in these areas with Dura-panels, which contribute greatly to their durability.
All Sno-Skinz covers utilize front-to-rear floating strap systems with side tension straps made of 1-inch HD polypropylene web which stays more flexible in cold weather and plastic-coated steel J-hooks. The added tension that this type of strap lets you to put on the cover's fit is an important difference. Covers that are primarily secured with expandable bungee cords can never achieve proper fit because of the excess material around the bungee and lack of tension.
Another stress point is located anywhere a seam starts and stops at a material's edge. Sno-Skinz binds the front and rear edges with HD 1-in. polypropylene webbing, which finishes off these edges and also reinforces these seams. You'll find Sno-Skinz covers feature 8mm HD zippers at the gas access flap with YKK cam self-locking pulls and pull cords.
We have used and still have a very bright Sno-Skinz cover. The color retention benefits from Super VI Polyester Plus color fastness and resistance to fading.
Most cotton covers have a UV rating of about 35-H. Even your typical nylon, which is a durable material, only has a UV rating of about 40 to 55-H. Sno-Skinz Super VI Polyester Plus has a UV rating of 225-H! This doesn't mean that its fade proof, but it does mean that it will hold its color far longer than other covers. To clean these covers, simply power wash it or toss it into your home washing machine using a mild detergent.
Sno-Skinz stands behind its covers and builds them to last, so you'll find a unique 100% guarantee satisfaction on delivery and guarantee against structural failure in materials and workmanship for as long as you own your snowmobile.
However, these high quality covers are not cheap, nor are they intended to be. Again, you get what you pay for; the price will vary according to sled make and model, but expect to pay more than US$200. To see if Sno-Skinz makes a cover for your sled, visit http://www.snoskinz.com/.
Minnesota Skinz
Although similarly named, Skinz snowmobile covers are made by Skinz Protective Gear of Paynesville, Minn.
What makes this cover unique is the fact that it is designed to be a 'stretch to fit' waterproof cover and is said to be unlike any in the industry. The maker claims that it will "…stretch to fit your snowmobile no matter what is added to or taken off from your sled so you don't have to purchase a new cover every year."
While basically a waterproof design, there is a panel just behind the windshield and over the seat that allows air to flow through the cover when trailering. That area may permit some moisture to get through.
One driving criteria behind the function of this trailerable cover was to have it keep your sled clean. You may see slush and dirt on the cover, but the stretch fit is designed to fit snugly enough to keep road grime off your sled. If you want to clean the cover, you can throw it in the wash on gentle cycle and air dry (or low heat/gentle cycle) it before you head out on your next trip.
First time you install the cover, you may find it a bit reluctant. The maker claims that's because it is a stretch cover and you need to stretch it to fit your sled.
"Sometimes it takes working it over the bars and bumper to get it on," the maker notes. "Once it is stretched it will settle in to fit."
According to manufacturer instructions, the important thing is getting the cover to stretch down, back and around your sled to a very tight fit. Don't worry, while you may think the material will rip, it won't. The only real dangers to the cover tearing are sharp objects or flapping while trailering. These are things that will penetrate the stretchable material and that is why it is important to get a tight fit.
Says the manufacturer, "We hear people say that it is the best cover they have ever used… Think of it as an aerodynamic wetsuit that goes on your snowmobile. You want it skin tight and you want it to cover almost every part of your snowmobile (without actually lifting it up and getting it underneath)."
The Skinz cover is different in its sizing as well. Because the cover goes by short track or long track, there are only two sizes (remember it is a stretch-to-fit cover.) The Standard should fit sleds up to about 118-inches, with the XL designed to fit anything over 118-in.
Skinz covers are sold through distributors and dealers; you'll need to check with your local dealer to see if they stock Skinz Products. For more information you can check the Skinz web site at www.skinzprotectivegear.com/home.html.
As we said at the beginning, you don't need a covered trailer if you have a quality snowmobile cover. And, as we noted, you get what you pay for. Obviously custom-designed covers will cost more than generic covers. We've found that virtually all of today's sled covers are good all-around choices for storage. For trailering, some are far better than others. Expect to pay for the added quality, but expect to have a longer lasting sled as well.