Sled Engineering: Then And Now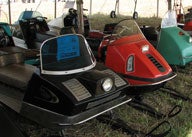 Much of what we see in today's sleds evolved from ideas introduced decades earlier
We like to think that the newest sleds in snowmobiling feature the newest things. In fact, many of the latest and greatest ideas seen on today's sleds are advances of the latest and greatest ideas from the early days.
As we were touring some magazine archives, we couldn't help but smile a bit as we saw what had been 'new' in the early 1970s. Addressing the high price of gasoline, the 1975 Johnson JX featured "…an amazing device that delivers up to 58 percent better gas mileage than last year's models." That impressive feature was a Johnson-engineered accelerator pump carburetor that was claimed to 'lean down' the fuel mixture to help make the Outboard Marine Corporation engine run smoother and more economically than ever.
Look at the latest 2009 snowmobiles and you find features that make these sleds more efficient. How about the electronic fuel injection systems? Like the Johnson JX accelerator pump, the new EFI systems are engineered for smooth, economical use of fuel.
Smooth Ride
You think the advent of a smooth, comfortable ride has been a recent phenomenon? While we fully expect — no, demand! — our modern sleds to provide ample cushioning for every terrain condition from windswept lake ice to cement-hard ditches to mogul-strewn trails, riders in 1975 shared similar expectations. Of course, what they got fell a long way behind what we have. They got a choice of bumpy boogie-wheel suspension or somewhat primitive slide rail suspensions. Snowmobile suspension technology advanced quickly in the 1970s as manufacturers like Evinrude offered 'new' side rail suspensions with 33 percent more travel than their previous design. Arctic Cat led the industry with its parallel slide rail concept and everyone else tried to catch up to the Thief River Falls, Minn. sled maker.
As always power was a big deal. OMC built an all-new series of parallel twins. The 650cc twin managed to make about 50 horsepower at 7,650 revs. Compare that to a modern Rotax 550cc fan-cooled twin used in select Ski-Doo models. It delivers 57 hp. Modern liquid-cooled, fuel-injected engines now can ante up more than 150 hp. Obviously we snowmobilers are never satisfied with power. Just as in the early days, we are on the prowl for more and more power.
Handling is another area where we look to today's sleds as being better than the sleds of yesteryear. Today's sleds are better! But the sleds of 30 years ago also came with state-of-the-art features to give us the best handling possible. By the mid-1970s most sled manufacturers had moved the engine forward. Ski-Doo, the #1 selling snowmobile brand of the day, was actually one of the last to bring the engine from the tunnel to between the skis. This advancement allowed the company to offer a newly created series of T'NT models like the sporty Free Air and the long-tracked Everest.
Best Handling
To get the best on-snow handling, the Everest came with a computer-designed ski profile that not only was more stable at speed but also reduced steering effort. The Ski's profile moved the wearbar up into the ski bottom, effectively displacing about half of the bar's circumference. The ski edges were fluted to keep snow from flying up into the rider's face. Sounds like that ski shared some engineering thought similar to the modern Pilot ski seen on some current Ski-Doo models.
To get the suspension to work better, the Everest Torque Reaction slide rail design moved the idler wheels inside the rails to help extend the life of the 16.5-inch wide rubber track. Check out the idler wheel mounts used to relax track wear on some 2009 suspensions.
Traction Concepts
Arctic Cat reworked traction. Famous for its two-thirds cleated track, Arctic Cats worked well in straight ahead acceleration, but tended to 'skate' in some cornering situations. To add grip to sleds like the 1975 Panther 440, the track featured raised rubber lugs on each outside strip. Modeled in the shape of the Arctic Cat logo, these sleds left a distinctive mark in the trail.
So, you see, coming up with innovative ideas in traction isn't limited to today's snowmobile engineers. Yes, modern sleds experiment with multi-density track compounds and use lugs that grip snow on one side and have 'fingers' to bend on hardpack. But traction concepts have been a concern for decades. The materials change, the innovative thought remains.
Getting performance improvements included engineering alternatives to the use of engine points. Ski-Doo's Rotax engine builders devised Polar Fire, an early Capacitive Discharge ignition. Other engine-builders had similar thoughts to getting better performance and longer life from spark plugs.
On-trail safety was a concern. Ski-Doo's Everest came with a self-adjusting disc brake. Headlight systems came with more powerful lights. The Everest upgraded from a 100-watt to 140-watt lighting system. Even at the engine speed of about 2,000 revs, the lights stayed bright. That was a big deal just as is the addition of more powerful bulbs and lens to modern sleds. Wattage upgrades were important to lighting systems for safer night riding. Today's wattage output has to power lights, hand warmers, DC outlets and charging of onboard batteries.
Tunnel Taper
If you look at modern powder sleds you'll see tunnels that taper at the back. This lets snow evacuate and lets the sled power efficiently through deep snow. It's an old idea borrowed from the Sno-Jet SST of the mid-1970s. Its aluminum tunnel was light and provided ample room for the Multiflex 75 rear suspension as well as presenting an efficient profile on the snow. With its tapered design, the SST had greater clearance for the runningboards, which were less likely to get hung up in deep snow.
Suspension design claims for the 1970s era Sno-Jet sound similar to claims made for many modern designs. The Sno-Jet suspension was fully adjustable and it claimed less weight, better weight transfer and greater durability. Sound familiar?
Underhood cooling and sound were concerns in those days. Exhaust systems would be ample to accommodate extra wall thickness. Foam linings inside the hood would reduce sound. The carburetor intakes would draw air through baffled air boxes and cooling air would come routed via hoses and ducts to those intakes. These are considerations modern day engineers make as well.
As we ended our archival tour of snowmobile history, we couldn't help but conclude that the thinking behind today's sleds isn't really all that different from thinking used to create the sleds of yesterday. Oh, today's snowmobiles work far better than ever, but they seem to share much of the same thinking behind them.