2-Strokes and 4-Strokes and Rotaries, Oh My!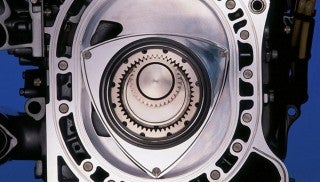 Engine options for sleds come and go like the Sachs Wankel
Flashing through my Internet news sites the other night, I came across a piece on "Bold Ride" about how a Wankel rotary engine works. This is 2015. The patented idea for a rotary engine design was awarded in 1929 to Felix Wankel, a German engineer. In the 1970s the Wankel concept of a lightweight, compact, high-revving engine with minimal pieces appealed to a few snowmobile companies such as Arctic Cat, Alouette, Skiroule and Outboard Marine Corporation (OMC).
From my standpoint, it's interesting to find a forgotten engine technology for sleds being touted in modern times. The Wankel spurred interest as an engine source for sled builders, but was quickly set aside once the first fuel crisis of the 1970s hit the industry and led to the demise of many smaller sled makers that might have benefitted from the rotary engine.
For a brief time, though, Felix Wankel's design held promise. It was licensed to various groups, among them Sachs, a German engine builder that built and supplied two-stroke engines ranging in displacements from 293cc to 735cc. In 1969 Arctic Cat housed a 303cc Wankel under the hood of its Panther P-20. The engine featured a Tillotson HL carburetor and, interestingly, a Polaris drive clutch. What would be the chances of such collaboration today?
The Wankel engine became "news" when NSU Motorwerken, where Felix Wankel was an engineer, developed a dual-rotor engine for use in its 1967 NSU Ro 80, which was a modest success. While the NSU Ro 80 was used to showcase the company's engineering capabilities, the rotary concept offered advantages of both compact design and low weight over existing internal combustion engine designs. In addition to its use in automobiles, the lightweight, compact high-revving rotary engine seemed a natural fit for motorcycles, personal watercraft, snowmobiles, chainsaws and even home generator units. That appealed to several snowmobile manufacturers. While Cat, Alouette and Skiroule went with the "off the shelf" Sachs Wankel, OMC developed its own rotary engine, which appeared in 1973 in the livery of its Johnson and Evinrude snowmobile brands.
What made engineers want to try the rotary engine for snowmobiles was its very simplicity, which made for a compact and light design. There are no reciprocating up and down slapping pistons, the Wankel features an encased triangular-shaped rotor that rotates around a central shaft. As the rotor spins around its axis, its unique shape creates pockets of air between it and the housing wall that allow it to develop its four strokes of induction, compression, power and exhaust.
As one side of this rotor passes by an intake port, positioned in the housing wall, the space increases to draw the fuel-air mixture into the engine. With the rotor continuing to spin it results in compressing air into a smaller pocket where a spark plug ignites the compressed mixture for a power stroke. The spinning rotor expels spent gases through an exhaust port, before once again heading to the intake port to repeat the cycle. Simple and smooth.
The Wankel period in snowmobile history was interesting and short lived. By 1974 the three most visible sleds using a Wankel engine tended to be underpowered and over-priced. The November 1973 issue of Invitation to Snowmobiling featured the Arctic Cat Panther, Alouette Silver Cloud and Skiroule RTW in a head-to-head comparison. The conclusion was that most people wouldn't want a Wankel-powered sled when they could "…buy a full-priced sports sled for the same price as any of these little Wankel underpowered snowmobiles." Ouch!
In its head-to-head report, the writers noted that the Wankel sleds were smoother running and vibrated much less than their piston-engine counterparts. They had a nice deep rumble, but it took a hefty exhaust canister to get the sound down. Owners of Wankels said that their sleds tended to be louder than piston-engined sleds. It also was reported that Wankels could heat the exhaust to a red glow, which Arctic Cat admitted had been a problem with early 1969 Wankel Cats.
The Evolution of Four-Stroke Snowmobile Engines
What really worked against the Wankel was fuel economy – or lack of it! While the magazine's readership that owned Wankels liked the engine's smoothness, torque and easy starting, they found that 5-6 miles per gallon was troubling. This was 1973, a period of long lines at gas stations and scarcity of fuel for recreational usage. And, Wankel rotary engines, especially ones used in Mazda cars, while fast and said to be as powerful as a small V8, were not very fuel efficient and eventually developed problems with internal seals used to help separate the rotary's moving combustion chamber. Combined with the fuel crisis and concerns about the engine seal, the idea of rotary engines as a legitimate engine source for snowmobiles and alternative to two-strokes disappeared.
Not all of the problems lay with the Wankel engine itself. By the mid-1970s Alouette snowmobiles were folded into Rupp. And the Wankel-powered Silver Cloud simply went away, making it a valuable vintage model for collectors. By the end of the 1970s, Arctic Cat's experiments with Wankels was over and the Skiroule RTW disappeared along with the Skiroule brand.
As for the American-produced OMC rotary used in the Johnson and Evinrude brands, they too disappeared. Most two-up OMC models like the rotary-powered ones suffered from "bigness." The public viewed them as too heavy, too slow and too expensive. While OMC introduced a lighter and more responsive series of two-stroke performance sleds, the Johnson JX and Evinrude Skimmer, it was the image of the extremely quiet but underpowered Evinrude Quiet Flite and Trailblazer rotary-engined sleds that led to Outboard Marine Corporation pulling the plug on the sled groups at both Evinrude and Johnson. Although OMC had built snowmobiles since 1964, by 1973 the Illinois company reported sled sales of US$17 million against total sales revenue of US$400 million. With snowmobile sales falling and fuel prices rising, OMC ended snowmobile production in 1976.
Sled Engineering: Then And Now
When it comes to Wankel engines and snowmobiling, the engine never got its due. Sled buyers had to pay a premium for them at a time when the performance and fuel economy just wasn't good enough. Given time the rotary engine could have been a difference maker. Based on our experience with Mazda's 1970-something Rotary Wagon and our appreciation for the sporty Mazda RX-8, the last production rotary engine Mazda, we miss the concept.
But we rejoice that interest remains in this lightweight, compact design that once raised eyebrows with interest in the snowmobile business. Once snowmobiling had 2-strokes and 4-strokes and rotary engines, oh my!
| | | |
| --- | --- | --- |
| | 1974 Arctic Cat Panther | 1974 Alouette Silver Cloud MK II |
| Engine | Sachs Wankel KM 24 rotary, 294cc; single Walbro carburetor; fuel/oil mix of 50:1; Arctic tuned muffler | Sachs Wankel KM 24 rotary, 294cc; single rotor; Mikuni carburetor; ACS round exhaust muffler |
| Horsepower | 23 hp @ 6000 rpm | 23 hp @ 5800 rpm |
| Drive | Arctic Cat centrifugal | Salsbury clutches |
| Front Suspension | Shocks on leafspring skis | Alouette Ski-Sorber Shocks on skis; 4-way adjustable |
| Rear Suspension | Arctic Cat parallel rail slide suspension with adjustable torsion spring and shock | Alouette single rail slide suspension with adjustable torsion spring |
| Length | 88.5 in | 85.0 in |
| Height | 29.0 in | 40.5 in |
| Width | 34.0 in | 34.0 in |
| Track | 17 wide x 50 long — 2/3 cleated rubber with fiberglass reinforced track | 15 wide x 32 long — polyester cord track |
| Weight | 412 (with fuel) | 405 (with fuel) |
| Brake | Caliper mounted on clutch sheave | H&H disc brake mounted on cross shaft |
| Features | STANDARD: speedometer, tach, two-up seat with backrest OPTION: electric start, temperature gauge | STANDARD: tach, foam two-up seat with passenger strap; underseat storage OPTION: electric start |
| Fuel Capacity | 5.6 US Gal | 6.0 US Gal |
| MSRP | US $1400 (Wankel Model) — MSRP in 1974 | US $1299 (Wankel Model) — MSRP in 1974 |