Updating Your New or Older Polaris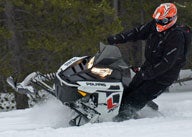 Whether vintage or modern, your Polaris can benefit from an update
As Polaris celebrates its 60th anniversary in snowmobiling, you know that many of today's modern snowmobilers have some history with the company's brand. You may have owned a Polaris, had a relative who did, or simply wished you did. Because the Polaris Indy led the industry in sales for more than a decade, there are many of them serving nostalgia as vintage rides. With the re-introduction of the iconic Indy name, Polaris hopes to gain sales based on the memories younger riders may have had of the originals. That means that many older Indys may be in garages or barns awaiting upgrades as they get passed down and around to a newer generation of snowmobilers.
While the older Indys may need an upgrade, modern Polaris snowmobiles can always benefit from new gear as well. What better time to prepare for next season than right now? Enjoy your fishing and lawn mowing, but remember that last winter came early. Get your sled set up with whatever new items you need to add this summer. Here are some thoughts to help you get started.
Seat Fix
Scotty's Sled Shed, better know online as http://www.sledseats.com/, specializes in custom aftermarket snowmobile seat covers for all makes and models. If you have a special need, the Muskegon, Michigan-based supplier can fit hard to find patterns or work with you on a custom fit.
If you are fixing up a 2000s vintage Indy, you'll discover that this company offers "stock" covers for various models, including the 2001-2003 Indy 500s. The suggested retail price for that style cover starts around US$130 (less shipping and taxes).
Whether you need a new seat covering or simply want to add comfort to an existing sled, you could add the Universal Strap-Over kit, a unique product aimed at giving snowmobile riders extra "cush" on the trail.
The Strap-Over kit gives you about 2-1/2 inches of increased seat height from a manufactured cut piece of firm foam. The seat covering is made from top quality marine grade cold crack vinyl. In addition, you can order this with either the standard smooth top or a "sticky" seat top, which is recommended. The vinyl underneath is non-slip and grabs securely to the top and sides of your existing seat.
Installation is simple, but requires removal of your existing seat to fit the "tie down" attachments so that it sits tight on the foam and will not shift around. There also is a kit for older chassis machines. This universal fit seat extension fits most snowmobile models and retails for about US$110.
Extended Tracks
If you have a short-tracked Indy with a 120-inch sport track but now want more grip and improved flotation, you don't have to go to the extreme of buying a new stretch track model. Using a tunnel and rail extension kit from Idaho-based Starting Line Products (SLP) lets you opt into improved off-trail performance. The extensions are relatively simple to install for serious do-it-yourselfers. The SLP Rail/Tunnel Extensions kit for the Polaris IQ chassis starts at US$280 and includes all the pieces you need to take a 120-inch tracked model out to 136 inches, which provides the additional length needed for clearance when using a longer track. The pieces are specifically designed for the Polaris chassis and fits with the stock sled's aluminum finish.
The kit contains both the tunnel extension and rail extension. This is a simple, strong, cost effective way of extending the suspension rail for installation of a longer track to provide increased performance in deep snow conditions. For specific information, visit http://www.startinglineproducts.com/.
Of course, understand that SLP's pricing for its kit does not include the track. You'll still need to get your own extra-length track. That's when you call over to TRACKS USA in Lake Lillian, Minnesota. This company has been supplying tracks to snowmobilers for more than 20 years.
To help you gain off-trail "cred," this company offers its own TRACKS USA Rail and Tunnel Extensions. With this system you can easily upgrade a new generation 600 Indy from its stock 120-inch track to a 129-inch length Cobra design with the more aggressive 1.352 inch lug height.  But, since TRACKS USA specializes in tracks, you can select from a large number of options, including the addition of the new Ripsaw II pattern. Like the SLP kit, this is a comprehensive kit with all the hardware you'll need to convert your stock short-tracker to an extended track version. Of course, pricing will vary upon which track you choose. Check out the TRACKS USA website for details.
Pack More Power
While Polaris' Cleanfire 600cc twin two-stroke engine may be a flatland favorite, every snowmobiler likes an edge. One way to get a boost is with a lighter than stock bolt-on muffler. The Bikeman Performance Powder Lite Muffler lets you delete four-pounds of weight while adding improved throttle response thanks to its freer flowing internal baffle design. The Bikeman Performance muffler replaces the stock unit, fitting neatly thanks to its laser-cut mounting brackets. The performance pipe in basic black retails for US$249.95 with an optional chrome version for US$40 more.
The Powder Lite Muffler fits various 2013 600cc Rush, Assault and RMK models as well as the 2014 600 Indy. For more information about this Wisconsin company and its products, visit http://www.bikemanperformance.com/.
Bag It
A truly easy to install but incredibly nice-to-have add-on provides your Polaris with extra storage. Talk about a vanishing frontier, for snowmobilers, space truly has become the final frontier as sled makers have cut back onboard storage as seriously as today's airlines. You can add an "official" storage bag or rack, but that will cost you. Of course, this helps explain why the snowmobile companies' Parts, Garments & Accessories divisions are so profitable.
It's ironic to look at that vast open space at the rear of a modern stock sled's tunnel. You'd think a new sled costing more than US$10,000 might come stock with a useable storage bag. It's available, but you get to pay extra for the storage device of your choosing.
If you want to upgrade your storage options, we find that the sled manufacturers aren't the only game on the snow. For example, Holeshot Inc., based in central Minnesota, has created a very handy and innovative handlebar pad with a functional window for your smartphone or other mobile device. The design allows you to access your device's various "apps," which may include music or a GPS app. Plus, it is designed so you can control an "adventure" camera like a Go-Pro. The "Holeshot Smart Pad" protects your device from dirt, moisture and debris. Suggested retail is US$39.95. For more onboard storage solutions, check out http://holeshotinc.com/.