Get Your Yamaha Ready This Summer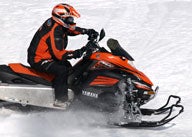 Adding performance to your 4-stroke Yamaha
Now that the snows are gone and you're moping around thinking about mundane things like golf, fishing or mowing the lawn, why not spend a little time getting your sled ready for the upcoming season? After all, this is the time of massive global warming and since the new Ice Age is heading our way, why not be prepared and have your sled ready to fire at the appearance of the first snowflake.
As a prelude to winter, we will offer some ideas on what you can do this summer to enjoy a better next season. We'll touch on each brand over the next few weeks, but for now we'll kick off with a look at what you Yamaha owners can do to get ready for the first snowfall.
Hauck Power Sports
Folks in the Midwest know Wisconsin-based Hauck Powersports as one of the preeminent Yamaha performance shops. A fixture on the grass drag circuit for years, Hauck Power Sports owners Jerry and Pat Hauck have squeezed race-winning performance from both 2-troke and 2-troke Yamahas over the years. Now that Yamaha has concentrated on 4-stroke engines, the Haucks have kept with the changes and offer a variety of kits to help you maximize your Yamaha's ability to get up and go. That get and go isn't just for the quad-engined Apex or triple-headed, quick-revving Nytro series. Hauck also offers power options for the diminutive 500cc Phazer lightweight.
What can you get to enhance performance? Well, a quick trip to Hauck Power Sports Inc. will give you a plethora of ideas to help boost your Yamaha's performance. Here are a couple of starter suggestions.
For you Nytro riders, Hauck offers its FX Nytro #6 Clutch Kit, which adds adjustability to its popular #5 clutch kit. Hauck engineered special weights with an aggressive profile to help launch the 130-plus horsepower Nytro more quickly. This kit permits you to adjust the engagement by simply using an Allen wrench to dial in personal performance. The #6 kit retails for US$425.00, and ships in 1-3 days from Hauck's Rice Lake, Wis. facility. The kit contains the adjustable weights, a helix, plus the appropriate primary and secondary clutch springs.
'…the Haucks have kept with the changes and offer a variety of kits to help you maximize your Yamaha's ability to get up and go.'
While most Yamaha emphasis centers on the big power sleds like the Nytro and Apex, Hauck Powersports hasn't forgotten the Phazer rider. The company offers what it calls a "sweet sounding" dual exhaust expressly designed for the 500cc Phazer twin. The Hauck Powersports Phazer "Husher" Dual Pipe System cuts seven pounds from the stock exhaust while adding a claimed three horsepower boost. The Husher kit features dual chrome tips and an internal baffled core that is claimed to put out an 84-decibel tone — which will not exceed Wisconsin's strict 88 decibel exhaust rating. The system retails for US$895.00.
Apex riders can add up to four horses by bolting on Hauck Powersports' full stainless steel head pipe assembly. Said to be stronger than the factory header, the redesigned head pipe retails for US$550.00 and will add neither weight nor extra sound to the sled's 4-cylinder motor.
For more information about these Yamaha add-ons, contact Hauck Power Sports, 2072 19th St/West Ave., Rice Lake, WI 54868 (Phone: 715-234-6195). HauckPowerSportsInc.com
Dalton Industries
Working strictly through its network of dealers and distributors, Nova Scotia-based Dalton Industries offers aggressive clutch kit deigns for the Yamaha Nytro. The engineering of these replacement pieces tend to offer a more aggressive curvature flyweight than the original equipment specified by Yamaha. The weights should satisfy most any rider's performance needs as they are available in 53, 55.5, 57.5, 60, 62,64, 66 or 68 grams. Dalton uses an aggressive curvature requiring fewer grams than the factory supplied (flatter) curvature. You'll want to consider this style of weight for quick revving drag applications.
Dalton offers a clutch kit for the 2008 Nytro that allows increased midrange-pulling power with what the company refers to as "superior backshift." Retailing for US$389.95, the kit is said to offer a five-sled length gain over 1000 feet of acceleration. The improvement in midrange doesn't sacrifice top end according to the manufacturer.
Unlike "kit" suppliers, Dalton Industries specializes in manufacturing clutch-tuning components for companies that assemble clutch kits, performance shops, and racers/tuners who want to develop clutch set ups specific to their needs. These products are developed for the "advanced" tuner who conducts his own testing.
If you aren't a skilled tuner but want to improve your Yamaha's performance, you can still get the benefit of these Dalton products in kits from Dalton clients such as: D&D Powersports (Lowville, NY); Hartman Inc. (Nampa, Idaho); Fett Bros. Performance (Frazee, Minn.); or, ProLine Performance (Rochester, Minn.).
For more specific information as to where you can get Dalton products, visit DaltonIndustries.com
Exhaust Gas Technologies
Now that you've added performance to your Yamaha, you'll need to keep track of it. We suggest you look at the various "Racepak" products from Exhaust Gas Technologies (EGT). Although somewhat new to snowmobile performance, EGT has supplied sensors and equipment to professional race teams in NASCAR and the National Hot Rod Association for more than a decade.
The Racepak UDX ("Ultra Display Extreme") is EGT's latest data acquisition device for snowmobiles. With a suggested retail of US$699.00, the Racepak UDX recording display is said to be the most advanced snowmobile recording unit you can get. The dash panel mounted unit comes with a central recording information center designed especially for snowmobiling's cold weather environment. Simple to install and use, the system provides all the critical information needed to tune your sled. The unit's rugged plastic housing measures 10-1/8-inches by 4-in. and holds an LCD display measuring 7-1/4 x 2-5/8 inches.
There are four user selectable digital displays that can be used for identifying any combination of Digital RPM indication, exhaust gas temperature readings, water temperature, jackshaft RPM, speed, trip odometer, odometer, fuel level and more. In addition, the base system displays factory warning indication lights and will provide the user with all factory supplied indications while also providing separate programmable alarms.
The base model can be enhanced with optional sensors that are "plug & play" so the user can easily customize the system. Cylinder Head Temperature, Pressure or Data Download are the most popular options. Since the Racepak accepts both AC/DC power sources, it can operate on sleds without a voltage regulator.
For more information about the EGT Racepak and EGT's line of sensor products, contact: EGT Exhaust Gas Technologies, 1381 North Kraemer Blvd, Anaheim, CA 92806-1403 (Phone: 1-800-348-4678); online at Exhaustgas.com
Related Reading Arctic Cat Bolt-Ons Add-On Pieces for Your Polaris Ad-Ons For Your Ski-Doo