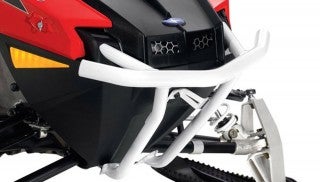 Look good and stay on the trail with new gear and Polaris tech
Parts, garments and accessories made up 17 percent of Polaris' annual revenue last year. When it comes to helping you look good on and off the trail or riding a Polaris product that makes a personal statement, Polaris wants to make sure it can provide the right gear for you. It pays off.
In fact, at our last annual sled evaluations, Polaris featured so many customized sleds for us to ride, that we weren't always sure what we were seated on. The Polaris 600 Indy SP Terrain Dominator was easy, but we also rode a bright orange RUSH or was it a Switchback? 600 or was it an 800? With all the custom features splashed on the sled, finding engine displacement cues and model nomenclature got lost. That's a good thing, actually.
As our sport tends to have veteran participants, more of us welcome a break from the sameness of standard looks. We are proud of our rides and because we average more than 2,500 riding miles per season, we prefer to make them a bit more personally suited to our individual likes. It can be a simple thing like adding a club sticker to the windshield. If we like to spend our weekends riding point-to-point, we might add stylish carry-alls. Sport riders seeking "big air" and ungroomed forest roads might choose to upgrade shocks, skis and bumpers. Full or partial sled wraps can set a sled and rider apart from the crowd. But so can switching out standard skis or suspension rails for brightly colored ones. Windscreens hint at rider preferences, too. Low and racy says one thing, while tall and wide says totally opposite. Of course, it may simply mean that a sport rider got tired of cold blasts to the face.
Parts to Upgrade Your Arctic Cat
Polaris invites customization and a break from sameness. In model year 2016 Polaris made a point of not just introducing its all-new Pro-RMK but giving it a long list of specially developed accessories and gear options expressly engineered for it. With PG&A sales (17 percent) contributing more than twice the income of snowmobile sales (7 percent) to the Polaris bottom line, know that Polaris was not about to introduce a new sled without accessory back up.
It used to be that all of the sled makers only worried about getting product to the snow and they'd let others create add-ons. Those days are over. Why would Polaris introduce a new product and wait a year to develop gear for it, allowing aftermarket companies to create accessory gear and steal profits?
Polaris proclaims that its 2016 sleds are "engineered for customization" and is very serious about PG&A, pointing out that Polaris brand accessories and gear are designed to install properly and integrate with the form and function of the sled.
Today each snowmobile manufacturer offers its customers an incredible range of sled-customizing options. Polaris' optional gear ranges from Polaris-exclusive tracks to windshields and handlebars to storage options and much more. In addition, while there are "general" one size fits all products, there is an ever-growing list of accessories that are very model and application specific.
Because the new Pro-RMK needs to flow seamlessly through deep powder, Polaris worked with experienced backcountry outfitter Chris Burandt to create Burandt Storage Solutions featuring redesigned Lock & Ride technology.
Obviously Polaris didn't forget the trail sport rider as it offers a modern interpretation of its 1970s Midnight Blue Sno Pro and cross-country racing heritage with the 2016 600 Indy SP Terrain Dominator. While you might expect Polaris to put all its styling eggs in the all-new Pro-RMK basket, the Indy Terrain Dominator shares in the add-on department. Consider that Indy riders opted for their "value" rides for a reason. Offering those riders customization accessories allows them to personalize their ride with options that matter to their riding lifestyle.
Our flatland staffers differ in what we want in a sled from our mountain riding test crew. If we ride an Indy we want to make miles not high marks and we want to do it with above average ride comfort and on-trail handling. Polaris' accessory solutions give us that ability. Heck, we could take a basic 600 Indy and give it a richer "look" by adding a custom white gloss mid-height windscreen and incorporating a full frontal protection white "Ultimate" bumper to match add-on white ski hoops. For on-trail convenience we could fit that 600 Indy with hood-mount mirrors, an aluminum cargo rack and a storage bag mounted at the tunnel or on the riser bar.
BRP-Made Upgrades for Your Ski-Doo
One option that Polaris has that the competition doesn't have is its full-color LCD display with GPS capabilities and smartphone connectivity. Although most 600 Indy buyers won't opt for this nearly US$1,800 option, they could. It comes standard on the Switchback Adventure.
Of course, bolt-on gear isn't all that Polaris has to enhance your ride and help PG&A sales. Partnering with its KLIM apparel subsidiary, Polaris can offer unique snowmobiler-centric clothing, although KLIM-specific gear is available through KLIM dealers.
Polaris offers top grade outer wear that includes its 2016 Adventure jacket. This trail-oriented item features Gore-Tex to keep you dry, 3M Scotchlite piping and trim to help you be seen at night and Thinsulate insulation for warmth without weight. The jacket retails for US$380 and can be matched with the black Men's Adventure bib, which also features Gore-Tex and Thinsulate materials.
Riders can "style" with an assortment of colorful FLY helmets and protective goggles. The Sly Fly open face helmet in black and gray can blend with many apparel combinations and offers its wearer the protection of a premium carbon fiber and Kevlar outer shell that meets Snell M2010 and DOT ratings. Designed to be light for all-day comfort, the helmet features 11 intake and four exhaust vents to keep an active rider's head cool. Fitted with a plush, absorbent liner, the helmet retails for US$290.
In addition to its apparel lines designed for powder riders, off-trail adventure seekers and trail tourers, Polaris offers a list of carry-all bags from noted lifestyle gear manufacturer OGIO. Gear bags like the Polaris 8800 Truckers bag features clever storage combined with a rugged frame and easy rolling wheels. The bag retails for US$160 and is one of a collection of OGIO bags created exclusively for Polaris. If you prefer to pack gear in a backpack, there is the US$130 Polaris waterproof backpack that features OGIO's "AIRFLOW" back panel to keep you cool. Made of 420-denier nylon, the pack weighs 2.5 pounds and holds 26 liters of gear.
While Polaris may not make all its own apparel, the company teams with top names like OGIO, FLY and others to bring top grade equipment to its customers. Bolt-ons will have been engineered by Polaris to fit specific models. Plus, one thing we've noticed in recent years is that the Polaris people developing and approving the gear actually use it. In many cases the gear comes out of real world on-snow experiences. Quick on and off lockable "Adventure" pieces were developed by actual Polaris engineers who did long distance touring rides to prove or improve the function of the gear. This new crew of Polaris snowmobile engineering and product development staff isn't just creating new products for us, they are often creating it for themselves first.