2018 Ski-Doo MXZ X-RS 850 Review + Video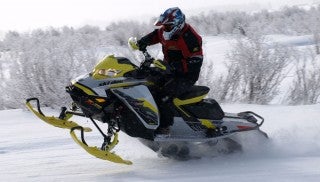 Ski-Doo gives the MXZ X-RS a major boost
Before we arrived at the West Yellowstone, Mont. sled review site, we already knew that Ski-Doo had stacked its test fleet with the latest Generation-4 platforms all powered with the 850cc E-TEC twin introduced last season. This will be Ski-Doo's big push for model year 2018, GEN-4 platforms with 850 two-strokes.
Fast Facts
Engine: Rotax 849cc two-stroke
Power: 165+ horsepower
Track: 15 x 129 x 1.25 RipSaw
MSRP: US$14,499
Since the 600 E-TEC and ACE four-strokes don't fit into that chassis, don't look for those power systems flogging any 2018 GEN-4 models. Do look for a myriad of GEN-4/850 models populating everything performance oriented in the Ski-Doo line from full-on powder blasting Summits to rough trail speed running MXZs. Within that cadre of trail sportsters come various MXZ models from base level MXZ 850s to an all-new 2018 Ski-Doo MXZ X-RS 850.
As we knew before our arrival what models would be available for the annual evaluation session, we had mentally picked a few favorites, such as the MXZ TNT 850 and the Blizzard 850. Pre-ride and with total bias, we relegated the MXZ X-RS 850 down our picks.
Something happened with our judgmental thinking of the 2018 Ski-Doo MXZ X-RS 850. Pre-ride we thought, "Okay, if we must, but it'll be too racer-oriented and not to our liking."
Au contraire! Almost immediately after swinging a leg over the seat and engaging the pleasantly potent power of the latest big displacement Rotax twin, our attitude began to change. This X-RS wasn't at all what we expected. By our final ride, our favorites list had been turned upside down. The X-RS 850 stood out as our favorite Ski-Doo ride of all the 2018s that Ski-Doo brought to the session. Even things that we vowed to hate, turned out to work, leaving us with a sense of peaceful coexistence for some features.
What was it that made the X-RS such a turn-on? For one, unlike last season's X-RS this version of the X-RS benefits greatly from the vastly improved balance of the Gen-4 platform versus the older "XS" chassis. That all-new Rotax 850 E-TEC sits centered in the engine bay, meaning that you benefit with consistent side-to-side balance for smoother cornering. Admittedly you probably won't know that's happening unless you immediately climb aboard an XS platform and run the same corners. Then, you'll know – and appreciate the new level of handling precision.
You'll also quickly adjust to the friendlier modulation from this year's 850 twin. Those booster ports of which Ski-Doo engineers were so proud, came on hard in the 2017 prototypes we rode last year. With an added year for more tuning, the engine remains strong from midrange to top end, but that ferocious midrange booster port "hit" of power has been smoothed out some, resulting in improved trail-ability. We like it.
A years' worth of development in the chassis and engine package pays off, especially in this all-new X-RS. As the top of the line high performance trail sled, this so-called race replica comes with all the bells and whistles you'll want. Unlike some wannabe racer sleds, the features on the Ski-Doo not only add value to sports riders, but make sense. That premium shock package of KYB Pro 36 R shocks is incredibly easy to dial in as it offers 22 "clicks" of compression adjustment. These shocks work extremely well with Ski-Doo's latest RAS 3 double A-arm front end. Where most high-performance sleds have switched over to the pre-determined three-way settings of the Fox QS3, Ski-Doo engineers figure that X-RS riders are quite capable of fine tuning these KYB shocks.
Then for more precision, our review X-RS allowed more handling set-up with the "dagger" type TS skis that allow us to drop or raise the wear bar position for more or less bite. Our sled also came with the dial-adjustable version of the rMotion rear suspension, which featured standard KYB Pro 40 shocks on the front and rear suspension control arms.
Let's not forget one of last year's most clever handlebar features, Ski-Doo's forward adjustable riser that allows you to easily move the bar through a four-inch range of motion to provide a custom riding position. It's standard on the 2018 Ski-Doo MXZ X-RS 850.
While we complained about the foot positioning on virtually all GEN4 models last season, this updated review sled featured the Ergo-Step side panels with a toe hold piece that was useful in whipping through sweepers and tight turns. Looking at the Ski-Doo list of options we know that we could spec out a setup to make ourselves totally comfortable with this sled.
Maybe that's what surprised us the most about the 2018 Ski-Doo MXZ X-RS 850. Just how quickly we got comfortable on it and wanted to push it and ourselves beyond our previous comfort range. There's something about how ergonomically friendly this trail burner can be. The seat invites you to slide forward and hang out as you squeeze more and more of that 850's power to the trail. The foot pegs added confidence that hadn't been there when test riding 2017 GEN4s. And that power, oh, that smooth, ever building power had you exiting a turn heading into the one ahead smoothly and quickly. The RAS3, rMotion and dagger skis provided positive reinforcement that you could ride harder. And when we made a test run but felt we wanted more grip, we pulled off to the side of the trail and added a twist of ski bite and a couple clicks of stiffness to mitigate roll. Back on the move, we had fit the sled to our style. Amazing how quickly we could make a change for the better. The X-RS is incredibly easy to adjust and extremely fun to ride.
Admittedly, our review X-RS was fitted with all the premium goodies and set up by professional Ski-Doo mechanics who wanted us to get the best possible impression of the sled. It worked. But, consider that the basis for that impression, their starting point just happens to be very, very good. The new GEN4 platform feels balanced side to side and front to rear, as it should.
The drive system gained sophistication from a year's worth of added development. We noted that the base engagement for this year's 850 drivetrain moved down 200 revs from last year's published engagement of 3800 rpm. Maximum engine speed remains at 7900 rpm for the pDrive with QRS secondary.
The 2018 Ski-Doo MXZ X-RS impressed us most of the new for 2018 GEN4 fleet showcased at the annual photo and ride review. It rates as a new high performance favorite for its obvious power, consistent and stable handling, overall ergonomics and ease of ride-tuning. If you can't dial in a ride and handling setting to suit your riding style, you'll never manage.
When all is said and done, this sled says trail perfection. It made believers of us and it'll make believers of you, too!