2019 Ski-Doo MXZ X-RS vs. Yamaha Sidewinder SRX LE: By the Numbers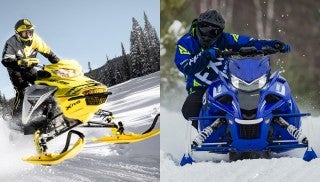 The 2019 Ski-Doo MXZ X-RS and Yamaha Sidewinder SRX LE are high performance, high speed snowmobiles that we wanted to compare…by the numbers.
Even though it is still summer, we've all started noticing that the days are growing a little shorter each evening and that is a sure sign that it won't be long before the cold creeps back in, snow starts falling and it is time to hit the trails on the sleds. And what's the best thing about riding snowmobiles? You can go fast! Ok, that might not be the only thing that is awesome about them, but it's high on the list for a lot of people. Two of the fastest sleds around are the 2019 Ski-Doo MXZ X-RS and the Yamaha Sidewinder SRX LE.
Two into four and then back to two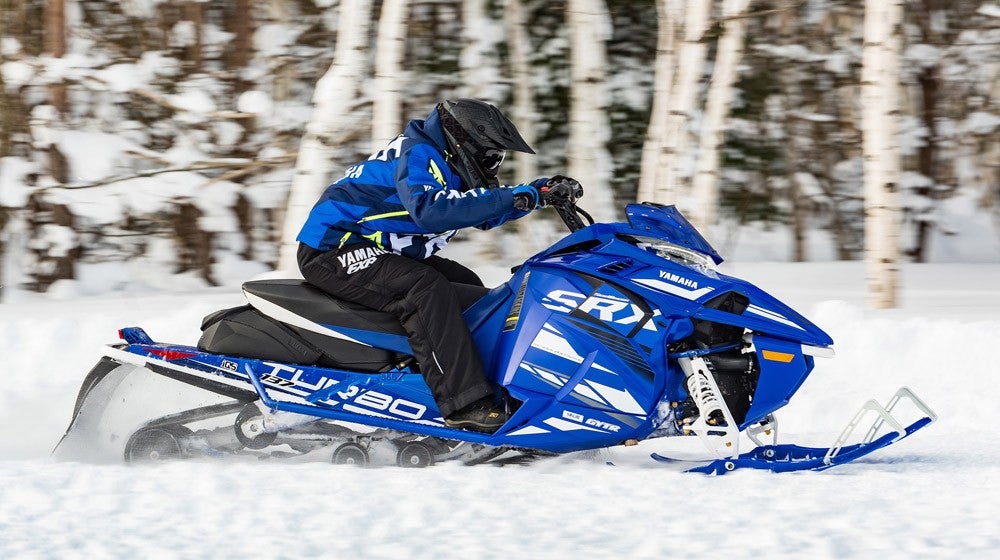 Two-stroke motors used to be the norm for just about all things powersports. Dirt bikes and ATVs where two-smokers if they were at all fast. Boat motors where just about all two-strokes, and snowmobiles were too due to the power-to-weight ratio. Then one of those tricky government groups stuck their noses in and things started changing. There are but a few two-stroke dirt bikes around, although they are experiencing a resurgence lately. ATVs are all four strokers now, as are many of your outboards for your boating pleasure. And thanks to advancements in technologies, four-strokes have become a major force in snowmobiles too.
Yamaha was really the first to jump in with high-performance four stroke engines and oh man have they taken the ball and run with it. The 2019 Sidewinder runs a 998cc Genesis turbo-charged triple that is designed for producing the most horsepower at the best weight ratio. For 2019, Yamaha reworked the YSRC clutches to run cooler, getting more power to the ground for a longer period of time without fade issues. Yamaha doesn't like to boast horsepower totals, but it is widely known that the Sidewinder pumps out north of 200 hp. Let that sink in a bit. If the thought of ripping across a frozen lake on one doesn't make your arm hair tingle, call a doctor; there's something wrong with you.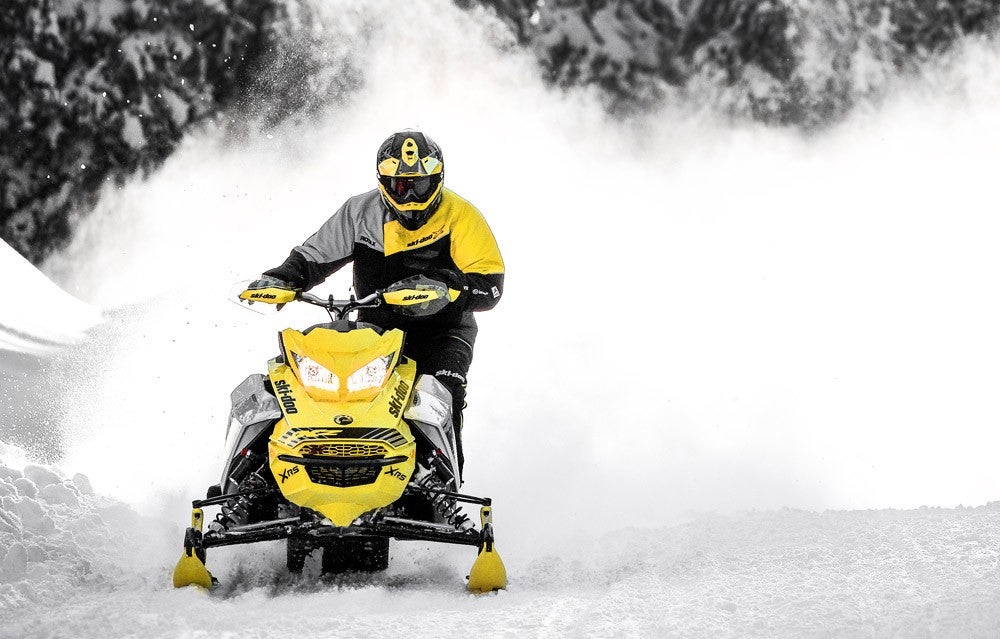 On the flip side, while four-stroke engines were taking the spotlight, BRP, the parent company of Ski-Doo, was busy rethinking the two-stroke. Starting on its marine side with Evinrude outboards, BRP was developing new E-TEC two-strokes that met every environmental regulation and still produced amazing horsepower figures. Jump over to Ski-Doo and that technology was brought in with the new twin-cylinder, 849cc eRAVE E-TEC motor. This motor is fed by BRP's E-TEC Direct Injection system that has additional booster injectors, and runs through a pDrive QRS clutch with clickers for amazing responsiveness. What you get is a lightning fast two stroke that is unaffected by elevation and has amazing power-to-weight. The Ski-Doo moves. Quickly. Like scary quick…
Handling the Speed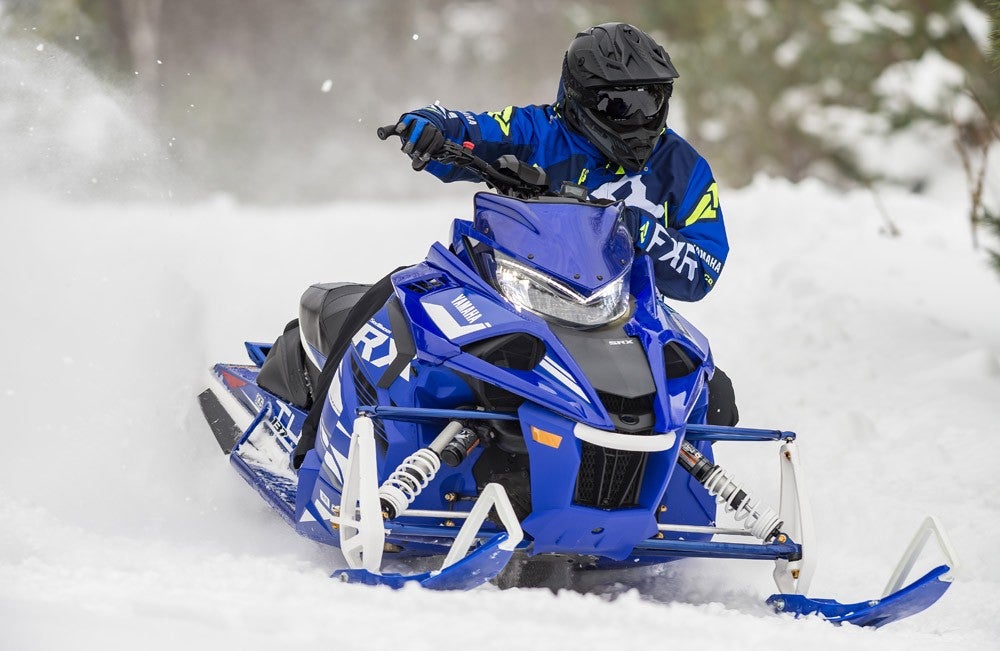 If you haven't figured it out, the $17,599 Yamaha is designed for speed. This doesn't mean it handles like a battleship, but the ride is definitely in line with going in a straight line. The suspension system will soak up the bumps well, and the ride quality will be amazing. It comes with Fox 1.5 (front) and 2.0 (rear) Zero IQS shocks, a system developed with the Arctic Cat partnership. This system electronically controls the suspension action for a better ride, and with the SRX specifically, it gives the sled a lower ride height. You still have 10 inches of front travel and 13.5 in the rear, but the overall sled rides lower to the ground, reducing uplift and letting you carry more speed safely. It has a 137-inch Casmo Ripsaw-1 track that is fully clipped and made specifically for going fast and attaining those blurring speeds.
Now, I'm not saying the $14,699 Ski-Doo is a slouch by any means. Far from it. The MXZ has the fourth generation REV chassis outfitted with narrow-design bodywork. This gives the Ski-Doo the feel of a motocrosser. The seat is aggressive and thin, and the bars have four inches of adjustability. This puts you as the rider into an aggressive, attack stance. The RS runningboards also aid a stand-up riding style. The Ski-Doo is outfitted with the latest KYB PRO easy-adjust shocks with 10 inches of travel in the front and 10.6 on the rear. The 2019 Ski-Doo MXZ X-RS is also outfitted with Brembo racing disc brakes with stainless steel lines. With a dry weight of just 495 pounds, the MXZ will flat-out hammer the roughest terrain. The track is a 129-inch Casmo Ripsaw with 1.25-inch tread. You can also select a 1.25-inch Ice Ripper XT or 1.6-inch Ice Cobra track, too. This sled is on the shortlist for best handling snowmobile on the trail this winter.