Introducing The New 2018 Ski-Doo MXZ 600R E-TEC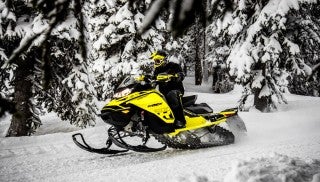 Today Ski-Doo has introduced the new 2018 MXZ 600R E-TEC in their REV Gen4 platform.  It includes a new, 125hp, 600R E-TEC which shares the DNA of the 850.  This will be a limited build model.
Here is what Ski-Doo had to say about today's release:
Introducing the new 600 class benchmark, the 2018 MXZ 600R E-TEC, that brings the kind of response and acceleration first introduced with the Rotax 850 E-TEC, plus REV Gen4 benefits for even more trail riding excitement. Riders will appreciate the heart pounding, smile producing fun factor that this new combination brings as they experience the quick revving strong pull from corner to corner and ease of handling with big bump control this package delivers. This limited build model is available starting January 10th, 2018 and combines unique features that will make a splash in the market place.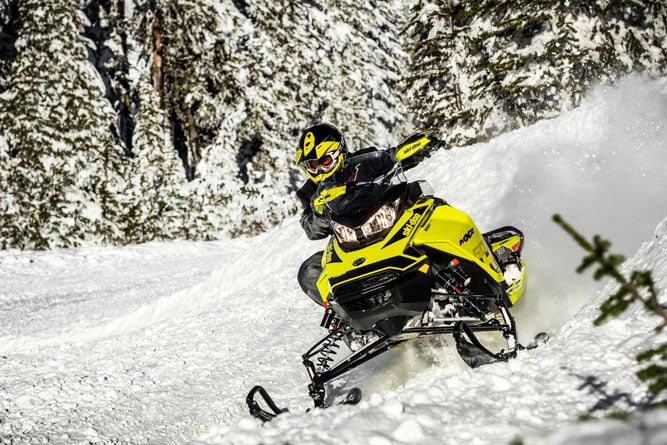 The heart and soul of this MXZ is the new Rotax 600R E-TEC that brings 125 horsepower and DNA shared with its big brother, the Rotax 850 E-TEC. Features like the short intake tract, ultra-fast eRAVE, mono-block cylinder design with plasma coating and many other elements that will allow it to play a class higher on the trail. As impressive as the output, response and acceleration are – the development team made sure to meet or exceed the same levels of reliability and efficiency that the Rotax 600 H.O. E-TEC is famous for.
The MXZ 600R E-TEC's narrow engine provided the room needed to fit it in the REV Gen4 platform so now 600cc riders can enjoy the same balanced, precise handling and bump eating capabilities the platform is known for. Features like the RAS 3 front suspension with KYB Pro 36R shocks and rack steering up front
compliment the rMotion in back that includes the Quick Adjust System.
What's New for 2018 (January 2018 launch):
All-new 600R E-TEC engine in the REV Gen4 platform
Limited build model with special features
VITAL INFO: Limited Build 2018.5 SKI-DOO MXZ 600R E-TEC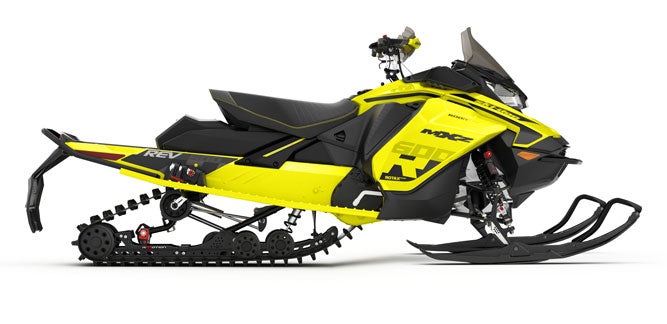 SNAPSHOT
A limited build Ski-Doo snowmobile that introduces the new Rotax 600R E-TEC engine and the REV Gen4 platform to the 600 trail class. Confident all-around rough trail performance with personalized options and head turning looks, this buyer also demands their sled give them precise cornering and big bump capability if they're pushing limits.
Built for the ultimate in rider control, the MXZ snowmobiles based on the REV Gen4 chassis with its centralized mass that responds instantly to the slightest rider input deliver the most fun per mile. Outfitted with premium KYB Pro 36R shocks in the RAS 3 front suspension and KYB Pro 36 and HPG Plus in the rMotion 129 rear suspension, the MXZ 600R E-TEC tames harsh trail conditions with ease. Features such as the rack steering system and Forward Adjustable Riser create a precise, confidence-inspiring ride.
PLATFORM
REV Gen4 platform: Designed with narrow, perfectly centered engines to be the ultimate handling trail snowmobile. The trail version of the 4th generation REV platform is designed around aggressive trail riders with a slim, compact design giving the rider more freedom to move and influence the sled. More centralized masses (especially side-to-side) and industry-leading suspensions make the vehicle ultra-responsive.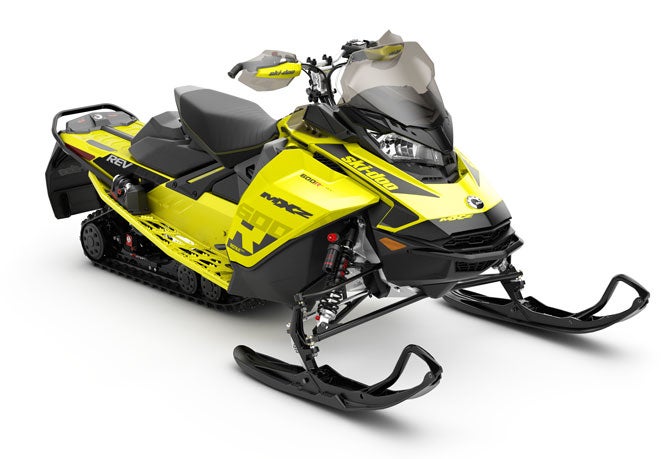 SUSPENSION
rMotion 129 rear suspension with Quick Adjust System (QAS): THE standard for control, capability, comfort and adjustability. Supple ride in small bumps and added capability in large ones, thanks to separate spring and shock dynamics, and the most rising-rate motion ratio in the industry. 129-inch (327 cm) length has superior traction, braking and bump filtration while still delivering the precise handling and cornering MXZ sleds are known for. Easy adjustments for shocks, springs and coupling blocks.
Premium rear shock package: HPG Plus center shocks. KYB Pro 36 rear shock featuring compression adjustment. All shocks are aluminum and rebuildable/revalvable.
RAS 3 front suspension: State-of-the-art unequal length A-arm front suspension provides outstanding bump absorption and precise handling, even in harsh conditions.
KYB Pro 36 R piggyback front shocks: Extreme capability, extreme durability shocks for control in the toughest conditions. New design is more efficient for higher performance; compression and rebound calibration ranges are optimized. Easy Adjust knobs for compression and rebound adjustments.
Rack steering system: Derived from the MXZx race sled, further increases front suspension precision and straight tracking in extreme bumps.
KEY FEATURES Ergo-Step side panels: Design offers natural progression to three positions for different cornering styles, including an extreme-forward position.
Open toe hold: True freedom to choose. Enables rider to naturally pivot their outside foot outward in aggressive cornering. For more locked-in, secure feeling, alternative toe hold accessories available to customize the fit for all styles.
Forward Adjustable Riser: 4 in./10 cm of no-tool fore-aft adjustment to customize the riding position instantly.
Trail performance seat: Narrow design eases shifting from side-to-side and front-to-back. Wider and flat rear section adds comfort.
Pilot 5.7 skis: Dual-keel/single runner design for aggressive bite in corners and virtually no darting.
rMotion Quick Adjust System: Consists of running-board-mounted controls for rear suspension spring pre-load and rear shock compression damping that make fine-tuning fast and easy, even with gloves on. 40% more preload adjustment range than the standard rMotion suspension with infinite settings.
15 x 129 x 1.25 in. (38 x 327 x 3.2 cm) Ice Ripper XT track: A derivative of the RipSaw track with carbide studs embedded in track lugs for added grip in icy conditions.
UPDATED pDrive primary clutch: Fast and friction-free dual rollers transfer torque in place of traditional sliding buttons on this clutch. Oversized rollers with needle bearings, wide based flyweights and a shaft-on-shaft design emphasize smooth operation and long life. Ultra-responsive shifting, impressive RPM consistency, lightweight and maintenance-free. Fixed sheave is finned tocirculate more air – paired with the new CVT cover delivering better air flow and cooling.
Brembo disc brake: Hydraulic system from the world leader in brakes and X-exclusive racing-style pads provide powerful, fade-resistant stopping power. Steel-braided line.
Glove box: 1 gal (4 L) storage box is ideal for storing a spare pair of goggles or gloves. Improved seal to keep moisture out. Wiring and marked cut-out for USB and 12V accessory outlets.
Premium handlebar control: Includes warmer switches, electronic reverse button, mode-set buttons for operating gauge cluster and backlighting
Multifunction Gauge: Customizable, all-digital LCD gauge gives riders an easy-to-read display that automatically adjusts backlighting to changes in ambient light ensuring you've got the info you need all day long.
Rotax Electronic Reverse (RER): A simple push of a button reverses the sled – by reversing the direction of the engine. Adds nearly zero weight.
Electric start: Standard (no pull starter)
RF DESS Key: Standard theft protection using a radio frequency microchip embedded in the key. Ball- and-socket design ensures solid connection.        Accessory-ready: Designed from the factory for easy installation of more than 100 Ski-Doo accessories for the REV Gen4 platform, including LinQ cargo system, skid plates, side panel vents, auxiliary LED light, GPS receiver, 1+1 seating system, alternative windshields and more.
ROTAX ENGINE
NEW Rotax 600R E-TEC engine: The advanced 600R E-TEC will quickly become the industry measuring stick for all other 600-class engines. Incorporating exclusive second-generation E-TEC technology from its big brother 850 E-TEC engine, the 600R E-TEC sets the bar in acceleration, horsepower, reliability, and maintains industry leading oil and fuel efficiency.
COLOR NEW Sunburst Yellow/Black with unique graphics package
For more information visit: 2018 Ski-Doo 600R E-TEC