Introducing The New 2018 Ski-Doo Expedition SWT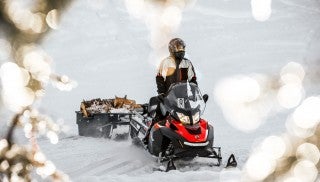 Today Ski-Doo has introduced the 2018 Expedition SWT (Super Wide Track). It features new RAS2 front suspension, a new 156 x 24 x1.25″ track, and new Viper Red/Black colour scheme.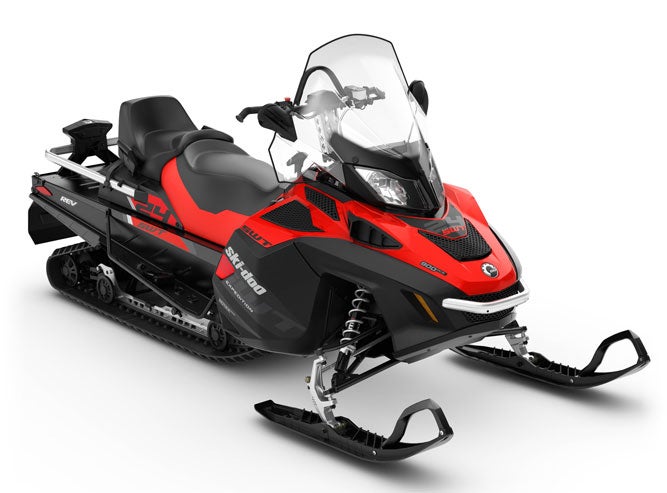 Here is what Ski-Doo had to say about the new 2018 Ski-Doo Expedition SWT:
The 2018 Expedition SWT (Super Wide Track) launching in January 2018 is bred from a long line of unstoppable workhorse sleds that can go anywhere and do anything, but it adds a new level of comfort and control for riders that demand the most capable sleds for both work and play. These riders often live in scarcely populated areas where the only trails are the ones they make. For them the floatation, traction and towing capability offered by the huge 156"x 24" wide track is a real necessity, but they've long sacrificed the comfort and control that an adjustable width A-Arm front suspension can bring. Until now.
Living up to its namesake, the Ski-Doo Expedition SWT also blends some of the comfort and convenience of a trail oriented sled with other crossover capable features, and a lumberjack's work ethic. The little extra width of the RAS 2 A-arm front suspension on this new model enables crisp, predictable handling, and shows the dual purposes the Expedition line is intended for. The utility-minded SC-5U rear suspension with locking and articulating feature of the rail makes for easy backing in deep snow and incredible traction while towing heavy loads. The Synchromesh transmission with two forward, and one reverse gear, standard tow hitch, and copious amounts of storage space from the rear cargo box and under-seat further deliver the versatility and capability expected.
Powering the Expedition SWT is the 90-horsepower Rotax 900 ACE 4-stroke, renowned for ease of operation, massive low end and mid range torque for heavy towing, extreme reliability, and cold start capability. New colors let people know the "24" has changed too.
What's New for January 2018 launch
• Expedition SWT model combining 38.4-40.2 (975 – 1020 mm) ski stance adjustable A-Arm suspension and 24" wide track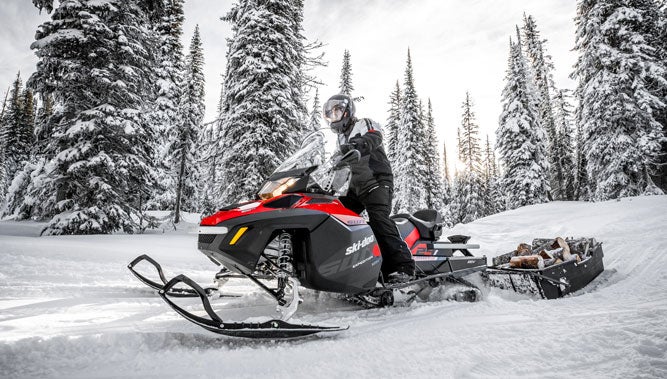 VITAL INFO: NEW 2018 SKI-DOO EXPEDITION SWT
SNAPSHOT
The new Expedition SWT goes beyond standard utility expectations giving riders an extremely versatile snowmobile to take care of business in the snow. Whether a day's business consists of gathering the next load of firewood for the camp, hauling the ice shanty out on the lake, or a spirited ride exploring new trails and backcountry is up for debate. With performance oriented features like the RAS 2 front suspension for precise, confident handling, mixed with its giant footprint to effortlessly float atop the snow, the Expedition SWT is equipped for whatever a winter's day has in store.
The 900 ACE powerplant provides plenty of torque when paired with the Hi-Lo-R Synchromesh transmission, and a variety of riding options with Ski-Doo exclusive Intelligent Throttle Control (iTC) with three driving modes (Economy, Standard, Sport).
PLATFORM
REV-XU platform: Durable, versatile, and lightweight, the architecture of the REV-XU platform offers riding comfort in any position. Sitting or standing, it enables both relaxed and performance-minded riding styles. Driver can stretch their legs due to forward foot position.
SUSPENSION
SC-5U rear suspension: Built for a refined, yet capable ride on trail or floating on top of the powder. This sport utility suspension features an articulated rail for maximum deep-snow traction in reverse, and can be locked out when towing.
NEW RAS 2 front suspension 38.4-40.2 (975 – 1020 mm) ski stance: Geometry and light components deliver comfort, excellent precision and stability – especially in extreme bumps – and reduces corner roll. Sharp styling, too.
Motion Control front and center shocks: High quality, high value gas cell shocks.
HPG rear shock: High quality KYB high pressure gas shock in rear. KEY FEATURES
Steel handlebar with rigid grab strap: Offering more leverage and confidence in tricky maneuvers. NEW 156 x 24 x 1.25 in. (397 x 60 x 3.2 cm) track: The industry's largest footprint for unmatched flotation and plenty of traction for towing.
Pilot DS 2 skis: Single-keel with excellent sidehilling bite, thanks to thin outer edges. Narrow and thin, yet stiff. Shorter behind the spindle with flat tail for easier counter-steering and sidehilling. Deeper keel provides positive on- and off- trail steering control.
High-efficiency air radiator with fan: Extra cooling capacity when pulling heavy loads, in low snow conditions or at low speed.
Synchromesh transmission: Take off from a stop smoothly, even with a heavy load, thanks to two forward and one reverse gears. Inline 2-1-N-R pattern on right side.
Electric start: Easy starting with push-button
Brembo brake: Excellent, easily modulated stopping power.
Simple 2-up removable seat with passenger handholds: Plus storage area under passenger seat
Analog/digital gauge with display: Smartly-styled analog speedometer and tachometer plus LCD digital information screen. Includes electric fuel gauge.
Rack: Ability to carry additional cargo. Hitch (tongue type): Enables towing, with 1,100 lb. (500 kg) towing capacity
NEW Color: Viper Red/Black
ROTAX ENGINE CHOICES
Rotax 900 ACE engine: Delivering 90 horsepower and exceptional fuel economy (up to 21.8 mpg, 10.8 L/100 km) the ultra-low maintenance inline triple four-stroke with EFI Rotax 900 ACE engine also includes drive-by-wire intelligent Throttle Control (iTC) with three driving modes (Sport, Standard, ECO) and finger throttle.
For more information visit: 2018 Ski-Doo Expedition SWT