ISOC National Snocross Coming to Jackson Hole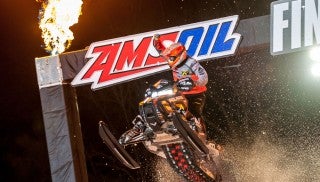 As Winter approaches, we at Snowmobile.com are excited to see that the International Series of Champions (ISOC) boasts a new race venue in beautiful Jackson, Wyo.  The Rocky Mountain States Hillclimb Association's (RMSHA) Jackson Hole World Championship Hillclimb event draws over 10,000 spectators every March. Could this new ISOC event boost Tourism in Jackson this December 8-9? Well two ISOC racing families from Jackson think so!
Two Local Men Believed
Jackson Hole is famous for many reasons.  It's outdoor offerings to locals and tourists alike are endless regardless of the season. These include skiing, hiking, mountain biking, camping, tram rides into the Teton mountains, hotels and resorts, wildlife tours, whitewater rafting, it's endless.  But for us sledding folk it's famous for one important race of the year, the Jackson Hole World Championship Hillclimb.
Enter Paul Woodie and Brian Hasenack, who met while taking their kids racing smaller local races.  Both from the Jackson area, Brian is a self -employed contractor and Paul, well he's so passionate about Snocross he didn't even tell us what else he does.
Brian's Hold Fast Racing  team boasts two racers, his daughter Ryley racing in the Pro Women's Class, and his son Brody running the 10-13 Junior Class. As one of the many volunteers, Brian has been helping bring the Hillclimbs to life since 1994. For years he wanted to bring a big Snocross race to compliment the Hillclimb.
Paul's family race team started with his Daughter Taven and Son Kaden racing some small local races in 2011. As their success grew, so did the race team and their dedication to Snocross and the ISOC National series. Taven just won the Junior Girls Class back to back, and after an injured season, Kaden placed top 10 in the Sport Class.
The Process Wasn't Easy but Hard Work Prevailed
Brian and Paul shared a mutual dream to see an ISOC National race take place in Jackson Hole.  Brian had sent a letter to ISOC in 2011 with the idea, but their schedule was full.  Paul talked to ISOC President Carl Schubitzke and Carl agreed that it could be a great event and agreed to look at it.
And then the real process began.  Brian reached out to Ryan Stanley of Snow King Mountain and they started working with the local Tourism Board, Chamber of Commerce, and the Town of Jackson. They were approved for funding in June 2017, and a special use permit in July. But they couldn't see Town Council until September 5th. That's when they were met with some negativity about noise and crowds, and council turned down their first request. But just like successful Snocross racers, they didn't give up.
Paul and Brian mentioned that The Jackson Snow Devils and others in the snowmobile community banned together with the local business community, writing letters, holding fact finding meetings to negotiate some changes that would be satisfactory to everyone.
Hearing local businesses had interest in filling the tourism void during the shoulder season that follows summer, Council overturned the decision within a month and approved the race on September 25th.  "In the end, the support we had was overwhelming."
Did the new Pro/Stock Rules Affect Council's Decision?
We also asked Brian and Paul if the new International Snowmobile Racing (ISR) Pro Class "No Pipes/Mod/Factory Stock" rule helped them secure the event?
Paul: "We do feel like the new rule of stock sleds did help us in the positive vote. Noise was the big question as this event is being held right in the middle of town. So I feel that was definitely a helping hand."
Brian: "Anytime you can address noise levels and tell someone the noise will be less than years before…they reflect that as a positive thing.
ISOC President Carl Schubitzke Spoke With Us
We also caught up with ISOC President Carl Schubitzke, who answered a few questions for:
Snowmobile.com: Why did you feel this event had potential?
Carl: "One being that there is already a successful snowmobile event with the hill climb. Our current partners love the Western market. Jackson is a beautiful area and a great place that many snowmobile enthusiasts currently reside or come visit. After seeing the community support of this event at the town council meetings, we are even more excited about the potential this event has.
Snowmobile.com: What goes into planning/starting a new venue?
Carl: There is a lot of planning and a lot of people involved to put together an event like this. It is the support from Snow King and people like Brian and Paul that make it a success. We are excited at the opportunity and will make sure every detail is well thought out and taken care of.
Snowmobile.com: Is another venue out this year or is this a new addition to the circuit?
Carl: This is the only change in our national schedule. This will be our first time in Jackson, WY so we hope to open a lot of eyes. We want to have a great event so that everyone who attends has a great time. The goal is to make this a continuous event just like our others, but we must make sure we do a good job the first year.