Top Five Snowmobiles for Beginners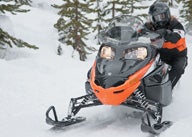 Everyone needs to start somewhere
Finding a sled that you'd want to let your dear teen or pre-teen snowmobile wannabe ride used to be simple. You'd go to a dealership, pick out a 250 to 340cc engined fan-cooled sled and let your kid play around the cabin or the farmyard. Those days of small displacement, low horsepower, econo-sleds are gone. In today's snowmobile world, unless your most precious offspring will accept riding a 120cc youth sled, your options change dramatically in power, performance, price and size.
In the early days of snowmobiling, a "big" sled would come with a 300cc Rotax or JLO single cylinder air-cooled engine that put out 12 to 16 horsepower and could power the 250-pound vehicle upwards of 35 miles per hour — on a hard packed snow surface. Even in the not-so distant past, Ski-Doo challenged the market with its lightweight Freestyle model that offered a low price and a 300cc single cylinder engine. The concept lacked one major ingredient for success — buyers! It was a similar problem that caused Yamaha to abandon its all-so-cute 80cc SnoScoot design in the early 1990s.
So, here we are today with no sleds for the emerging market of young riders for whom a low-priced and relatively low-powered model could get them into the sport. When you look at motorcycling, you'll see that brands like Honda offer starter dirt bikes with small displacement engines on designs with must-have long travel suspensions and big-bike styling. The motorcycle makers also offer small displacement 250cc sport and cruiser style bikes to entice young wannabe riders. Ironically, sled makers, which include those offering youth motorcycles, don't follow the same marketing model in sled sales. If you want to get your young snowmobile rider started out in the sport, you have few options for 2012 models but there are more options in the used sled market where you might find old Ski-Doo Freestyle units and nearly vintage 250 or 340 engined Polaris Indy Lites. If you don't want your offspring riding on an old sled that might need fixing up, you might want to consider one of these five models, which we have identified as possible starter sleds.
While these are 2012 models, it may be possible to find a non-current version at a dealership and score a reduced price. The five models we've selected will suit your young rider, but be warned, if you spend any time with these sleds you might not want to give it up. We are all about fun and tried to factor that into our selection process.
Arctic Cat Sno Pro 500
Specs
We're kidding, right? Choosing Arctic Cat's 2012 production terrain racer as a starter sled seems nonsensical until you look at the sled's make up. It comes with the nearly bulletproof 499cc two-stroke twin that powers the 2012 Arctic Cat F5 LXR sport performance model. And the racer-styled Sno Pro 500 actually retails (US$9,999) for less than the more traditional model.
Keep in mind that the Sno Pro 500 is extremely agile, which means its modest power output can teach your young rider handling prowess at relatively low speeds while giving him/her an exceptional performance feel. For a young rider, the Sno Pro 500 is Arctic Cat's answer to an on-snow video game experience. But will the young rider get a winter's rush hunkered on a couch in your dark basement?
The Sno Pro 500 offers a youthful rider the opportunity for hands-on suspension tuning as the sled comes equipped with Cat's AWS 8 front end with Fox Zero Pro shocks and the race slide action rear suspension with adjustable torsion springs plus Fox Zero shocks.
Based on a previous snocross chassis, the Sno Pro 500 offers exceptional value in a sled that's loaded with performance features. It is a great starter value for young riders wanting to challenge winter.
Arctic Cat F5 LXR
Specs
For a few more bucks, you can provide a true trail sled experience by opting for Arctic Cat's 2012 F5 LXR. This is a tried and true performer and is based on the previous generation Twin Spar chassis. While this sled won't offer the sport stylings of the Sno Pro 500, it will provide exceptional on-trail value as it comes standard with the same Suzuki-built two-stroke 500cc twin. The added value here is that the engine gets standard electric start. To give your starter rider just right ergonomics, the F5 LXR offers Arctic Cats adjustable handlebar and seat settings. If you can't get the perfect ergonomic setting on this sled, well, you're not trying!
The trail sport F5 LXR offers 9,5-inches of travel from the AWS 7 front suspension and another 13.5-inches of travel from the FasTrack slide-action rear suspension. The suspensions utilize hydraulic shocks all around for consistent trail performance.
Your young rider will enjoy the push button reverse, spot-on throttle control from the batteryless electronic fuel injection and a deluxe gauge package.
Yamaha Phazer RTX
Specs
Before Arctic Cat's Sno Pro 500 invaded terrain warfare, the hot setup for cross country racing's beginner classes was Yamaha's Phazer RTX. With a similar price tag as the Cat, the 2012 Yamaha Phazer RTX brings a lot of technical sophistication to a young rider for not a lot of dough.
Key to the lightweight packaging is Yamaha's very tricked out 80-hp 499cc four-stroke twin. This is a technical achievement as the engine revs to about 12,000 RPM to develop its power. For snowmobiling, that means the twin must be geared down to about 8500 revs to work with the variable ratio YVRC clutching. Add into this equation a very smooth 43mm electronic fuel injection system that uses digitized ignition and three-valve intake. Power is smooth and reliable.
With Fox FLOAT shocks up front to work the 8.6-inches of travel and KYB shocks on the Dual Shock CK rear suspension to act on the 16.2-inches of maximum rear travel, the Phazer RTX can give your young rider a serious thrill in the big whoops.
In addition to its lightweight design and sophisticated engineering, the 2012 Yamaha Phazer RTX offers exceptional long-term value and famed Yamaha resale, which comes along with its durability and four-stroke reliability.
Ski-Doo Tundra 550F
Specs
Ski-Doo's 2012 base Tundra is kind of a throwback to the long-lived Elan series of yesteryear. Of course, this sled more than measures past that old-time Ski-Doo in every dimension, including its 550cc fan-cooled two-stroke twin. But, like that Elan, the 2012 Tundra can be a light-footed snowmobile with a claimed weight of 433-pounds and a 15-inch wide by 137-inch long footprint.
Built around the latest REV utility chassis, the Tundra may not be the best starter sled for long trail rides, but it will be exceptionally adept at teaching young riders how to maneuver in ungroomed snow. Think of this sled as one for adventurous riders who like to head off trail or patrol the drifted-in back forty or get fishing gear to a secluded ice hole at the far end of the lake. This is the sled for all of that.
While Ski-Doo marketing types would not consider this a starter sled, we like its combination of relative lightweight, strong 50-plus horsepower, good-sized footprint and telescopic front suspension. That design makes this sled extremely formidable for bushwhacking through a stand of trees between open pasturelands. The sled comes with a stout front bumper for boonie-bashing, curved handlebar, 10-inch windshield and a seat that invites comfortable exploring either on trail or off.
At US$6,499, the price makes the 2012 Ski-Doo Tundra a good value for starting out.
Polaris 550 IQ Shift
Specs
We admit to a bit of confusion when it comes to choosing the 2012 Polaris 550 IQ Shift. Our confusion lies in which model would be better as a starter sled, the base 550 version with the 121-inch track or the 550 Shift 136 with the longer track length? You'll have to decide on this one because, frankly, either one is a great choice. But, be warned the longer track will cost you a few hundred extra dollars.
What makes either sled such a great value is its drive system. The Fuji-built 544cc two-stroke twin and Polaris derived clutching are totally basic and historic Polaris in that they just work splendidly together. This is not a high horsepower power package, but what's available is what you'll get from each and every throttle pull. The dual VM34 Mikuni carbs and digital ignition system are about as precise as a non-EFI unit gets. You can count on the power system to pull reliably across a drifted lakebed or at full speed on a long groomed straightaway. Of course, the short track 550 Shift should exhibit a bit more top end, but the Shift 136 will give you more bridging action on stutter bumps and added flotation in ungroomed snow.
The bottom line is that either sled is about as bulletproof as you'll find. The two sleds utilize the same IQ front suspension and both reflect 10-inches of travel. The stretch track Shift 136 features the longer IQ 136 coupled rear set up versus the base IQ setup. The overall maximum travel is similar as the 136 Shift offers 14 inches and the 550 IQ Shift with the 121-inch track claims 13.9 inches, negligibly 0.1-inch less!
As for basic features, there is virtually no difference as both sleds have Polaris' push button electronic reverse system, the lightweight Freestyle seat and a 12-inch tall windshield. So, when it comes to making your choice, good luck. We find the shorter tracked 550 IQ Shift a bit more fun on the trail, but if you have any intention of off-trail riding, there is added value with the Shift 136. So, see we are confused. But we are not confused in recommending either as a good starter sled. The dollar value and reliable long-term service life are both there.
Related Reading
Youth Sleds Introduce Kids to the Sport
Top Snowmobiles for Non-Sledders