Top Snowmobiles for Non-Sledders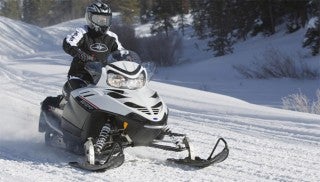 Sleds that fill a need in the snow zone
As real snowmobilers it seems difficult to imagine that sleds might end up in the hands of non-snowmobilers, the non-believers. How can that happen? Quite easily, actually, and it's very much for the good of the sport and the snowmobile dealer making the sale.
While we think in terms of the sled, the mechanics of the product and the adventures we can have on the trail, there are winter-bound folks who look at snowmobiles as a means to an end. Obviously we can understand the workman needs of snowmobiles for trappers, linemen and surveyors. But others like to be out and about in the winter. There are the folks that own snowbound cabins who need to transport themselves and their weekend gear from their Volvo wagon to the camp that's located a mile down an unplowed road. How about the grandparents who live on a farm and want to give their grandkids fun transport about the acreage? There are folks who fish on hard-to-reach lakes and streams. Or even the ice fisherman who lives alongside the lake but needs a way to get to the far end where the big fish thrive.
There are many excuses for owning a snowmobile that go beyond our simple creed of winter speed. As you look at a sled manufacturer's product line, you see a number of sleds with little to zero appeal for the diehard rider. There is a niche for these "low" appeal sleds. Just because we might not want a sled with low power, removable rear seat and tall windshield doesn't mean that snowmobile companies can't find a market for such units. Indeed, we've come up with some very good niche sleds (or sleds to fill a niche) that might have strong appeal to non-snowmobilers.
Keep in mind these sleds need to fit into a need and should be as bulletproof as possible. These non-snowmobilers won't want to spend time adjusting and fixing their sleds. They want them to start and go whenever and wherever they need them.
Youthful Niches
Snowmobiles and non-snowmobilers share a desire to see their kids be outside in the winter enjoying themselves. When it comes to simple sledding pursuits, both snowmobilers and non-sledders can see outfitting our youth with a motor toy. Of course, it should be fun and non-threatening. Today's mini-sleds like the Polaris and Arctic Cat 120cc models seem to be perfect for both doting grandparents and their grandkids. The sleds are light in weight, offer the basics at a relatively low cost and can be ridden for hours on end — as long as you keep refueling the single cylinder four-stroke motors.
Both the Arctic Cat and Polaris feature styling that reflects the adult-sized hot rods, including simple A-arm front ends and very basic slide rail suspensions mounted inside a rubber track. The engine can be governed to keep speeds under 10-miles per hour. The Polaris has a safety tether that will kill the motor if an inquisitive youngster lifts the hood.
Simple, yet fun, these sleds are designed for hours of on-snow riding in a protected area. Parents or grandparents can spoil their young ones by outfitting them with one of these power toys.
Grown-up Niches
Motor toys like the Polaris 120 Pro-R or Arctic Cat Sno Pro 120 will only satisfy youthful riders. Once the little ones grow up and visit the grandparents at the farm or at the lake cabin, they might like to enjoy something with a bit more size so they can explore more of the Back 40 or the far end of the lake. An inexpensive choice to consider would be Ski-Doo's most basic MXZ, the Sport 550F. Priced at less than US$7,500, this Ski-Doo would be best purchased with electric start. Electronic reverse comes standard so it would be amenable to transitioning young riders from the mini-sleds to the real world with very little trouble. Indeed, the Rotax 550cc fan-cooled twin should last for a whole set of grandkids and prove to be a trouble-free ride. If you prefer, Ski-Doo offers the option of its nifty high tech and fuel-efficient 60-hp 600cc liquid-cooled twin.
While the MXZ Sport is best for a single rider, the Yamaha Venture Lite may be the perfect solution to getting two riders around the lake or the farm. It is a brilliant piece of Yamaha engineering and is, in our estimation, the best use of the Phazer-type platform. It features a nicely mannered 500cc Yamaha four-stroke twin. It has a very good snow print with a track that stretches 144 inches and can be counted on to handle the drifts found alongside most frozen lakebeds. Add in the fact that this sled can seat two in superior comfort and still allow ample storage behind the rear seat and you've got a great choice for getting young riders out into winter or letting you get extra use of your snowbound winter cabin. The Yamaha retails for about US$9,500, but it is immensely reliable, incredibly durable and should prove extremely versatile.
Sporting Niches
If you need off-trail capability combined with cargo space and ample seating area, Ski-Doo offers a very useful model that should get extremely good fuel mileage with its Rotax ACE 600 four-stroke engine. Rated at about 60-hp this engine powers the Expedition Sport, a big-footed sled with features that make it a perfect companion to winter sportsmen such as ice fishermen or anyone one who needs to get gear back into a remote camp. The Expedition Sport can seat a couple or you can remove the back portion of the seat to add more cargo. There's tall windshield and deep snow skis to keep you steady off trail. This basic Expedition includes a tow hitch so you can hook up to a sleigh to haul supplies, gear or firewood.
You'll find similar snow vehicles offered by Polaris and Arctic Cat. These both will feature a base 550-ish displacement two-stroke twin with push-button reverse. The Ski-Doo offers electric start as standard fare. Arctic Cat's Bearcat 570 and the Ski-Doo Expedition feature a long 150-plus inch long track.
For a more sporty package, there is the Polaris 550 IQ LXT with a 136-inch long track, but plentiful cargo area as well. The Polaris is a bit more play than overall function, but can satisfy a need to get gear to a fish house and still give the grandkids a play platform for exploring when they need to escape the fishing experience.
Obviously these are not the only choices for the non-snowmobiler. Serious winter workers will look to the heavy-duty sleds like the Yamaha Viking, Ski-Doo Skandic and the wide track sleds from Polaris and Arctic Cat. But we aren't looking at anything that serious. We simply want to showcase the options available to those folks who want to entertain the grandkids, get away to the cabin or break out of the city for a weekend of ice fishing. These are sleds well suited to such needs. And who knows, maybe some of these sleds can turn such occasional sledders into serious sledders.
Related Reading Arctic Cat F120 Review 2012 Fan-Cooled Budget Snowmobiles 2011 Fan-Cooled 550cc Trail Sportsters 2010 Yamaha Venture Lite Review 2011 Ski-Doo Expedition Sport 600 ACE Review 2011 Polaris 550 IQ LXT Review 2012 Polaris 600 IQ WideTrak Review 2010 Arctic Cat Bearcat 570 XT Review 2011 Yamaha RS Viking Professional Review 2012 Ski-Doo Skandic SWT Review [Video]