2010 Polaris Dragon 800 Review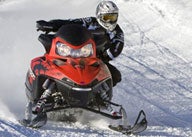 Polaris' top of the line performance model
Take away the all-new Rush and the Dragon 800 would be the top line sled for Polaris in model year 2010. It remains as the top performance sled with the top engine. But as sleds come and go in the marketing world, the 2010 Polaris Dragon 800 is s-o-o last year when compared to the effort put against the 600 Rush for this season.
That's not to say that the Dragon 800's Polaris-engineered, designed and built Liberty twin has been upstaged in the Polaris scheme of things. It remains the top gun for performance. This Cleanfire 2-stroke is supposed to be competitive with the other big twins in the business, which means the Polaris 800 twin should be in the 150-plus range for horsepower.
This past season we borrowed a Dragon 800 for a brief period and discovered that it had substantial ski lifting power. Since we had yet to make any suspension adjustments on the short track Dragon, we found ourselves looking very skyward when we snapped the throttle lever to the handlebar. Off the throttle. Skis on the ground. Back hard on the throttle and once again we were aimed high as the track spit lots of snow rearward. Suffice it to say, the Liberty twin has torque and the track has grip.
Liberty 800
We admit that we are not as fond of Polaris' twin as we are of the newly redone Arctic Cat 800. We found the Liberty to spike a bit on the way to making top power and with 150-plus ponies on tap; we prefer a more manageable power run. Don't go all "anti-Polaris" on us here. We prefer the milder Yamaha Vector triple versus the Nytro triple for similar reasons. So, don't get all excited. We think that a sled engine can be strong yet sensitive (so, new age!). Arctic Cat's redone 800 twin is strong and pulls predictably without surges of power to worry about when coming off a corner and hitting the throttle full on. Strong, steady power works. Unpredictable, spiky power is a turn-off.
For those bursts down a straight line, the Liberty 800 gets it done as well as any other big twin. And we've found that deep powder riders enjoy the Polaris big twin for making high marks, so Polaris certainly has shown us snowmobilers that it can do the job with its engines. We're just saying it could be better… that's all.
IQ Heritage
As for ride and handling, you have to know that the Dragon 800 has solid underpinnings with its IQ chassis and suspensions. The Dragon and its IQ set up established the formula for the new 600 Rush, so the basics are good here.
The front end comes with the top line Walker Evans shock package. This exclusive to Polaris ride damping system rates with Fox and the other premium shock builders. But, Polaris is the only manufacturer to offer this brand. These shocks work with a double A-arm ski suspension, which features a link-type sway bar to control roll and position the skis in rough corners.
The rear suspension uses a Walker Evans shock with an internal floating piston on the front arm. A compression adjustable shock controls the ride of the rear suspension arm. The slide rails are a Dragon-specific lightweight version to manage the sled's overall weight while maintaining exceptional strength to handle the most pitted out ruts.
Adjustability
One thing we discovered with our long term Dragon 800 was the incredible degree of adjustability built into this sports model. While it may require an ample amount of initial tuning, once you achieve your happy place with the suspensions, you should be quite happy indeed. This is a very versatile sled that can be adjusted to suit the most demanding riders. If you are a novice, you'll find that the Polaris manual is actually very well laid out and should help you become very proficient in suspension set up, that's if you read the manual and use it as a guide. Don't read it and you'll be unhappy. Very unhappy.
The Dragon 800 is little changed for 2010, which means that storage is limited and you'll want to add an optional tunnel bag. The seat is narrow and sculpted for enthusiastic riding. You can hop all around on this sled as you attack the trail. The Dragon 800 is an interactive model that invites you to move forward or side-to-side as you ride hard. We found the rider ergonomics were very good.
Of course, that pretend windscreen needs to be replaced for a midheight model if you want to make any serious miles on a truly nasty cold day.
Functional Style
The handlebar is a flat design inspired by snocross racers and incorporates hand guards over the hooked ends. Those hand guards, while stylish, are actually functional and provide surprisingly good wind protection. They let you reach the throttle and brake levers unencumbered, which is a good thing as the Dragon's hydraulic disc brake works very well. It features a lightweight Sawtooth rotor said to offer 56 percent less rotating inertia, which lets it run cooler for improved braking action.
The Liberty twin delivers maximum power to the snow via its legendary Polaris P85 drive clutch. Gripping the terrain is a 15-inch wide Ripsaw track with 1.25-inch lug profile.
You'll find that this year's version of Polaris' top of the line performance model retains performance enhancements added last season. The lightweight aluminum chassis is race-bred to assure Polaris riders of its proven toughness for serious trail riding.
Overall, the 2010 Polaris Dragon 800 is a proven success and one of the most popular sport rides heading into this model year.
2010 Polaris Dragon 800 Specs
Engine
Polaris Liberty 795cc twin cylinder; liquid-cooled; Cleanfire fuel injection
Horsepower
150-plus
Drive
Polaris P-85 drive; Team
Front Suspension
Polaris IQ — 10-in maximum travel; Walker Evans
Rear Suspension
Polaris Lightweight IQ — 13.9-in of maximum travel; Walker Evans IFP on front arm, Walker Evans compression shock on rear
Length
115.0 in
Width
48.0 in
Ski Stance
42.5
Track
15 x 121 x 1.25 RipSaw
Brake
Polaris Phantom hydraulic
Weight
489 lbs (claimed)
Fuel Capacity
11.5 US Gal
MSRP
US$10,799
Related Reading
2010 Polaris Rush Review
2010 Polaris 550 IQ Shift Review
2009 Polaris 600 Dragon SP Review
All Things Polaris on Snowmobile.com