2012 Polaris 800 Switchback Pro-R Project
We create a unique 2012 Polaris ProAdventure 800
Story by Jerry Bassett, Photography by Jerry Bassett & Polaris, Feb 24, 2012
Every snowmobile manufacturer offers some form of a special offer in the springtime as they encourage you to buy early and be certain that you get the sled you really want. This little come-on dates back to the Hall Wendel-era at Polaris and made Harvard MBA sense for the company that had just gone independent from mother Textron, the controlling conglomerate.
In the 1980s Polaris' wholly owned Winnipeg, Manitoba-based subsidiary and its staff of 20 went from generating sled sales of six million dollars in 1982 to more than $35 million by 1989 in a very tough Canadian market. One trick that Polaris-Canada general manager Ed Skomoroh used was snow check, the first early season incentive program to assure consumers that they could get the Polaris they wanted. In those days, Polaris had to run lean and watched its build order very closely, which meant that sometimes the most popular Polaris Indy models might sell out before the consumer could get it. The snow check plan was designed to guarantee availability — if you put some cash down on an early purchase order.
Of course, Polaris wasn't the only company to offer incentives. Arctic Cat devised lottery-like programs where the consumer could take a check-like coupon to an Arctic Cat dealership to see if he'd won a discount on the purchase of a new sled. Yamaha offered Yama-bucks savings with the early ordering of a new Yamaha.
But, it was Polaris that proved that pre-season incentives worked. And it worked for Skomoroh, who became a corporate vice-president thanks to the success of the snow check program.
The snow check program served multiple purposes as early season deposits added cash flow at a time when little money was coming in from sales, but plenty was going out on manufacturing. The incentives also helped the sales, engineering and manufacturing teams to identify the popular models. Prior to snow check, Polaris guessed what would be its most popular sellers. But with active consumers voting on the sleds with down payments, the company could not only identify the winners in the model mix, but plan out the seasonal product build with greater certainty.
Moving ahead three decades we see that pre-season incentivizing is alive and well. All of the snowmobile manufacturers offer incentive versions. But, it was the Polaris promise of customizing your sled of choice and offering early purchase models with specific equipment that caught our attention last March.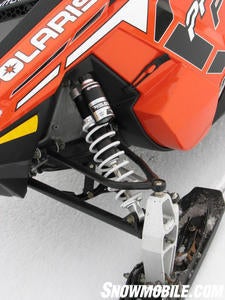 If you recall, Polaris introduced a new stretched Pro-Ride suspension on its 2012 Switchback. There was an 800cc Cleanfire twin available. And Polaris' partnership with Walker Evans gives their top line sleds easy adjustability with one of the top shock packages in the sport. But, what really caught our fancy was the all-new Polaris Adventure with its nifty rack system and unique lockable and expandable storage. It came based on the new Switchback set up with the longer chassis and stretched out Pro-Ride suspension. After test riding various 2012 Switchback models, including the Adventure, we realized that for us, we nearly had the perfect sled. While we liked the Adventure, Polaris just wasn't getting us! It was good. But we wanted more.
So, when Polaris' marketing staff started chatting about its special preseason models, we mentally wandered off and started piece-mealing what we thought would be our perfect Polaris. Granted, our team of western powder sled test riders didn't get us at all. Hey, we don't always get them either, so we're even!
No, as the Polaris marketing team listed the new spring only available sleds, we struck. We could see a big, fast, great handling sled in our future. It would start with the Spring Only 800 Switchback Pro-R in orange and black. It would feature top of the line Walker Evans shocks front and rear. It would give us the latest Pro-Ride rear suspension. This Switchback version stretched back seven inches and countered with a trail ripping 15-inch wide by 136-inch long Cobra track.
| | |
| --- | --- |
| | |
Before our days of test riding the Pro-Ride Switchbacks, we were a bit skeptical about the possible handling. Would the longer length with more track on the snow make the sled turn into corners more slowly than the 120-inch Rush? We figured the elongated Pro-Ride would finesse the niggling and annoying trail bumps. But, we weren't taking into account the marvelous upgrades to the front suspension, which changed our impressions of the base Rush and magnified our appreciation of the Switchback. Day after day and as much as we could, we compared three sleds: the 2012 Polaris Rush, the 2012 Polaris Switchback and various Ski-Doo MXZ versions. For purposes of our dream sled, we were taken with the all around performance of the MXZ, which we rated ahead of the Rush as we went into the 2012 model year test riding cycle. We came out of that cycle with a much greater appreciation of how committed and how dedicated the Polaris engineering group is to building excellent snowmobiles. Our time with the 2012 Switchbacks gave us insight.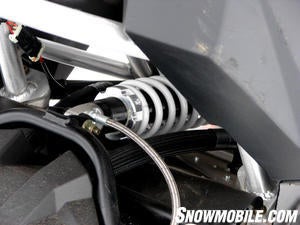 We won't say that we hold a grudge, but we don't forgive easily. Let's just say that the entire Polaris Fusion episode made us look at Polaris very differently than we had prior to that experience. We came out of that period with zero trust in what we were told, because during that time, what was said was never backed up in actual product. But, our trust is back because, frankly, Polaris isn't talking the walk. This group of Polaris engineers produces the product first. Then they back it up with some experienced talk. We've seen quite a turnaround in the snowmobile group since that Fusion, which in retrospect may have been the best thing to happen to the company since the 1964 Comet, which nearly bankrupt Polaris before the 1965 Mustang came along to save it.
With our sense of trust restored, we figured that for us, at least, we would combine the best 2012 trail sled with the merits of the new Adventure's special features. While our winter of 2011-2012 Polaris ride may officially be an 800 Switchback Pro-R with special early season packages, we like to think of it as our special 2012 Polaris Switchback Pro-Adventure 800.
While the 600cc twin is perfectly fine, we felt that the extra track length and the stability it offers would be just perfect for the larger 800cc Cleanfire twin. Based on some on-snow experience, we can tell you that the 800 hooks up very well indeed with the added footprint of the 136-inch Cobra track. You can get to 80 miles per hour almost before your eyes can start to water up! Our Pro-Adventure 800 is quick.
Of course, being established snowmobiling veterans, we aren't looking to add work. We added lazy man features like key starting. The electronic reverse is slick for off-loading. And, of course, we added the tallish windshield, which is standard with the Adventure 600. The Lock & Ride cargo system option became mandatory as did side bags and an accessory rack bag. We got it all, including mirrors and a 12-volt outlet. We already told you we liked the Adventure. We simply wanted more and spec'd out our own version on our pre-season order form.
Call us selfish, but Polaris and its pre-season incentive program allowed us to configure what is, for us, the perfect trail sled. Our Pro-Adventure 800 has power. The Walker Evans shocks give us ease of tuning for adjusting our ride. The Pro-Ride suspension gives us incredible comfort for high mile running, but also provides us with plenty of travel for rough trail rumbles.
What's not to like? We got power. We got handling. We got incredible storage. We got superior on-trail comfort and amazing convenience from electronic reverse, mirrors and the new Switchback comfort seat. The only bad thing about our 2012 Pro-Adventure 800 is that we have to give it back at the end of the season! We'll miss it, because this sled is just too perfect for us! And we owe it all to pre-season incentivizing whereby we, anyone, can create their perfect sled.
Related Reading
2012 Polaris 800 Switchback Pro-R Review [Video]
2012 Polaris 800 Switchback Review
2012 Polaris Switchback Adventure 600 Review [Video]
2012 Polaris 600 Switchback Review