2010 Ski-Doo MXZ TNT 600 Review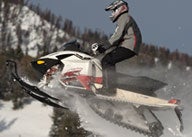 Light and nimble TNT packs value and provides big fun
Ski-Doo's TNT lineage dates back to model year 1969. The first "T'nt" models to carry that designation were a performance 399cc and a 669cc Rotax version. The next season the TNT designation would be added to single models with 300 and 335 displacement motors.
Fast Facts
Engine Type:Horizontal In-line
Cylinders:2
Engine Stroke:2-Stroke
Valve Configuration:Reed Valve
Displacement:597 / 36.4
Starter:Pull
Turbocharged:No
View Full Spec
The provocative name actually stood for "Track 'n Trail," but the fact the sleds were derivations of race sleds held extra appeal for aggressive riders. Over the years names like Blizzard and MXZ eclipsed the TNT designation, until just recently, when Ski-Doo brought the name back in a big — or is that little — way.
With performance trail sport sleds edging closer and closer to the 500 pound mark for weight, Ski-Doo combined its lightweight REV-XP chassis and popular 600cc Rotax motor to bring a super lightweight sled to the market. Welcome back TNT!
Providing Fun
The whole concept behind the latest iteration of TNT is simply providing on-trail fun for about US$8,000. The TNT 600 scores. At a claimed 408-lbs, the 2010 version is the lightweight among a fleet of liquid-cooled competition. Heck, even its fan-cooled stable mate — the 2010 Ski-Doo MXZ TNT 550F — comes in three pounds heavier!
"That's the secret of the TNT 600 — total fun and instant giggles!"
There are more powerful 600 sport sleds on the market, but none that will put as big of an instant smile under your balaclava. That's the secret of the TNT 600 — total fun and instant giggles!
The 2010 TNT 600 borrows many of the best parts of its MXZ lineage. There's the lightweight, rider-ready REV-XP platform. Improved quality gas shocks all around and snocross derived front and rear suspensions highlight the sled's handling, which is Reason One for making this purchase.
Carburetted Twin
Let's face it, with its older carbureted 597 series Rotax Twin, straight ahead performance will be mid-pack compared to other 600cc Twins — that includes Ski-Doo's own E-TEC Twin. The Rotax 597cc Twin powered previous low-buck MXZ models, including both this year's TNT 600 and the entry-level 2010 MXZ Sport. Rated at 103-hp, this mill is at least 12 ponies down to the E-TEC and lacks a bit in quick response as it utilizes twin 40mm flat slide Mikuni carbs rather than the more precise electronic intake systems of either the E-TEC or SDI versions. This also translates into more thumb-fatigue operating the throttle trigger.
Still, the older design Rotax Twin will pull you smartly through the corners and adequately power you off a mogul's berm. Give thanks to a well-tuned drivetrain that includes the TRA VIII drive and QRS secondary. These are the same basic pieces you'd get with the hot rod MXZ X-RS. The TNT 600 clutching and spring weights reflect tuning for less aggressive action and a 40-lbs lighter weight sled.
Gas Shock Package
But for your money this sled amplifies your discretion. Added to the dual A-arm front suspension is a set of HPG Plus coil-over-spring shocks. These reflect Kayaba's highest quality and the lightweight aluminum body shocks are rebuildable for extended service. You'll find HPG Plus shocks on both the rear suspension's front and rear arms. These premium shocks control 9-inches of front travel and up to 15-inches of rear suspension action.
The showroom version of the 2010 MXZ TNT 600 looks great, but we'd make a few changes for the real world of trail riding. The sled looks great with its racy, low windshield and handlebar end wind deflectors, but if you plan to ride 100 to 200 miles per day, the cold and wind will beat on you. You might consider a windshield upgrade, one with swept out edges to push wind away from the bar ends.
Things To Like
Things that we really like about the 2010 MXZ TNT 600 include the seat positioning and riser handlebar set, though we'd prefer a curved style bar like Arctic Cat or Yamaha offers. With the REV-XP chassis and ride position, you can really attack the trail. Each time we've test ridden a TNT, we found ourselves setting up way early for corners, totally forgetting that this lightweight sled is incredibly "flickable" for late turn-ins. We catch on in a turn or two, but this sled's forte isn't so much speed getting to the corner, but speed getting around it. If you overdo the turn, a quick tap of the Brembo hydraulic brake is all you need to get righted.
We also note that for those of us inclined to slip forward on the seat to unweight the back end as we turn in, well, let's just say you don't really need to. Fortunately, the TNT seems as forgiving as the old Polaris Indys, which would self-correct for even the most stupefying maneuver.
Steering proves light with excellent front-end grip. You can go lock to lock easily if you need to center the sled in a turn. The rear end seemed to set well in the corners, handled stutter bumps well and combined with the ride position allows excellent control through moguls.
Value Added
This TNT package gives you a great deal of on-trail amenities for a relatively low-buck sport sled. Electronic reverse, which Ski-Doo and Rotax pioneered, remains a nifty feature — and doesn't add weight! The analog/digital display and electric fuel gauge are nice to have as well.
Like many of today's ride-forward trail sport sleds, storage is at a premium and you'll want to check the Ski-Doo catalog for bag options. While we're at it, let's just mention that the TNT's white coloration looks great in the dealer's showroom, but we suspect it will be marred and defaced after a season of serious trail riding. While the seat is extremely comfortable and affords exceptional ride positioning, we feel there's too much tactile grip in the seat covering and doesn't allow the easy side-to-side movement we prefer.
That said, we really like the snow evacuation punch-outs that provide exceptional runningboard grip for our boots. We were fully satisfied with the 15-by-120-inch track's ample grip, which seemed well matched to the horsepower.
Our test-ride 2010 Ski-Doo MXZ TNT 600 proudly carries on in the best traditions of the TNT character. It is light and nimble. It has ample power and strong torque. It's handling stands out among its competition and it carries a price tag that actually seems a bit low, considering the many features that come as standard fare.
When you consider that the TNT 600 actually weighs less than its fan-cooled counterpart TNT 550F and comes with nearly twice the 550's horsepower, this Ski-Doo seems like a bargain buy for riders looking for great handling and lightweight performance. This is a sled that'll truly bring smiles as you recall why you got into snowmobiling in the first place. Ski-Doo's TNT 600 rekindles that fun!
2010 Ski-Doo MXZ TNT 600 Specs
Engine
Rotax 597cc, Twin; liquid-cooled, 2x Mikuni TM 40 flat slide carbs
Horsepower
103
Drive
TRA III with QRS secondary
Front Suspension
Dual A-arm — 9 in travel; HPG Plus rebuildable Kayaba gas shocks
Rear Suspension
SC-5 — 15 in maximum travel; Front & Rear Arm: HPG Plus rebuildable Kayaba gas shocks
Brake
Brembo Hydraulic Disc
Length
113.8 in
Width
47.9 in
Height
39.4 in
Ski Stance
42.4
Track
15 x 120 x1.0
Weight
408 lbs
Fuel Capacity
10.6 US Gal
MSRP
US$7,999.00
Related Reading
2010 Ski-Doo TNT 550 vs Yamaha Phazer RTX
2010 Ski-Doo GSX LE 600 E-TEC Review
2010 Ski-Doo Renegade Adrenaline 1200 4-TEC Review