2010 Ski-Doo GSX LE 600 E-TEC Review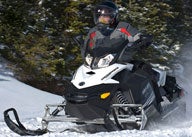 Ski-Doo's light, nimble MXZ-ish sport tourer
Ski-Doo's got you covered with 4-strokes and newly efficient 2-stroke sport touring models. This Quebec-based snowmobile pioneer has really got you covered if your taste runs to the personal luxury side with a strong dose of pure sport adrenaline riding. You should find the 2010 GSX LE 600 nearly perfect.
Fast Facts
Engine Type:Horizontal In-line
Cylinders:2
Engine Stroke:2-Stroke
Valve Configuration:Reed Valve
Displacement:594.4 / 36.3
Starter:Electric / Pull
Turbocharged:No
View Full Spec
We admit to enjoying what Ski-Doo offers in its 1200cc 4-stroke single passenger sport/luxury offering, but we like the lighter, more compact feel of the 2-stroke a bit more. It's made even more likable with its E-TEC technology, which makes the sled nearly as clean running and efficient as the two-year-old Rotax 4-stroke triple.
We like to think of the 2010 GSX LE 600 as a more polished MXZ. They both share the same REV-XP lightweight aluminum chassis. The drive systems are essentially the same. Though we trust the GSX enjoys a benefit of somewhat less aggressive clutch setup to make it easier to trail ride. But when we look at where Ski-Doo engineers placed that drivetrain, we find both the GSX and MXZ 2-stroke motors reside deep down in the engine, placed just back of the ski's low slung center line.
You sit on both sleds in an "action-ready" riding style, commonly referred to as rider-forward and a concept that Ski-Doo pioneered. When this REV-style seating first appeared, the competition pooh-poohed it as a gimmick. Now that they all have a version of this popular riding setup, Ski-Doo needed to refine its "me-first" ergonomics by allowing a bit more saddle room. The current iteration of REV-like seating allows you more back-and-forth room, especially beneficial on the GSX. When traveling long miles on groomed corridor trails, you can stretch out or move forward, depending on your mood. Of course, since the GSX shares its nimble XP chassis with the action-oriented MXZ series, you can go aggressive and literally throw your weight around to work a series of tight corners.
Trade-Offs
There are trade offs. The base MXZ Adrenaline doesn't come with standard electric start like the GSX. But the GSX doesn't get the benefit of the MXZ's aggressive handlebar with a riser block and curved ends for sport riding. Your local Ski-Doo dealer can add handlebar hooks to a GSX and you can order electric start for an MXZ Adrenaline for an extra US$350. The GSX LE also features a standard tunnel bag, which is an option with the MXZ Adrenaline. Storage space is minimal without it.
And there is the question of color. As traditional Ski-Doo fans, we much prefer the ubiquitous MXZ "Ski-Doo" yellow to the easily soiled white and black-gray of the GSX. Since Ski-Doo targets its GSX LE to a more upscale audience, it comes as no surprise that the color of choice is white — or some derivation of white. After all, the results of the 2008 DuPont Automotive Color Popularity Report claims white as the most popular color choice for North America. This marked the second consecutive year white scored at the top. Black and silver were strong contenders as well, as you can see in sled colors from all manufacturers, including Ski-Doo.
Expect the GSX to reflect trends in style as Ski-Doo marketing tends to think more globally than other sled makers when it comes to establishing its "look" in snowmobiles. What might be next? According to DuPont, we snowmobilers could expect to see sleds stylized with special effects like a tri-coat paint system, which consists of a basecoat, a mid-layer containing the primary color and specialized "effect" pigments followed by a clear coat. We suspect that schemes like white and Arctic Cat's newest multi-hue green are just a continuation of style competition amongst the sled makers.
Style can be a frigid asset. Check out the similarity between the racy, low windshields of the MXZ Adrenaline and the GSX LE. Those rearview mirrors may let you see a sled coming up from behind, but don't expect much wind protection for your hands. Fortunately Ski-Doo dealers can order a variety of more wind-resistant windscreens.
Handling Versus Performance
The GSX LE should be nearly as adept on the trail as the MXZ on which it seems to be based. We have complained to Ski-Doo engineers in the past about our dislike for luxury at the expense of handling and performance. We may like the amenities of a well-outfitted GSX, but we feel entitled to sport riding capabilities, too.
We note that the 2010 GSX LE comes with a shock package similar to a mid-range MXZ. The 600 E-TEC powered GSX LE gets gas shocks for the front A-arm suspension and a gas shock on the SC-5 rear suspension arm. We'll make do with the adequate Motion Control shock at the center of the rear suspension. While not branded as such, the Ski-Doo shock packages are specified by Ski-Doo engineering and produced by KYB/Kayaba, the same group that supplies high performance shocks for the race sleds and a myriad of motorcycle and ATV brands.
Regardless of manufacture, this year's GSX LE does handle more like the MXZ packages than past versions we've tried. To get a better trail ride, the GSX opts for a softer set up and the shocks most will likely fade a bit sooner than a similar MXZ under harsh riding. Some of that will come from the extra 19 pounds a 600 GSX LE carries versus the 431-lb MXZ Adrenaline. Still, we dare you to compare weights of the GSX line versus similar concept models in other brands. The GSX LE weights, even the 4-stroker on the larger REV XR platform, should compare more favorably with sport sleds than luxury models. Ski-Doo does "get" this lightweight performance thing.
Then there is the underhood performance. Maybe the E-TEC version of the Rotax 600 twin doesn't smoke the best of the competition, but it doesn't blow 2-stroke smoke either, and it competes nicely in the 120-horsepower realm of best selling models. Check out power-to-weight if you want to get serious for some late night barstool bragging.
For on-trail performance, we'd take the 2010 600 E-TEC GSX LE any time. That's before the Ski-Doo claims of more than 200 miles of range from a 10.6 US gallon fuel tank. All we know is that we like the Rotax 600 twin — with or without the efficiencies of E-TEC. We like the sled's nimble and light feel. We like the perceived value in style appointments like snow-evacuating footing on the runningboards, electronic reverse, electric start, auxiliary 12-volt power outlet, smooth riding suspensions front and rear, tunnel bag, and rearview mirrors. We consider ourselves performance riders, but we don't think we have to suffer for it. The GSX LE definitely makes trail riding fun and pampered!
2010 Ski-Doo GSX LE 600 E-TEC Specs
Engine
Rotax 600 HO E-TEC twin; 594.4cc liquid-cooled with electronic direct injection (E-TEC); recommended 91 octane fuel
Horsepower
120 @ 8100 rpm (estimated)
Drive
Ski-Doo TRA III drive system with QRS secondary; drive-off engagement at 3400 rpm (approx)
Front Suspension
Ski-Doo double A-arm suspension; Kayaba HPG shocks; 9-inches of travel
Rear Suspension
Ski-Doo SC-5 parallel rail slide with Motion Control shocks on front arm and Kayaba HPG VR gas shock; up to 15-inches of travel
Length
113.8 in
Width
47.9 in
Height
47.2 in
Ski Stance
42.4
Track
15 x 120 x 1.0 Rip Saw
Brake
Brembo hydraulic disc
Weight
450 lbs (claimed)
Fuel Capacity
10.6 US Gal
MSRP
US$10,299
Related Reading
2010 Ski-Doo GSX LE 1200 4-TEC Review
2010 Ski-Doo Expedition 1200 4-Tec Review