2010 Ski-Doo Renegade Backcountry X Review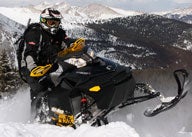 Ski-Doo's crossover delivers two worlds
Although this writer is a mountain man who prefers to stomp on the toes and head of many old mountains, we offer support for the crossover segment as we like shaking up and shaking down the "crossover" sleds.
Fast Facts
Engine Type:Horizontal In-line
Cylinders:2
Engine Stroke:2-Stroke
Valve Configuration:Reed Valve
Displacement:799.5 / 48.8
Starter:Pull
Turbocharged:No
View Full Spec
Crossover sleds are a notch below hardcore mountain sleds. That's not meant as degradation to the product, since today's crossover sleds are what mountain sleds once were. Those original models like the Polaris 500 SKS and RMK are, in simple terms, what the crossover sleds are now. So, we are at home on a crossover, though we can quickly find its limits and baffle it. But, when you keep a crossover in its box, it works well as a flatlander meadow buster or boondocker.
Though there are other Renegade platforms from Ski-Doo for 2010, the special "Spring Only" Renegade Backcountry X is the only one we worked over.
The 2010 Backcountry X comes fully loaded with a Rotax 800R Power T.E.K mill that cranks out 150-plus horses. The carburetor infused motor uses Ski-Doo's Digital Performance Management (DPM) system, which electronically adjusts the carburetors' fuel flow for altitude and barometric pressure in numerous calculations per second. Bore for the 799.5cc motor is 3.2-inches/82mm and 3-inches/75.7 mm respectively. In U.S. dollars, the Renegade Backcountry X has an MSRP of $11,399.00.
X-Packaging
Track length for the Backcountry X is 137-inches with lugs reaching 1.75 inches in height. Its 16-inch width equals that of the Summit. Like the Summit, the track is the dependable PowderMax. That means the Backcountry X covers large real estate, an advantage over other crosses. The 446-pound (claimed dry weight) sled will float on top of the powder with ease; this we know. Its superb power-to-weight makes it an industry leader.
Back to techno speak. Up front, the Renegade tracks on a dual A-arm suspension with HPG-Plus R aluminum bodied shocks, with no-tool rebound adjuster — simply meaning you can easily adjust rebound and damping by hand. Ski stance is adjustable between 38 and 40 inches. Out back, the Renegade Backcountry rear skid is the SC-5 with an HPG Plus on the front and a KYB 36 in the rear. Skis are the Pilot 6.9 that are 6.9-inches wide and 42-inches long.
Clutches, primary and driven, are the TRA VII and QRS respectively. These clutches feature easy adjustments to keep the motor on cue when elevation changes.
The Renegade Backcountry X comes with all X-package amenities, including a narrow race seat that is tall and complete with anti-slip material, Rotax Electronic Reverse (RER), and full multi-function digitally-powered instrument gauge that gives engine vitals, as well as surroundings, elevation, temp etc.
Know Its Limits
When we first saddled our backside to the Renegade Backcountry X, we knew we wrapped our fingers and mind around a crossover that its designers intended to be a multitasker. As we ventured into the steep and deep, even with its wide track and 800R power, the sled worked a hard overtime schedule to hold its own against the more capable and pure mountain sleds.
We write this with cautious clarification. When in the mountains, the rider on the Backcountry X must be GIB – Guy-in-Back. Once veteran mountain riders aboard mountain-specific sleds laid down tracks on a steep slope slammed with deep powder, GIB (me) was able to drive the Backcountry X up a slope. For you flatlanders who visit Island Park, ID or Togwotee, WY for example, this is a plus, as this multi-tasking sled has the smarts to handle the Rockies — just understand its limitations and operate within them. Let's flip the pancake over. A mountain-specific sled, with its narrow ski-stance, and sway bar-less front suspension will not book down Michigan's trails like a Renegade Backcountry X. The mountain sled too has its limits.
We like this sled. We like how it hauls down the trail with comfort, confidence and poise. The A-arm front suspension and SC-5 rear suspension make easy work out of hard-packed whoops.
Ergonomics
In our reviews on the XP-chassis Summits, we have criticized the XP's over-the-motor steering post, which makes the bars swing like that of an automobile. In the case of the Renegade Backcountry X, the concept works. The XP chassis is designed to keep the sled flat, skis are meant to be on the snow. Meaning, yaw, pitch and roll are engineered-out. In simple laymen terms, the XP chassis Renegade Backcountry X will track and hold a line like a NEXTEL Cup car; front suspension lift, scrub and push are almost nil. We also must compliment the Pilot skis. They work well to hold a line, though we would like to see a more aggressive OEM-equipped keel on this Pilot design.
Ski-Doo, as you may know, designed into the Renegade Backcountry X excellent ergos for in-control driver positioning. The driver-forward, central mass engineered XP chassis keeps the driver at a central point where the rider and the track's drivers are in a near vertical line, much like a stovepipe. This mass-centralization is key to driver control, which the XP is famous for on the trails. The tall seat and driver-conscience handlebars allow you to easily and effortlessly transition from seating to standing and back. Driver confidence is also enhanced through the wide and flat runningboards that nicely cradle the driver's boots.
For hillside handling, the handlebars come equipped with a riser block and center-mounted strap like that of the Summit. Unlike the Summit, and like the MXZ, handlebar hand guards are standard on the Renegade Backcountry X. These provide much needed for wind protection on a cold day.
Nit-Picking
Now we have two nits. First, the Backcountry X's throttle pull fatigues the right thumb and wrist. The slides on the two TM-40 flat slide carbs are hard to keep elevated when motoring through an extended ride. Secondly, the low X-style windshield is inept for wind protection. Why provide hand guards for wind protection and leave the neck and face area exposed to the wind? A taller windshield, like that on the standard Backcountry Renegade, is the better choice.
We figure that most trail riders, if they would give this Backcountry X a chance, would prefer this longer crossover sled to a 121-incher. Why? Its longer chassis delivers a smooth ride.
With the X-package equipped Renegade Backcountry X, nothing is spared for the performance-minded rider. Meaning, the Backcountry X is comparable to the MX Z X, but with a longer and wider track with deeper lugs.
Keep this in mind; if you are a stud-runner, the taller paddles on the Backcountry X pose a problem. However, on the trails surrounding Grand Lake, CO, the tall paddles kicked the Backcountry X out of its launch hole and accelerated quickly, stretching our arms out. But with its tall paddles on ice-packed Midwest and Eastern trails, we recommend adding ice-scratchers to the rear skid to keep the hyfax cool and lubricated.
There you have it. The Renegade Backcountry X is, in our opinion, a sled that runs in two worlds: flatland trail and deep snow. Yes, it has limitations. What sled does not? But, versus other OEM-built crossover sleds, the Renegade Backcountry X shines as its wider track — 16-inches vs. 15-inches — delivers increased floatation. Its handlebar motion and centralized mass create coolness when mogul whacking. Personally, this writer likes this sled for its power, its comfort and its aggressive looks. While the days of the mountain sleds with 136-inch tracks and 1.5-inch paddles may be gone, here to stay is a new hybrid, the crossover sled, that we believe will keep sales and enthusiasm alive for this sport.
2010 Renegade Backcountry X Specs
Engine
Rotax 800R PowerTEK 799.5cc, liquid-cooled twin; dual Mikuni TM40 carbs; single exhaust with RAVE valves
Horsepower
151 (Claimed) — Requires Premium unleaded
Drive
TRA VII with QRS secondary
Front Suspension
Dual A-arm with lightweight chromoly lower arm; HPG Plus R gas shocks with coil over springs; 9-in travel
Rear Suspension
SC-5 parallel rail; HPG Plus shock on front arm and KYB Pro 36 on rear arm; up to 16-in travel
Length
122.4 in
Width
47.4 in
Height
39.4 in
Ski Stance
Adjustable: 38-40 in
Track
16 x 137 x 1.75 Lightweight PowderMax
Weight
446 lbs (claimed)
Fuel Capacity
10.6 US Gal
MSRP
US$11,399.00
Related Reading
2010 Ski-Doo Renegade Adrenaline 1200 4-TEC Review
2010 Ski-Doo MXZ TNT 600 Review
2010 Ski-Doo GSX LE 600 E-TEC Review