2011 Ski-Doo Summit Everest 600 H.O. E-TEC Review
Ski-Doo's latest 600cc powder player now cuts a serious sidehill
Story by Jake Allred, Photography by Jake Allred, Aug 10, 2010
As an avid mountain rider, I am always pleased when an Original Engine Manufacturer (OEM) improves its mountain line, such as what Bombardier Recreational Products (BRP) did for its Ski-Doo line for model-year (MY) 2011, especially the Summit 600 High Output (H.O.) E-Tec.
It is no secret Snowmobile.com's powder riding test crew has been critical of the earlier XP Summit's sidehilling capabilities. Ski-Doo introduced the REV XP platform in 2008. It was a great leap forward in terms of weight savings. The power to weight ratio of the entire Summit line was very impressive. As we excitedly rode the new Summits we smiled at the power to weight… and how fast the Rotax engines pulled us up the hill. But, we were quickly disappointed when we tried to roll the sled onto one ski to a sidehill.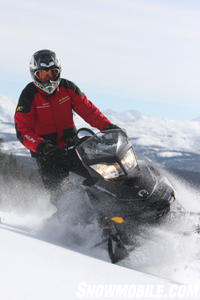 In our opinion, mountain sleds live or die on how well they sidehill. We feel that sidehilling capabilities are more important than impressive power to weight. Initiating a sidehill and keeping it there on the XP Summits caused us to work harder. However, in waist-high fresh deep snow, the XP Summit was remarkably easy to roll onto its side and carve circular and crooked lines.
Another sidehilling flaw we found with the 2008-2010 XP Summits was, as we cut across somebody else's track, we found it hard to maintain the sidehill. The sled would buck; kick the handlebars out from our hands and dive to the hill's bottom. Continuing, the XP Summit felt heavy in the handlebars making it hard work to ride them. We wondered how such a light snowmobile could feel so heavy in the handlebars? As a consequence, at the end of the day we were tired and our arms were deflated.
Things weren't all bad, as the 600 XP Summit's trail handling is second to none in this baby mountain class. The front and rear HPG shocks are mostly dialed in to perfection. Yet, XP Summit customers voiced their opinions, just as we did, complaining about the same things as we did. It's obvious that Ski-Doo listened as the company introduced the 2011 XP Summit with sweet sidehilling capabilities and a sled that "feels" as light as it really is.
Built on BRP's lightweight XP chassis, the 600 H.O. E-Tec Summit has an impressive suspension and Eco-friendly engine. So, for 2011, Ski-Doo just had to make a few changes to improve the sidehilling capabilities, which in turn makes it feel lighter.
Suspension
In the front, the 600 E-Tec Summit has a dual A-arm suspension with High Pressure Gas (HPG) shocks. To improve sidehilling capabilities, Ski-Doo engineers narrowed up the front ski stance, making it adjustable from 35.7 to 37.4 inches. With a narrower ski stance, the 600 E-Tec Summit is easy to roll up on to one ski, but we noticed in certain snow conditions the ski would dive and bury itself deep into the snow, so there appears to be a trade-off surfacing. Also new on our 2011 test sled was the Pilot DS ski, which is thinner, stiffer and has better boot grips. This ski is much improved and made sidehilling significantly easier.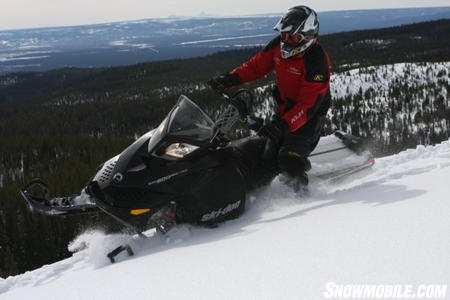 At the back end, the SC-5M rear suspension is a progressive rising rate that has a broad "sweet spot." It is smooth from small bumps to large bumps, at various speeds. It has improved transfer to get on top of the snow for better flotation. The track is a 16 x 146 x 2.25 PowderMax unit. You'll find that Ski-Doo eliminated the ported tracks from its Summit, claiming the non-ported track improves traction and floatation. We agree, but it is interesting that the OEM that started porting tracks has decided to drop it.
Engine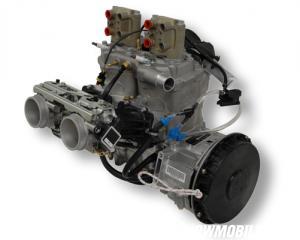 The Summit 600 E-Tec comes with a two-cylinder, liquid-cooled engine, with electronic direct fuel injection. Its 120 horsepower is impressive as it pulls hard from bottom end to the top end. The 600 E-Tec has proven to be reliable, efficient and powerful. The E-Tec is a sophisticated engine, though, that BRP claims gets 21 MPG.
One key component to the E-Tec's efficiency is its central computer which makes 8,000 computations every second. It calculates exactly how much fuel and oil need to go into the cylinder for every revolution. The computer works so hard and puts out so much heat that it must be cooled by an external source. To cool the onboard mini-computer, BRP engineers routed the engine's fuel lines through it to maintain consistent performance. The E-Tec is fuel-efficient because fuel is injected in the cylinder exactly when the piston closes its respective exhaust port.
The E-Tec even has a feature that fogs the cylinders and crankshaft for better summertime storage. The oil pump injects extra oil for a predetermined amount of time while running at a slightly elevated RPM then the ECU shuts the engine down and you're ready for storage. This new clean technology just might save the future of two stroke engines in the snowmobile industry.
Rider Impressions
I learned a few years ago if I can comfortably ride a mountain snowmobile on one ski down a hard packed trail, then it would be a good sidehiller. As we left the test site's staging area, I somewhat reluctantly threw the 2011 Everest 600 into a counter steer and was delighted to see I could easily maintain a one ski operation. After one-skiing it for a 100-yards at Photo Shoot 2011, West Yellowstone, MT, I parked the sled and gave our crew, a thumbs up. We were pleased.
On hard and crusted snow, where we felt all previous XP Summits struggled, the new and improved 600 E-Tec Summit easily held its course. Overall we found the 2011 version of Ski-Doo's 600 E-Tec Summit to be far better mountain sled.
Conclusion
Ski-Doo made key changes to make the 600 Summit a viable mountain sled. We even agree with the Ski-Doo brochures that the 2011 version feels up to 50 lb. lighter. With the new-for-2011 changes in the new Summit, it has changed into a whole new mountain animal. We feel that this year's Ski-Doo Summit Everest 600 E-Tec is the most improved 600 — and very worthy of your consideration.
2011 Ski-Doo Summit Everest 600 E-TEC Specs
Engine
Rotax E-TEC 600 high output, 594.4cc, liquid-cooled two-stroke twin; Digital CD; Electronic direct injection
Horsepower
120-ish
Drive
BRP/Ski-Doo TRA III with QRS secondary
Brake
Brembo hydraulic brake
Front Suspension
Ski-Doo dual A-arm with HPG shocks; 9-in maximum travel
Rear Suspension
Ski-Doo SC-5 parallel slide rail with HPG shocks on front and rear suspension arms; 14-in maximum travel
Length
127.0 in
Width
44.3
Height
51.2 in
Ski Stance
35.7 to 37.4 in. (Adjustable)
Track
16 x 146 x 2.25 PowderMax
Weight
454 lbs (claimed)
Fuel Capacity
10.6 US Gal (Premium Fuel)
MSRP
US$9,999
Related Reading
2011 Ski-Doo 800 Summit Review
2010 Ski-Doo Summit 600 Review
2010 Ski-Doo 800 Summit and Everest Review
All Things Ski-Doo on Snowmobile.com