Yamaha Racing Report: USXC Round 2

Four-stroke FX Nytro RTX snowmobiles raced to a strong pair of podium finishes at the USXC Beach Bar 200 at Detroit Lakes, Minn. on Saturday, Jan. 5.
Fuel Med RX Yamaha's Ben Lindbom took a close second and Jake Muller finished third in the afternoon Semi-Pro Improved final, while Re Wadena and Muller added respective seventh- and 12th-place finishes in Pro Open. Longtime Yamaha racer Ross Erdman was poised to do even better, leading the Pro Open event until a minor electrical issue took him out of the running.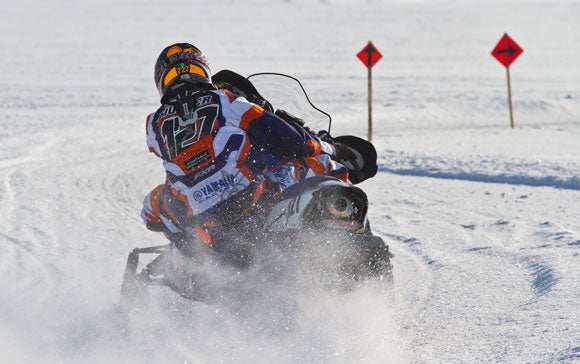 With 15-degree temperatures, calm winds and blue skies, the weather conditions proved ideal for snowmobile racing on ice. And the USXC lake course took full advantage of it, as the 10-mile layout featured dozens of groomed turns and straightaways up to a half-mile long – plenty of room for the Yamaha four-strokes to stretch their legs.
"It absolutely rips," says Erdman of his Yamaha FX Nytro RTX. "I can get five sled lengths on everybody out of corners, but it doesn't hit so hard and rip your arms off like a two-stroke. Instead it's smooth and easy to ride. But the most impressive thing was seeing 110 mph on my speedometer on the back straightaway!"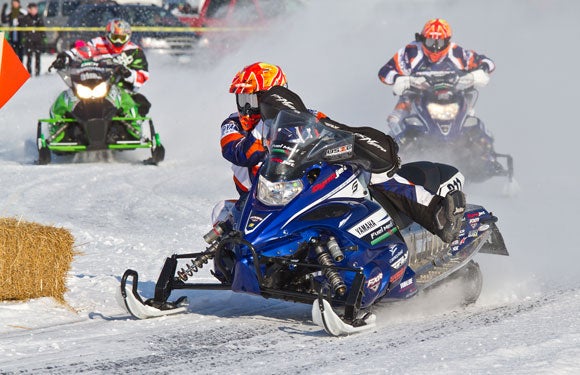 Morning Pro Open heat races saw Erdman, Lindbom, Muller and Wadena all qualifying for their afternoon finals. The 40-mile Pro Open event then started three riders per row, with Erdman jumping into the lead immediately over rival Brian Dick and Yamaha teammate Wadena. With a time-trial format rather than heads-up racing determining the winner, racers needed to charge hard right from the start – and by taking the early lead in his flight Erdman was well poised to compete for the win. But after he and Lindbom were both sidelined by minor electrical glitches, it was Wadena and Muller who swept in to claim their seventh- and 12th-place finishes for Yamaha.
The afternoon Semi Pro Improved finale put the four top qualifiers – including Yamaha's Lindbom and Muller – in the first flight. Rival John Arneson jumped off the line with the early lead, closely followed by Lindbom and Muller on their FX Nytros. Lindbom quickly took the advantage though, holding onto the lead until the final lap when Arneson slipped past. Lindbom hounded his rival for the remainder of the 20-mile race, and while the duo pulled steadily away from the pack, Lindbom had to settle for a close second, with Muller following up in third. "I'm happy with the team as they didn't get down, worked hard and pulled together for some good results with two podium finishes," says Yamaha's Eric Josephsen. "That said, we also have some work to do and we'll be ready for the next race in Willmar, Minn. on January 12."
The Fuel MedRX/Factory Yamaha Snowmobile Racing Team would like to thank its racing partners: Fuel MedRx – FXR – Dynojet; Fly Racing, Woody's, Camoplast, SpeedCell, YamaLube, & Yamaha Generators.