2018 Snowmobile Gadgets and Gizmos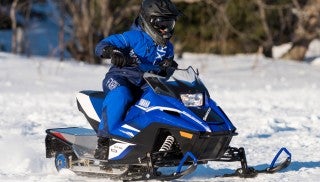 Plenty of interesting innovations for 2018
While we may think model year 2018 seemed "unimpressive" by trail sled standards and about average for powder sled norms, there were impressive snowmobile gadgets and innovations that stood out. As has been the case in recent seasons, Ski-Doo engineering again leads the pack in out of the box thinking with some clever remote-action add-ons that let their customers dial-in ride and handling from the saddle. That doesn't include the creation of SHOT, Ski-Doo's lightweight pushbutton starting system available for backcountry powder riders. Oh, yes, Ski-Doo engineering didn't forget the trail rider as it also developed an adjustable windshield.
So, were the other guys asleep at the handlebar? Hardly! In the creation of its joint effort all-new 200cc transitional snowmobile for youth riders, Arctic Cat and Yamaha worked together to create both a ride-friendly and feature rich downsized sled that can be virtually maintenance-free. All for less than US$4,000. Its key features make this a gas it and go, go, go snow vehicle.
But Yamaha and Arctic Cat, independent of each other, outfitted their brands with unique features. Cat added its long-anticipated dual stage injection 800cc C-TEC2 two-stroke twin. Yamaha innovated with YRSS, creating this unique reactive front snowmobile suspension system that the company originally pioneered for automobiles.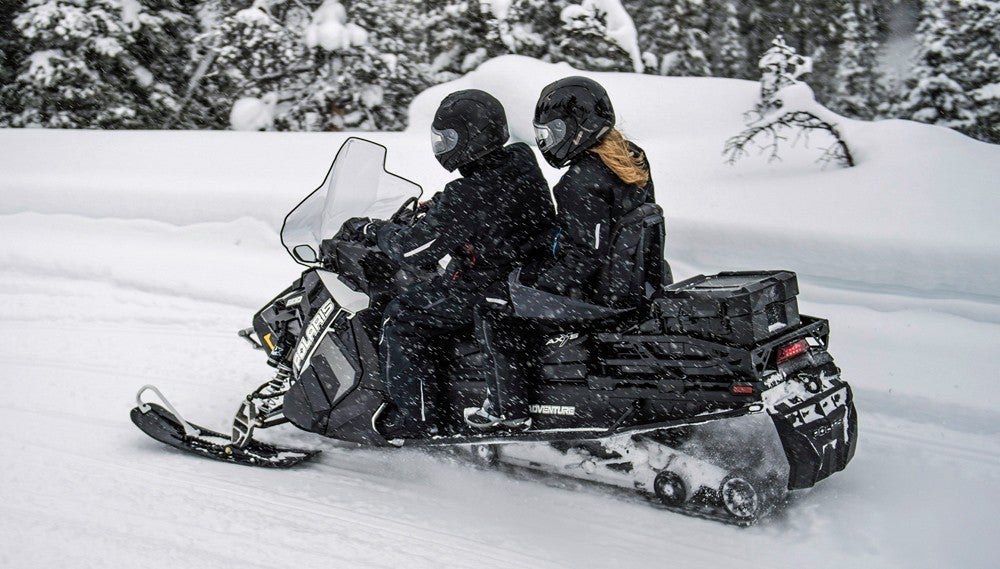 Polaris went b-i-g in conceptualizing a new niche of extreme crossover performance snowmobiles with its Titan. Unique in many ways, the Titan's storage platform crosses over from ATV thinking to creation of an innovative lock and ride snowmobile system.
We can't wait to see what the aftermarket comes up with as they design their own ways to make the various brands more rider-friendly in function, versatility, styling and performance. But here we concentrate on a few of the gadgets and gizmos that captured our attention so far for model year 2018.
Ski-Doo on-the-Fly Limiter Strap Adjuster
Not totally new to Ski-Doo powder sleds, the adjustable limiter strap was first introduced for tMotion rear suspensions two years ago as a quick and easy way to adjust deep snow handling on Summit and Freeride snowmobiles. This year the remote-controlled concept has been nuanced for even easier and quicker operation. There's a dial style switch mounted on the handlebar riser allowing riders to change positions by twisting a knob to quickly adjust their ride between a playfully light and agile setup to a more connected one where the track approach angle gets much more gradual and the skis don't lift as easily.
This remotely activated kit also will appeal to crossover riders as the system also fits the new cMotion rear suspension featured on 2018 Backcountry models. If a rider wants more positive steering on the trail, simply activate the shorter position, but when going off trail switching to the longer position provides better deep snow handling. This remotely activated limiter strap adjuster system is quick and convenient.
Ski-Doo notes that the adjustment range is equivalent to two holes on a conventional limiter strap (1.3 inches/34 mm). The kit is available for all tMotion and cMotion suspensions from 2013-2018. Pricing is US$269.99 /CA$329.99.
The First-Ever Remote Coupling Block Adjuster
Ski-Doo provides trail riders with a cleverly engineered adjustable on-trail quick ride set up. The company's new Remote Coupling Block Adjuster gives Ski-Doo riders with rMotion rear suspensions on-the-fly adjustment of their snowmobile's handling.
The rMotion rear suspension can be quickly and easily changed back and forth between uncoupled and coupled settings by just twisting a handlebar grip-mounted switch. You can make the change while moving, but as important, you don't need to get off your sled.
Keep in mind how coupled versus uncoupled works. The coupled setting doesn't allow as much rear weight transfer, meaning the skis stay planted for more positive steering. In the uncoupled mode, there's more rearward weight transfer that allows lighter steering and lets riders lift their skis over bumps.
If you need more ski pressure powering through a set of twisting turns, move the adjuster to the coupled position. When you want lighter steering or the ability to lift the skis easily, dial in the completely uncoupled position. This system also benefits on/off trail riders as well since the uncoupled position works better in deep snow.
The system works via a cable running down from the handlebar mounted twist grip to the slide rail to a mechanism that replaces the stock block pieces in favor of a system that allows remote activation to lift or lower the rubber cushions to achieve the desired setting.
The kit is available for all rMotion suspensions from 2012-2018 with suggested pricing of US$329.99 /CA$404.99.
Arctic Cat ZR200/Yamaha SnoScoot Drive Unit
Working together to create a new kind of entry level, low price point snowmobile, Yamaha and Arctic Cat designed a fuss-proof 200cc sled that allows youthful riders to transition from the "toy-like" 120s such as the SRX 120 or ZR120 to a trail-ready model. Because the targeted rider/owner of these sleds most likely would be youngsters and new-to-snowmobiling people with potentially limited mechanical bent, one of the key design criterium in developing this sled centered around minimal maintenance.
Finding a suitable low maintenance motor was relatively simple as the partners settled on a 200cc, 9-horsepower air-cooled Yamaha four-stroke. Boringly reliable as a stone, the engine needed a similarly durable and reliable drive system. A simple "go-kart" centrifugal design wouldn't work as the partners wanted this sled to be capable in the snow, suggesting a down-sized standard snowmobile drive system of primary and secondary. So, the reality of powering the 200cc sled became less simple and required some innovative thinking.
This resulted in creation of a particularly clever and very low maintenance CVT drive system that features an RPM-sensing drive clutch and roller-cam driven. This fully functional primary and secondary system with an innovative belt-drive that delivers durable, lightweight gear reduction through its belt drive "chaincase."
Problem solved as the 200s smoothly transition from low end through midrange up to an estimated 30-somehing miles per hour top speed. The system backshifts well, allowing the 9-hp Zr200 and SnoScoot to venture off a hard-packed trail into unchurned snow.
Yamaha Reactive Suspension System (YRSS)
As the Apex fades into snowmobiling history as the first high-performance four-stroke snowmobile and the world's only full production four-cylinder one, Yamaha gives it one last claim to fame by fitting it with YRSS (Yamaha Reactive Suspension System) whereby one central remote reservoir services two linked front shocks. Mounted on the clutch guard, the main reservoir flows damping oil via a control module to assist each shock in balancing out ski action for ride leveling and side-to-side control. First developed in the 1990s for automobiles, this reactive "sharing" type suspension does work to keep the Apex front end planted and steering positive. Although it will be available in very limited numbers this season, we expect that a version of YRSS will be developed for future Yamahas manufactured by Arctic Cat.
Polaris Versa Lock & Ride Storage Platform
If you are at all familiar with Polaris ATVs, the new lock and ride storage deck that comes standard on the all-new Polaris Titan snowmobile series seems like a no-brainer for simplicity. Polaris claims that the Titan's integrated Load & Ride Versa storage platform is not the same as the ATV design. Okay, but its simplicity and functional ease mimics the ATV's popular design.
The multiple pieces and accessories available for the new-for-2018 Titan caught our attention at Polaris' preview of the Titan in Roseau, Minn. this past February. Normally, sled makers introduce a unit then a year later offer a complete line of accessories. The Titan accessory line is ready to go now.
It's the new Versa storage platform that headlines the accessory parade. Its tough as steel composite design features copious places to fit a bungie strap, including nifty side rails. The lock and ride design allows quick on-off attachment of items like the weather-resistant Versa Cargo Box or a touring passenger seat. Polaris takes "plug and play" to a new level as you'll find all the connections for heated seats and passenger hand warmers ready to plug into this passenger seat accessory.
The Versa platform is designed to accommodate and secure up to 85 pounds of gear. Lock and ride convenience fits Polaris accessories, but you can just as easily haul all your ice fishing gear to your favorite undisclosed ice site.
The Titan accepts all manner of accessories, with the show-piece being the Versa Lock & Ride platform.