Snowmobile.com Best Budget Snowmobile of 2019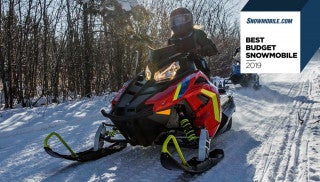 The Polaris Indy EVO costs thousands less than other Indy models and is designed with new riders in mind. This made it an easy choice for our Best Budget Snowmobile award.
While the snowmobile manufacturers are constantly pushing the envelope with it comes to high-powered sleds, one category that seems to get left behind are sleds designed for beginners and those on a budget. Fortunately, Polaris did an about face and introduced the 2019 Indy EVO – making our job easier when it came to picking the Best Budget Snowmobile of 2019.
The Polaris EVO should be the right choice for most buyers looking to get into the sport on a budget and wanting a sled that they can grow into and slightly beyond.
You don't earn our Best Budget Snowmobile award without an attractive price tag and the Indy EVO delivers with an MSRP of $5,299 – more than $2,000 less than the Indy 550. One of the ways Polaris was able to cut the price down by replacing the standard Indy 550 front suspension pieces with the narrow arms off the Voyageur with using a basic shock package. Out back you'll find RydeFX MPV shocks that control 9.1 inches of rear travel. The parallel rail design mimics the proven Indy rear design.
Though the Indy EVO features the same 544cc engine as the Indy 550, it is controlled with a new throttle system that only lets the carburetor open just over half way, which limits top speed to a maximum of 50 mph to help keep new riders out of trouble. If you buy the Indy EVO and eventually grow out of the limited power, Polaris offers a kit for the sled that will eliminate the electronic speed control and open up the throttle to full on.
The Indy EVO is also designed to better fit smaller riders. Larger riders can certainly still ride the EVO, but the ride would not be as comfortable and they would be better suited to the Indy 550.
If you are on the smaller side, the Indy EVO has excellent ergonomics. The seat itself is lowered to allow more diminutive riders to comfortably reach the floorboards. The revised EVO front suspension also lowers the sled's front ride. One potential drawback is that the front suspension travel maxes out at just 4.1 inches, three inches less than the 550 Indy.