Arctic Cat Takes a Short-Term Risk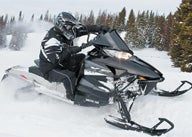 Will the 1100cc 4-stroke be up to the challenge of the 600cc performance twins?
As we enjoy these last warm summer days — okay, irrepressibly hot and humid — before the cool down of fall that announces the next sledding season, we wonder how the winter of 2011-2012 will be remembered. Last year's winter riding lasted almost to now, if you lived in certain mountainous western states where some snowmobilers ventured to high snows.
Snow, lots of it, solves all kinds of problems. In the West heavy snow leads to heavy melt offs that replenish drought areas. In the East and Midwest, plentiful snow raised stock prices for sled manufacturers as dealers restocked inventories in anticipation of another rebounding season as consumers rethink upgrading to newer models.
We wonder how the new fleet of sleds will do once you have had a chance to check them out in person. We get to touch, feel and ride the latest models at our annual snowmobile test sessions each March. Those models are generally close to the final product you'll buy, but changes to what we rode and what you buy are frequently common. Often we see new models just as the dealers are getting their preview. In past years some sleds destined for a specific niche suddenly disappeared. There have been times when we've ridden and photographed a model only to discover that its color was changed. Or that features had been added or deleted. The snowmobile manufacturers pay attention to their dealers because they are the customers. We may be end users, but the snowmobile dealer is the sled makers' customer and he knows what he can or can't sell in his market.
Looking at the new 2012 snowmobile models, we don't expect a great deal of change heading into the season. There will be a few tweaks here and there — mostly cosmetic, but the sleds we rode in the March session should get to you relatively intact. There are some sleds of serious interest for us.
We wonder how the new Arctic Cat non-turbo 1100 four-stroke will resonate with you. Is it just us, or is Arctic Cat betting too heavily on that power plant as a 600cc two-stroke competitor? Like all sled builders, Arctic Cat has to meet federal emissions standards. To get there the company had to virtually kick its existing 600 two-stroke to the berm. It was deemed too "dirty" to get to proper EPA requirements. It's the same reason you didn't get the nifty 105-hp 500cc twin in the F5 models. That's why the 80-something horsepower "clean" 500cc twin became the power plant of choice.
For 2012 the non-turbo 1100 four-stroke is the engine of choice in the 120-horsepower category. There is certainly nothing wrong with this choice. It stands up well when compared to Yamaha's one-liter Vector triple or the big Ski-Doo four-stroke. To convince potentially reluctant customers to giving up a two-stroke for a 4-stroke Arctic Cat with supposedly similar performance, Arctic Cat is leaving pricing up to its dealers — sort of. We don't know what programs may be in effect, but Cat marketers suggested strongly that its 4-stroke would compete aggressively on price versus comparable two-strokes in the "600" class.
We found this interesting. We will not denigrate the 1100 non-turbo versus the two-stroke 600s from Ski-Doo and Polaris. But in the most recent past, that motor was generally compared against the Yamaha Vector and Ski-Doo TNT 1200 four-strokes, not the Ski-Doo MXZ E-TEC 600. Power-wise they all seem to be in the proverbial ballpark. But, weight-wise, real or perceived, the 4-strokers seem to have been at a disadvantage. Consider that Arctic Cat's all-new top of the line chassis has managed to drop poundage versus the F-series, but is it enough? And how willing are new Cat fans to be the first to see if the 1100s are, indeed, equivalent to the two-stroke 600s? We'd like to give it a shot at sea level.
When we tested the new Arctic Cats out in West Yellowstone, we were favorably impressed with the non-turbo 1100s. But, we had some questions, the same ones we had when Ski-Doo brought its ACE 600 engined MXZ to the annual spring test session. At the modest, but real, added elevation of West Yellowstone, the new Ski-Doo 4-stroke 600 twin seemed a bit underpowered, more so than normal for a smallish displacement 4-stroke. When we test rode the ACE 600 in the MXZ chassis back in Minnesota last winter, we relaxed as the little 4-stroke ran much better at near sea level and performed close to the levels of the 550cc fan-cooled two-stroke it is destined to replace.
Still, in West Yellowstone the ACE 600 seemed sluggish. That's what we experienced with the 2012 Arctic Cat 1100 in the same Yellowstone air. The sled handled extremely well. It felt light and incredibly nimble. The engine seemed lazy — not a quick revver at all when compared to the E-TEC 600 or Cleanfire 600. We understand the differences, but we wonder if the riding public, especially the hot rod riding segment will put up with something they aren't used to. They have gotten used to the quick revs of the two-strokes. There will be a trade off of torque build up and a more linear pull from the 4-stroke versus quick revs and what may seem like a more responsive dragstrip surge off the line. There is a difference between a performance two-stroke and a 4-stroke sled engine that up to now has been the performance afterthought in the Arctic Cat performance sled line up.
We predict that Arctic Cat will see a surge in 800cc two-stroke sales as buyers who might have gone for the 600cc two-stroke will bypass the replacement 1100 4-stroke and go right to the more powerful 800 twin. If we're being honest, that's what we'd do. We'd pretend that we gave pause on behalf of fuel economy and thoughts of being "green" to save the planet, but we'd go for two-stroke sport and the added power, real or not. When we're out on the trails for the limited weekends that a snowmobile season gives us — even a great one like this past year — we want what the throttle thumb desires. Right now, aggressive action.
We may be very wrong, but we figure Arctic Cat may see a dip in 600 class sales and a bright blip in 800 class movement. It's really the only call the 2012 Arctic Cat sled gurus have for now. Their old 600 two-stroke needed too much money thrown at it to make it viable for fleet credits. And, since Arctic Cat is going to manufacture its own engines in a couple of seasons anyway, why spend limited engineering monies on the past when you're aiming at a new and enlightened future series of sled powerplants that will be both cleaner and more fuel efficient? Plus, if Arctic Cat stays true to its current marketing legend, the new engines will be powerful in the tradition of its one-liter ATV motor. That's how we see it. Cat is taking a risk in the short term, but we expect the company will enjoy future gains from this decision.
Related Reading 2012 Snowmobiles of the Year: Best of the Flatlanders 2012 Arctic Cat XF1100 LXR Review [Video] 2012 Arctic Cat F1100 Turbo Sno Pro Limited Review [Video]