2012 Arctic Cat F1100 Turbo Sno Pro Limited Review [Video]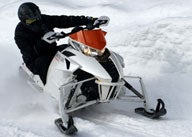 The meanest, baddest mother in snowmo-dom
Near the end of our first test-riding day at the annual photo/test session in West Yellowstone we went looking for unclaimed sleds to ride. Sitting in the Arctic Cat line of available sleds was its king of Cats, a white and orange limited edition of the 2012 Artic Cat F1100 Turbo.
We'd already ridden a couple of the brand new ProCross chassis Cats and had mixed feelings. They were light and nimble but the trail was too hard packed and somewhat icy for us to really evaluate their handling. They wanted to "push" through the turns, even with the skis turned to maximum lock. So, here we were at the end of the day, a bit tired but still enthusiastic to try this most powerful Cat model. Since we knew that less powerful versions pushed in the corners, we boarded the Turbo with some trepidation.
Click here to see our 2012 Arctic Cat F1100 Turbo review video in full HD.
We had no trepidation on the long power line straights leaving the compound. Squeezing the throttle forward to the bar, the powerful Arctic Cat left us with little doubt that this sled screams. Triple digit speeds come quickly, if not wisely. The 1100cc turbocharged twin uses modified engine braking to slow itself as you back off the throttle. It can mollify corners at the end of the straights as you learn just how much front-end grip you have to play with. Amazingly, either the end of day trail conditions had modified or this Cat was simply extremely well set up, but unlike our earlier experience with the other ProCross chassis Cats, the Turbo held the turns with little understeer.
On this tour of our preselected test course, the F1100 Turbo displayed near neutral steering, allowing us to sight-in a corner, throttle down and then throttle back in and power off the exit. Once we realized just how adroitly this Cat could corner, we quickly headed for every sweeper we knew was on this trail. In the tighter sections we needed to brake occasionally, but its new hydraulic brake proved light to the touch, agile to the rotor as it applied just the right amount of force to slow us. Even if we overdid the braking, the more than adequate 121-ft-lbs of torque covered up our screw-ups as we pulled out of the turn.
Ordinarily we try to maintain a "poker face" when test riding sleds. But when we returned this one, the Arctic Cat rep knew how we felt. Could it have been the huge ear-to-ear grin or was it, more probably, that we blurted out that this was the most badass mother of a sled that we had been on? Regardless, it was a great way to end our first day of test riding. Yes, we did get to ride that same sled another day. Again it left us pleased.
So Much Fun
What makes this sled so much fun? Let's give Arctic Cat engineering credit. If it held back in designing this new series, we can't see where. It didn't so much borrow from its race sled as it tested out concepts on it. The front framework, while light, is extremely rugged, as it has triangulated pieces feeding forces into one another as pyramids of strength. If you look at the new front end, you'll see spar pieces sprouting from the bulkhead and reinforcing each other for rigidity. Amazingly, this skeleton was conceived to fit not just narrow and short two-stroke motors, but the tallish needs of the 1100cc four-stroke twins, including the turbo, which needs extra room for its intercooler assembly.
Cooling the two-strokes requires less venting than a four-stroke. Indeed, Arctic Cat created a special nosecone for the four-strokes, even adding extra vents on the center of the hood to feed moving air to the turbo motor. Even though the whole assembly sits upright under the angled steering post, you don't notice anything odd as you sit on the sled. The tunnel connects at an angle to the bulkhead, effectively putting you up and forward in the cockpit. It all feels totally normal leaving you with a sensation of being completely in control.
The two-piece ProCross tunnel is narrow at the top, measuring 15-inches at the top before tapering outward to the runningboards. You simply feel comfortable and probably wouldn't know the chassis tapered unless you looked carefully from stern forward. Then you can see the taper. Adding to this feeling of being in control is the new F-series seat, which is fatter and softer where you sit when cruising, but narrowed and tapered inward toward the console to encourage sliding toward the handlebar to set up for the turns. Ride height for the handlebar gives you ample purchase for posting through bad bumps. Of course, there will be optional riser heights to suit your riding style.
Suspension Update
You'll quickly discover that Arctic Cat engineering didn't go all new everywhere. Why discard a rear suspension that works? There were improvements, including moving it forward about three inches to balance the new chassis. Another change in the Slide-Action design is the Tri-Hub rear axle assembly that is said to be lighter and more durable than the two-wheel system used previously. As you might expect there have been some internal adaptations to better match the suspension's performance with the lighter chassis. The front arm has been revised and the rail pattern changed to help account for a 7.5-pound lighter set up.
What will catch your eye right away is the tall, skinny mantis-like front suspension. The new A-arm design features tall upper ski spindles with a one-piece construction A-arm that incorporates ball joints. The lower arms permit a 30-degree angle from the chassis centerline that works to reduce bump steer while improving ski grip. The turning radius on the test models was quick, but perhaps a little too quick for everyday riding. That was one area that had yet to be finalized. Our vote would be to leave the turn in as is. It's extremely positive and makes the sled easy to maneuver.
Shapely Style
While the "look" of the white and orange 2012 Arctic Cat F1100 Turbo Sno Pro Limited will capture your eye with its unique coloring and sharp external lines, it is under the hood that gives you unparalleled engineering. The hood is actually an integral part of the airbox. Molded as part of the intake system, it features unique chambers to flow air while actually resulting in fewer parts and less weight. Replacing Cat's ACT final drive, the new magnesium chaincase not only permits changeable gears, but is a mounting point for chassis spars and also incorporates the oil reservoir on two-stroke models and the oil tank on the four-stroke sleds.
Arctic Cat engineering manages to come into 2012, the 50th anniversary year for Arctic Cat snowmobiles, with a series of sleds that showcases its talent. Wisely, Cat retained popular features like the curved handlebar and the power of its ferocious turbo four-stroke. As we noted earlier, we ended our first day's test riding with a whoop and a holler aboard a spectacular new sled — the 2012 Arctic Cat F1100 Turbo Sno Pro Limited. The one we rode was white with orange. You can get it in black, 50th anniversary black and green trim, black and orange and as an LXR luxury model or sporty Sno Pro. How ever you get it, it will be one of the baddest Cats on the trail next season. It's fast, ferocious and it handles. Expect to smile — a lot!
2012 Arctic Cat F1100 Turbo Sno Pro Limited Specs
Engine
Arctic/Suzuki 1056cc, two-stroke, liquid-cooled, twin; 46mm throttle body injector electronic fuel injection
Horsepower
177-hp; 121-ft/lbs torque
Drive
Arctic 6 post rpm-sensing drive with 10.75-in Arctic roller cam driven
Front Suspension
Arctic Race Suspension (ARS) twin A-arm suspension; Fox Float shocks with stabilizer bar; 10-inches of travel
Rear Suspension
Arctic FasTrack Slide-Action parallel rail slide with coupling blocks and Tri-Hub rear axle assembly; adjustable torsion springs and Fox internal floating piston gas tube shock; up to 13.5-inches of travel
Length
118.0 in
Width
48.0 in
Ski Stance
Adjustable 42.0 – 43.0 in.
Track
15 x 128 x 1.25 Ripsaw
Weight
NA
Fuel Capacity
10.6 US Gal
Features
Standard: digital/analog tach & speedometer with dual stage trip meter; Electric gas gauge; clock; reverse; key start; handguards; sport bumper; dual halogen headlight; heated seat
Optional: hitch; 2-up seat; rack; storage bags; engine heater; tank pads; optional windshield sizes
MSRP
TBA
Related Reading
2012 Arctic Cat Snowmobile Lineup Unveiled
2011 Arctic Cat Z1 Sno Pro Review
2011 Arctic Cat M1000 Sno Pro 162 Review
All Things Arctic Cat on Snowmobile.com