2012 Snowmobiles of the Year: Best of the Flatlanders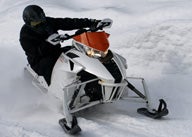 Everyone waited for the 2012 Arctic Cats to appear - and they didn't disappoint
Choosing a Best Sled of 2012 will leave some wondering what the heck we're doing or, simply, are we out of our minds. But for model year 2012, we figure the choice has been made for us. That's not to say that our choice will be your choice, but our choice seems quite obvious by what was introduced for the coming season.
In our estimation, the only truly new sled for 2012 — and it's not "all" new — are the ProCross and ProClimb outfitted Arctic Cat series. Maybe we are easily impressed, but looking beyond the "mantis" appearance of the new trail performance Cats is solid engineering that shows up and shows off the 50-year heritage of Arctic Cat designs. The latest Cat's innovative "tricks" may be somewhat new to trail sleds, but they have been tried, tested and proven in on-snow combat at snocross, oval and cross country venues. This 50th anniversary edition of Arctic Cat snowmobiles set itself apart from the competition at the annual snowmobile introductory test session with its newness, innovative styling and exemplary ride and handling.
When we said that the 2012 Cats weren't all new, we meant that the new "Pro"-series platforms anchor three known engine packages — an 800cc two-stroke twin and two versions of Arctic Cat's four-stroke 1100cc twin, a turbo and non-turbo. The rear suspension has been updated and upgraded to fit and give the ProCross chassised sleds a sporty and comfortable on- or off-trail ride. But it isn't all-new. Of course, it works very well and as wise mechanics always tell us, "If it ain't broke, don't fix it!" The front Arctic Race Suspension with its spindly mantis legs is new to the trail, but well-proven in competition. Styling is bold but not too far "out there." For 2012 the Arctic Cat ProCross models are very new and refreshing.
This coming season there will be other sleds vying for attention. Most will look very similar to the previous year models. Yamaha, for example, spent its engineering on last season's revamped Apex, giving it electric power steering and a wonderful power boost with its clever exhaust technology. Even though the body pieces of the restyled 2011 Apex wouldn't fit previous models, the "new" Apex looked too much like the older ones. For 2012, the Apex continues with few major changes other than the discontinuance of the chassis-mounted suspension dial on base models.
The news for 2012 has been the addition of EPS to the Vector and top line Venture. Powder riders could get a factory-backed boosted ride, but trail riders get by with a plenty fast Apex heading into 2012.
Ski-Doo's claim to 2012 fame seems to rest on its limited production rMotion rear suspension, only available as an early order purchase. It was available on MXZ X and RS models. The rest of the 2012 Ski-Doo line exhibited revamping and the early season advantages of building your Ski-Doo to order. You could spec out such things as engine, track type, color choice and colorful "wrap" options to personalize your ride. The engine choices continued the E-Tec twins (800cc and 600cc) and four-stroke options, including the new 600cc ACE and 1200cc triple.
Polaris for 2012 got very creative and pleasantly surprised us with its 2012 Switchback line incorporating a newly stretched Pro-Ride progressive rate rear suspension. Using an outside the skid frame main shock, the Pro-Ride and Ski-Doo's shock inside the skid frame rMotion effectively produce very similar results. The on-trail Polaris Switchback models with the 800cc Cleanfire twins proved exceptional in handling and overall trail performance and were extremely adept in off-trail exploring as well. The stretching of the Rush chassis by a mere seven inches made the 2012 Pro-Ride Switchbacks with the 136-inch track the preferred Polaris ride for 2012, virtually eliminating our desire for shorter tracked performance sleds.
Polaris took the Pro-Ride Switchback a step further by creating a superior multi-purpose cruiser. The 2012 Adventure may be based on the Switchback, but it comes equipped for travel with unique Lock & Ride cargo system that can accommodate a trail rack and luggage. The downside is that the 2012 Adventure is available with the 600cc two-stroke only. Offer it with an 800 and Polaris could have a trail success story similar to last year's best-selling Pro-RMK.
There you have it, a quick overview of how we perceived the 2012 offerings from which we make our choices for category leaders — taking into account such things as our view of engineering innovation, value, performance and that intangible we call "significance in the marketplace." Picking through the crop of new sleds for 2012, we've made our choices and, ultimately, the Best of 2012. Now, drum roll, please…
2012 Best of the Best Arctic Cat F1100 Turbo
Arctic Cat engineers not only created a scary fast and powerful straight-line snowmobile that delivers 177 horses from a boosted 1100cc four-stroke twin, but they proved beyond any doubt that such a four-stroke sled can be light, nimble and a cornering animal. The 2012 Turbo F1100 leaves you screaming for more like a kid on the world's fastest roller coaster. Rolling on the power out of a wide sweeper has to be how a Lamborghini driver must feel flicking turns on California's Pacific Coast Highway.
The new ARS front-end sticks in the turns and the rigidity of the all-new tapered two-piece ProCross chassis reflects its racing heritage. No other four-stroke handles like this Cat. No other four-stroke exhibits its raw power. We appreciate Arctic Cat's can-do engineering prowess that shows everyone in snowmobiling that a four-stroke can be more than the equal of the best two-strokes, that steering and agility can be light and positive. And Cat engineering sets a new level of competence for four-strokes and blows away all four-stroke versus two-stroke myths.
The 2012 Arctic Cat F1100 Turbo is our choice for 2012 Snowmobile of the Year — Best of the Best.
Runner-up: Polaris 800 Switchback Pro-R
Who would have thought that adding seven inches in length to the Rush's Pro-Ride suspension and stretching the Rush chassis to accommodate a 136-inch Cobra track would have made such a major change for the good? Polaris engineering did. Adding the power of the 800cc Cleanfire twin turns this stretch track sled into one of the most fun models you can own for 2012. And you want the "Pro-R" model since it comes with the nifty and exclusive Walker Evans shock package, which lets you fine-tune this sled to whatever style or trail you ride.
We admit that we gave this Polaris some serious thought as being the best of the best, but this is Polaris' third year of Rush-style models and Arctic Cat appears to have hit a homerun in its first at bat with its new ProCross series.
2012 Best Performance Ski-Doo MXZ X 800 E-TEC (rMotion)
Ski-Doo effectively invented "ride-forward" with the REV platform and its Rotax E-Tec twins give you four-stroke advantages with the lightness and happy revving of two-strokes. Add in the new rMotion rear suspension and you have a very fun to own, powerful and, now, smoothly comfortable ride. Oddly, we found that putting the rMotion in its less aggressive setting actually made it a better all-around performer. If you are totally into serious 10-foot drop offs then you'll want the MXZ RS package and the rMotion set in full battle mode. For the rest of us, our choice is the "X" with compliant rMotion settings and full-on 800cc E-Tec power.
Runner-up: Yamaha Apex (base)
You can kid yourself that the "air" suspension package is your bag, but the reality is that for the everyday rider looking to make miles and not play suspension-tuner, the base Yamaha Apex is the right choice. Electric Power Steering keeps you from tiring when touring through tight trails. And the EXUP exhaust modifications added last season make this four-cylinder, four-stroke Yamaha incredibly easy to ride and a joy on the trail, off a turn, on a straightaway, tearing across a lake, or whatever. Plus, it's a Yamaha, which means golden resale, virtually problem free, and stone cold reliable. This is a seriously underestimated sled that has a lot going for it.
2012 Best On/Off-Trail — TIE Arctic Cat XF 800 Sno Pro & Polaris 800 Switchback
These are the new breed of crossover sleds. The Arctic Cat features a stretched version of the two-piece ProCross chassis and new long travel ARS front end that gives the sled excellent turn in. The Polaris 800 Switchback is the "base" model with high-pressure gas shocks, the new "comfort" seat and roomier runningboards. While approaching the on/off trail arena in slightly different manners, the two sleds give you similar positives. They both have strong power, a very good ride, proper handling for on- or off-trail situations and good traction to back up the 800cc of two-stroke, twin cylinder power on tap.
2012 Best Pure Fun Ski-Doo MXZ TNT 600 ACE
Power-wise there are better choices for fun, but few leave you with the smiles that the TNT 600 ACE will give you. You'll be smiling when your buddies are paying at the gas pump, too. The four-stroke 600 ACE gets exceptional mileage while providing ample on-trail adventure. At 442-pounds, this sled can be tossed into turns and you'll know that its proven REV-X platform and proven suspensions will let you negotiate any trails. We've found the TNT 600 ACE to be a top choice for traditional snowmobiling, the kind that lets you enjoy an all-day ride at posted trail speeds with a sporty flair and a high smiles per gallon.
Runner-up: Polaris Shift 550
Polaris' fan-cooled Shift 550 offers good value in what we consider a nearly indestructible package. This sled is one of a vanishing breed of fan-cooled models that once dominated the sport. The twin-cylinder motor provides a sporty 50-plus horsepower in a lightweight package that is based on the previous IQ-generation of Polaris snowmobiles. Simple and easy to handle, the Shift 550 offers first time riders an inexpensive entrance into the sport.
2012 Best Personal Sport Touring Polaris Adventure
We're not sure if its sport touring or just plain all-day sport, but whatever your definition, the 2012 Polaris Adventure takes the personal luxury category to a higher level as it combines the benefits of the Pro-Ride Switchback with the versatility of a utility model. The Adventure relies on a 600cc Cleanfire twin to power its 136-inch track. The ride is exceptional as it is virtually the same as the newly favored Pro-Ride Switchback crossovers. There are some suspension tweaks in favor of a more settled, composed "touring" ride, but you'll find quality components front to rear as Polaris chose Fox gas shocks on the front A-arm suspension and a Walker Evans adjustable rear shock. The expected ancillaries are standard: rear view mirrors, taller windshield, full Lock & Ride cargo system, the new comfort seat and, of course, key start and reverse with a digital information gauge.
Runner-up: Yamaha Vector LTX
The Vector has always been a favorite sled of the flatland Snowmobile.com staff. For 2012 the Vector adds electric power steering plus A-frame suspension and ski upgrades to make the stretch track LTX model a much more rider-friendly unit. The fuel-injected 130-ish horsepower of the Vector suits this sled exceptionally well, making it impressively easy to drive. Now, unlike the Polaris Adventure, the Yamaha Vector LTX only comes with the rearview mirrors as an option. But the ride and handling and overall quality give long haul riders great peace of mind on the trail. Performance-wise the Yamaha will be on a par with the Polaris. The 136-inch track and next generation MonoShock II suspension provide ample bridging of stutter bumps for a very well defined ride.
2012 Best Luxury Touring Yamaha Venture GT
Our choice for best of luxury touring sleds changes a bit this season as Yamaha upgrades its Venture GT to Electric Power Steering. It's an option that other luxury touring sled makers might want to consider as these sleds are designed to pack on the amenities like big protective windshields, mirrors, storage options and comfortable two-up seating. All that adds weight, putting more weight on the skis. EPS instantly reduces steering effort. Yamaha's design works to place maximum steering effort at slow speeds. This EPS system works through a third generation A-arm front suspension. Other changes include new trail skis to reduce darting and generous storage trunk.
Runner-up: Ski-Doo Grand Touring 1200 SE
Ski-Doo's Grand Touring 1200 SE with its four-stroke power, air suspension and SilenTrack technology remains a top choice in the luxury-touring category. The SE seems car-like in its features list, offering a heated seat, tilt steering and modular seating. Touring cases are standard.
2012 Best Utility Arctic Cat Bearcat Z1 XT Groomed Special
There isn't another sled like this one being made today. Based on the single-tracked Bearcat utility model, Arctic Cat engineers revamped the design to turn it into a budget groomer capable of pulling a specially-built goose necked trail groomer. The entire package was designed with grooming in mind. There's a 17-gallon fuel tank, a rear light bar with floodlight and beacon light, heavy-duty front bumper and special winch.
Arctic Cat created a unique utility model that we expect will be copied, but for now, the Bearcat Groomer Special is innovative and the only one of its kind.
Runner-up: Ski-Doo Tundra Xtreme
Ski-Doo's Tundra Xtreme represents Ski-Doo's unique thinking when it comes to snowmobile product. It's part play sled, part work sled, and part powder sled. It borrows the telescopic front suspension and utility rack/storage from the Skandic family and the 154-inch super long PowderMax track from the deep snow models. The result is a sled that can roam deep snow like a Ski-Doo Summit but track in the wilderness like a Skandic. For 2012 the Tundra Xtreme continues the use of its 600cc E-Tec twin, making it powerfully equipped to spin its deep powder track or haul a sleigh. It's a uniquely Ski-Doo snowmobile with untapped versatility.
Related Reading 2012 Snowmobiles of the Year: Best of the West 2011 Snowmobiles of the Year The Best 2011 Snowmobiles for the West 2012 Arctic Cat F1100 Turbo Sno Pro Limited Review [Video] 2012 Arctic Cat Bearcat Z1 XT Groomer Special Review 2012 Polaris 800 Switchback Pro-R Review [Video] 2012 Yamaha RS Vector EPS Review [Video] 2012 Ski-Doo MX Z X-RS 800 Review [Video]