Destination: Island Park, Idaho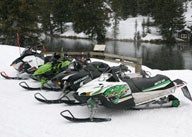 Deep snow riding that's close enough to the flatlands
There is more to backcountry riding than squeezing the love handle and cruising on the snowy trails of love. Right?
While teasing the newest of the new snowmobiles at the annual test session held in West Yellowstone this past March, we Snowmobile.com test riders spent ample time perusing the trails around famed West Yellowstone, including the areas of Two Top, Lion's Head and Island Park. It's a great experience for us who were born and learned to snowmobile here as well as being a reasonable drive for folks from the upper Midwestern flatlands of Minnesota, Michigan, Iowa and Wisconsin.
Island Park, Idaho offers up its winter beauty and vast riding areas well into late February and early March. Maybe because this area is really close to me, I've taken it for granted when compressing snowflakes between track and trail. I thought, "Not in my back yard?" On a recent visit riding its endless trails traversing through winter beauty woke me up. I discovered what many of you, who travel day and night from the flatlands, already know. Island Park is a great place to ride.
For those of you planning a Western vacation, "Bing" or "Google" "Snowmobile Vacationing in Island Park, Idaho," and start hoarding money away for a trip to this exquisite land. The week I spent there helped me discover Island Park as though I was seeing it for the first time. Make the pilgrimage to Island Park and discover your inner cowboy or cowgirl.
Most westerners like me, hack at the mountains and generally avoid the trails. Mountain men reserve trail riding for a day with the wife or kids, or spending a day with flatlander pals. As a photojournalist, I have covered many scenic backcountry jaunts, which have pulled the breath from my lungs. But, I have mostly neglected my own back yard because it was not exotic enough. Like the adage, New Yorkers don't even take the Statute of Liberty tour. Yet, Island Park, Lion's Head, Two Top and the Mesa Falls trail loop are really quite exotic and offer many flatland visitors, who have spent hard earned cash and vacation time, a special treat that includes a very nice and well-mapped trail system.
For those of you who desire more than North Dakota, Minnesota, Wisconsin, Michigan, Quebec, Maine and Vermont trails, here are some stats that will lure you to my local mile-and-a-half crisp mountain air.
Island Park has over 900 miles of groomed trails. Elevation averages between 5000 to 10,000 feet. Snowfall averages nine feet per year. For specific topography and climatology information, go to IslandParkSnowmobilingVacation.com or jump to IslandParkChamber.org, which is the Island Park Chamber of Commerce site, and learn about this vacationland; it has many informative links. Another great resource is Greater-Yellowstone.com/Island-Park, which details great destination locations you and your pals, or spouse can frequent as you motor along the trails.
The Fremont County, Idaho snowmobile club, Fugowee, is made up of highly skilled snowmobilers who know – intimately well – the trails and deep backcounty. These club members can find, help and rescue anybody anywhere.
What is there to do in Island Park and its nearby mountain ranges? First, if riding the trails near West Yellowstone, explore Lions Head. This peak is high and the trails leading to Lion's Head take you to heights that want to reach up and touch airliners. Around Lion's Head, the trails are wide, well marked and lead to some high open bowl country. But be aware, once off trail, you enter avalanche country; be astute and knowledgeable on avalanche dangers, read up on the snow and avalanche conditions before breaking off trail.
Note: West Yellowstone is the City, Yellowstone Park is the National Park. Some people incorrectly refer to Yellowstone Park as West Yellowstone Park, which is incorrect. Knowing the terminology helps you fit right in.
The trails South of West Yellowstone will lead you to Two Top. Here, the wind picks up the snow and makes ghoulish creatures out of lodge pole pines. On still calm days, when the sky is sapphire blue, the trees seem to come to life with their shapes; these snow-sculptured trees offer award winning photo opportunities.
The third area of note is the Madison River and its history. Many trails run parallel this river and will take the curious to two historic buildings built by a German immigrant, Johnny Mack. Using industrial thrift, he harnessed the water's power with a paddle wheel to generate power. The river passing this landmark is crystal clear and large trout – brookies and cutthroats – fill the water under the river bridges. You will be amazed at the many big daddy trout that effortlessly swath back and fourth in the cold crystal clear water.
As you gaze up and down the Madison, you will see swans, geese, beaver and a muskrat making due in the cold water, but don't tell them, they think the water is fine.
For those techie GPS geeks, from Island Park Cabins and Lodges, the GPS guided snowmobile service will pinpoint some of the best snowmobiling areas in the region. If you lock in this service, Island Park Cabins and Lodges will provide specific coordinates for all types of snowmobiling, such as finding the locals' favorite riding areas for outstanding backcountry riding, steep-and-deep action, dazzling hill banging, and killer boondocking.
Another stay-and-play lodge is Phillips Lodge and The Pines on Phillips Loop Road. Been there, done that, and like it much. I implore you to check this website and book a reservation. The lodge, individual cabins, and restaurant are luxurious in a rustic way.
Travel Tips for Your Body
Busting deep powder is a different game than trail honking. For your protection, ensure your clothing wicks moisture away from your body, will keep you cool and warm, and will provide wind protection. The inner wear should be of wool and polypropylene blend. Cotton products lead you into trouble. I recommend products from Klim, HMK and R U Outside.
When working the steep-and-deep in the West, the thin and dry air makes the body perspire much. Good clothing is essential.
Other recommended items include an avalanche probe, shovel and saw. I recommend a complete gear pack from HMK that has all the essential products. But you are only halfway home, a beacon, probe and shovel will be much smarter if coupled with an avalanche air bag system (commonly called an "avy" bag). If wanting to purchase an avy bag, beacon (highly recommended), probe and shovel from the same maker, then look no further than BCA (Back Country Access). This one-stop internet super shop has it all. The good folks at BCA are Colorado-based, winter backcountry addicts who build products to keep you alive.
Travel Tips for Your Snowmobile
Not all snowmobiles are built equal. That was a dumb, yet obvious statement, but if wanting to take your ditch buster, lake blaster or trail burner to the West, consider the following. If planning some deep powder stomping and hill cutting, cinch in the ski stance to its narrowest setting. This will make rolling your sled up on one ski a whole heckuva lot easier.
If your pony is tracking on narrow skis, then it will submarine through the powder rather than float. Beg, borrow or buy some Starting Line Products' Powder Pro Skis or Simmons Flexi Skis. These skis will eliminate much frustration.
Weight transfer is crucial. If your snowmobile's rear suspension has additional mounting holes allow it to drop, then consider placing the rear skid in these lower mounting holes (AKA bracket mounting holes). Consult your dealer and operator's manual for full details. Also, contact a deep powder dealer that can coach you along.
For superb deep powder-specific weight transfer, which picks up the skis and lofts the front end, lengthen the front limiter strap. This allows more track torque to transfer to the rear axle.
For crossover sleds, these adjustments work smartly and will transform your crosser into a darn good boondocker. Shorty trail sleds (MXZs, Fs, Rushes, FX Nytro RTXs) will benefit from these changes, but the impact will not be as noticeable as that of crosser. Still, the fun is there for the taking.
Release Your Inner Cowboy
So, that in a nutshell is my sell to you of Island Park and its nearby mountain ranges, Two Top, Lion's Head, and also, the Mesa Falls Loop. When dressed in white with its trees flocked in Christmas snow, Island Park is cathartic and beckoning.
For lodging, the Island Park natives, the hard working folks in Fremont County, will give you the cowboy and cowgirl pampering we tough guy and gal snowmobilers like.
C'mon now, cowboy and cowgirl up and make your reservations for Island Park.