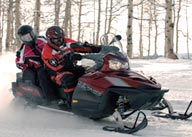 Tour hosts have two decades of experience providing good times for snowmobilers
Looking for a chance to enjoy the winter outdoors with other snowmobile-minded folks? Check out the Polaris Adventure Tours hosted by longtime snowmobile travel planners Bev and Harlan Mannigel.
Don't ride a Polaris? Don't worry, says Harlan. "These tours are open to all makes and models, so bring your friends."
The Mannigels have hosted snowmobile adventures for more than two decades. Says Harlan: "About seven years ago, Polaris made us an offer to set up and host its snowmobile and ATV tours. To be able to represent a company of its caliber was a dream come true."
Before working with Polaris, the Mannigels spent 15 years conducting tours for Arctic Cat and its Cat's Pride owner loyalty program.
For the upcoming season, the Mannigels have scheduled five Polaris Adventure Tours beginning with a ride in northern Minnesota's Ely area from January 6 to 10, 2008. The last scheduled tour is a trip to Lac Du Flambeau, Wis. from February 24 to 28. Other trips include a visit to the scenery around Wallace, Idaho and, of course, a visit to West Yellowstone.
"Polaris Snowmobile Adventure Tours are not about racking up big-time miles, but are instead about enjoying beautiful natural scenery as well as some real Polaris camaraderie," says Harlan. "All we need is your smiling face and humorous personality."
Quoted prices for each tour includes evening dinners, lodging, breakfast, a Polaris Adventure Tours Henley shirt and a keepsake name tag.
If you were to book a tour, what should you expect and what do you need to take along?
"The ages of our tour clientele are usually in the range of 45 to 65 years young. Our trail selection is 20 per cent easy, 75 per cent intermediate with about 5 per cent expert," explains Harlan. "We are not on a mission. We emphasize camaraderie. On a typical tour day we like to stop alongside the trail for picture taking, snacks and 'BS-ing'."
The tours usually last for about three days of riding, with an average day consisting of riding between 130 and 150 miles. While the Mannigels will show you a good time, they absolutely do not allow any alcohol during their rides.
"But once our scoots are parked for the night, it's party time. And we know how to party," Harlan chortles.
With the recent vagaries of winter and some limited snowfalls, planning snowmobile tours can be tricky. Notes Harlan: "With the weather being so iffy, it's very hard to plan a trip. Motels demand 100 per cent pre-payment at least 30 days in advance. So 30 days out they may have a ton of snow, but just two weeks later it melts. This can get expensive. Regardless, we offer our customers a 100 per cent refund if we have to cancel a tour—regardless of reason."
What should you bring on a Polaris Snowmobile Adventure Tour? Besides a friendly smile and a sense of adventure, Harlan feels that common sense dictates what a person brings along. Naturally you will want to bring a cell phone, snacks, matches, dry socks and even an extra jacket. He also suggests carrying a daily bottle of water inside your coat to help keep you hydrated.
The Mannigels put a lot of miles on their Polaris snowmobiles each season. Over the course of five to six tours the pair rack up about 2,500 miles. "When we aren't touring," Harlan adds, "we are riding with our friends for another 1,000 miles."
While the Mannigels love to ride, what makes the tours and the adventures even more special is that Bev and Harlan can ride together.
"I am lucky enough to have my wife along driving every mile that I drive," Harlan adds.
The announced destinations and dates for the 2008 Polaris Snowmobile Adventure Tours are:
January 6-10 Ely, Minn. The playground for this tour is located in the extreme northeastern part of the state. Three days of riding. There should be no shortage of snow up here. Sled from the door of a luxury lodge each day. All of the desired amenities are under the same roof. This tour has it all. Cost: $595 per person. If you prefer single occupancy, add $240.
January 20-24 West Yellowstone, Mont. This tour involves traveling in three different directions, which include all of the popular spectator spots. Riding in the actual Yellowstone Park won't be included, because of all the politics and subsequent regulations, but the park is just a small part of some of the most awesome scenery anywhere. Cost: $600 per person; single occupancy, add $220.
January 25-29 Wallace, Idaho Trails and scenery—that's what this tour is all about. Three days exploring Idaho's Silver Valley with its ghost towns, abandoned silver mines and abundant wildlife. Ride from the door of an all-inclusive lodging facility. The days will be filled with trail riding, powder busting, high topping and helping dig out the ones who got buried. Cost: $550 per person; single occupancy, add $180.
February 10-14 Presque Isle, Wis. Located just below the Michigan border is a host lodge with all of the amenities right there. Naturally, the trails start at our door and when they advertise that they groom 24 hours a day—then this is the place to be. Find out first hand what excellent trails they have. Cost: $495 per person; single occupancy, add $140.
February 24-28 Lac Du Flambeau, Wis. Bring your piggy bank on this ride, as the host lodge is also a casino. Three days of riding in three different directions. One of the days, you will ride over to Eagle River and visit that world famous snowmobile racetrack. There are so many trails up here that you'll spend three-quarters of the day lost and one-quarter finding our way back. That's why it's a good idea to carry a GPS. Cost: $500 per person; single occupancy, add $145.
If you would like to participate in a tour or would like more information, contact: Harlan and Bev Mannigel at 1900 Jackson St., Mosinee, WI 54455. (Phone: 715-693-6903; E-Mail: Adventure Tours E-Mail)