Do-It-Yourself Memorial Day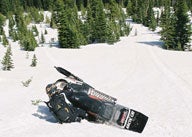 Final ride of season proves interesting
This country just gobbled down a couple million burgers, hotdogs, with several million pounds of potato chips and we washed it all down with 10 million cold ones. The Fourth of July is a great day. Especially when there is no shame for the pounds we placed on our belt line.
Memorial Day weekend, like the Fourth, is also one of those good-time weekends. To have a "Memorial Day," we must build memories. And in tradition, we decorate our loved ones' gravesites, and the gravesites of those who served this fine Nation. Additionally, on this extended weekend, it is fitting to bust out the sleds and build memories for a couple hours before heading off to the cemeteries or to the backyard for some good ol' Western grilling.
The Saturday of Memorial Day weekend, Bret Rasmussen, owner of Snowmobile Research Services (SRS), Preston, Idaho, along with Kevin Allred and me, two mountain grunts for Snowmobile.com, gathered at the high slopes Northeast of Preston for an early morning mountain ride.
This was an unusual day for us. Hot, clear, high sun, good late Spring snow and fist-sized misquotes, which drained a pint of blood from each healthy pull through their tiny straws.
Here we rode a stock 2009 M8, a Boondocker turbo-equipped 2009 M8 known as RTR (Ready-to-Ride) and a Boondocker turbo-equipped 2009 M1000; all high-explosive ordnance to blow up a couple dozen mountains.
The reason for this ride, ultimately, was to preview Rasmussen's shock spring packages for the M8, and evaluate his high-end titanium springs. But also, to trash talk the M8s and M1000 and each other.
The day gave us a healthy dose of rocks, fallen trees, stumps, scrub oak, mud and running water with ice-patches. Our M-Cats had to endure to the end. But given the personality of us hardcore mountaineers, we demanded the Cats indulge in the elements the Rockies tossed us. As you can see from the pictures, the rocks were plentiful, as well as the snow.
As you can see from the pictures, the rocks were plentiful…
With a high-heat index, we each leaked out all the fluids we took in moments before. It is not hard to overdress on day like this.
We also had fatalities that day, the turbo M1000 I was riding, while chasing Bret up a manic-depressed slope, had its driven clutch shaft bolt walk out, giving the thousand M-Cat the perfect excuse to curl up in a tree blow hole, and purr, hoping someone would scratch its belly and help it from the trench. Well, we resuscitated the driven clutch, and kicked the Cat in the tail and sent it back up the mountain.
Mishap number two, on the trail home, which was more like a rutty farmer's road laced with snow drifts every five feet, the three of us etched out a speed run.
After a short thirst-quenching break along the snow and dusty trail, Kevin and Bret bolted. I was on the M1000 with all the best suspension components – EZ Ryde skid with titanium shocks, ti upfront and a turbo big bore – and I chose to let them lead. With a big head and attitude, I decided to catch and pass them. As I cinched up to Kevin's mud flap, he on the RTR, chasing Bret on the stock M8, I began my pass. I was off camber and with the RPM when I hit a snowdrift, which sent me and the M1000 in a beautiful mid-air cartwheel.
Kevin's RTR was rapidly approaching and like a fighter pilot closing in on the kill, I involuntarily committed myself to one more stupid looking high trapeze roll. While trying to level out my flight path, I thought: "Might as well body slam Kevin from behind, throw him from his RTR, kick some dirt in his face, laugh, steal his ride and go tackle Bret." No such luck. I landed face down next to his RTR and discovered the merits a good EVS chest protector and value of having air in my two lungs.
As I skidded nose down on the dirt and snow (a strong helmet is a must to have in these unplanned excursions), I noticed my faithful M1000, after bucking a lovely tail-over-nose cartwheel in fine coordinated fashion with me – a mid-air loop that would make Chuck Yeager proud – landed on its feet, rolled to a stop on the sloppy mud and sat patiently waiting again – still purring. As I caught my breath, and finding a weak dose of 8,000-foot air, I strapped myself to the M-Thou and grandpa-drove to the trailhead while holding my ribs.
That, my good friends, is memory building. And, yes, we did get a preview of Brett Rasmussen's new shock kits.
Related Reading Specialty Springs for Arctic Cat M-Series 2010 Arctic Cat M8 Review