Hall of Fame Celebrates 25th Anniversary, To Induct Three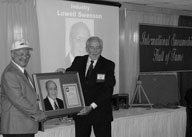 Three snowmobilers to be inducted into Hall of Fame this September
Twenty-five years ago, Elmer Cone of Bovey, Minn. felt strongly that those snowmobilers who had created the sport, built its infrastructure and helped it to grow should be honored. His idea was to create a snowmobiling hall of fame that would recognize those pioneering entrepreneurs, adventurers, volunteers, trail and program builders who not only got snowmobiling started, but whose efforts have led to what is now a worldwide sport and industry with sales and trails wherever there is snow.
Today Cone's dream, the International Snowmobile Hall of Fame (ISHOF), is located in Eagle River, Wis., the iconic "capital city" of snowmobiling. ISHOF honors more than 100 snowmobilers for their contributions to the sport. This September 12-14th, ISHOF will celebrate its 25th anniversary by inducting three new members into the Hall of Fame: Gail L. Hanson, Lyle Shipe, and Larry Shepherd.
Gail L. Hanson – New Hampshire
Twenty-one years ago Gail L. Hanson stepped into snowmobiling as the secretary for a local New Hampshire snowmobile club. Nine years later she became the first full time Executive Director of the New Hampshire Snowmobile Association, accepting responsibility for the association's day-to-day operation. That role also included working with New Hampshire's Division of Parks & Recreation, the state's Fish & Game bureau, coordinating the association's conferences, fundraisers, workshops, plus maintaining a role as the sport's advocate in the state legislative arena.
Notes Chris Gamache, the Chief of New Hampshire's Bureau of Trails, "Gail has been instrumental in making positive changes to the NH snowmobile program… (and) been the consistent guiding force for the sport.
"Under her leadership NH law was changed to give a registration discount to riders if they were members of a local club, which dramatically increased membership rates."
He adds that her efforts through the NHSA and on behalf of snowmobilers has resulted in helping snowmobiling become the dominant winter recreational activity in NH and making it a "publicly recognized and acknowledged economic force."
US Senator Kelly Ayotte of New Hampshire explains that during Ms Hanson's tenure at NHSA she has strengthened the relationships between the Bureau of Trails, the Fish & Game, the state's snowmobile community, landowners and businesses that benefit from a healthy and diverse trail system.
As a long time supporter of Easter Seals, the New Hampshire Snowmobile Association under Ms Hanson not only continued its support but promoted a cooperative effort that brought various state organizations together with snowmobilers and the Easter Seals to generate extraordinary fundraising efforts to benefit the hundreds of children and families that attend Camp Sno-Mo, an NHSA-supported camp for children with physical and emotional challenges.
Snowmobiling's International Hall of Famers
In 2009 Ms Hanson was recognized by Easter Seals New Hampshire for her commitment to Camp Sno-Mo. The following year, the annual Easter Seals "ride-in" on behalf of Camp Sno-Mo was dedicated in her honor.
As the association's executive director, Ms Hanson is responsible for communicating with the state's snowmobilers via the NHSA's "Sno-Traveler" newspaper. Published six times a year, the publication provides news about legislation affecting snowmobilers, supplies information about places to go and stay and offers insight into industry trends.
During her tenure as Executive Director, New Hampshire's snowmobile community has had an economic impact of more than one-half billion dollars annually, representing three percent of NH's gross product!
Inducted into the International Snowmobile Hall of Fame for her contributions in the category of Trail & Program Developer, Gail Hanson has demonstrated a unique ability and commitment to promote the growth of snowmobiling in New Hampshire for more than 20 years.
Lyle Shipe – Michigan
It's unlikely that any snowmobiler in Michigan knows the sport as intimately as Lyle Shipe. As the editor and publisher of the Michigan Snowmobiler since the late 1960s, Shipe has seen the sport transition from more than 100 snowmobile manufacturers down to today's four. He recognized early on the importance for a "snowmobiler's voice" to help unite the fledgling sport in Michigan. Beginning in 1968 Shipe spent his winters meeting and getting to know Michigan's snowmobilers. He made certain that the Michigan Snowmobiler covered events and snowmobiling get-togethers in what was then the snow state with more than 400,000 registered sleds, the largest number of registered snowmobiles in North America. He made certain that competitions like the famed "Soo" I-500 endurance race was covered along with major ride-in events such as Cadillac's North American Snow Fest. But his rapport with Michigan's snowmobiling community came from his ability to include small and local snowmobile events that helped local communities, snowmobile dealerships and the "Mom & Pop" businesses that depended on snowmobilers.
Based in East Jordan, the Michigan Snowmobiler served as the official voice of Michigan snowmobiling for many years under the banners of various statewide snowmobile associations. In the late 1960s, the Michigan Snowmobiler spoke for the Michigan Snowmobile Association, but under Shipe retained accessibility to all snowmobilers, supporting organizations such as the Easter Seals, the For Women Only Ride and the Special Olympics.
Snowcrest Riders Win Hall of Fame Recognition
Shipe directed his efforts to creating awareness of snowmobiling's economic impact within the state, frequently pointing out to resort areas that snowmobilers outspent other winter user groups at least two-to-one.
Jim Duke, past president of the Michigan Snowmobile Association, notes: "Lyle's enthusiasm and passion for snowmobiling extends beyond just the publishing of a great snowmobile magazine, in that he is truly devoted to making snowmobiling activities as safe and enjoyable as possible. Through his efforts, Lyle has affected the lives of countless snowmobilers."
A few years ago Shipe retired from the everyday routine of publishing the Michigan Snowmobiler, leaving those duties to his daughter and son-in-law, Patti and Bill Tisron. Still, explains his daughter: "Lyle might have retired, but he's never far from the office and what is happening in the world of snowmobiling."
With a snowmobile history that touches six different decades, Lyle Shipe is being inducted into the International Snowmobile Hall of Fame for his contributions to the sport in the category of Publisher/Journalist.
Larry Shepherd – Minnesota
When it comes to understanding the unique and important role that volunteers play in the sport of snowmobiling, few understand it as well as Larry Shepherd. "As an active member of the Minnesota United Snowmobilers Association (MnUSA) for 25-plus years," explains fellow MnUSA member and 2010 Hall of Fame inductee Judith King, "Larry has been a driving force in MnUSA since he became a member."
As a member of the Minnesota Snowmobile Education and Advancement Fund, Shepherd supported and helped implement snowmobile safety programs for kids, worked to protect and expand Minnesota's 21,000 miles of statewide snowmobile trails and co-chaired the Minnesota Annual Veteran's Appreciation Ride, now in its seventh season. An Air Force veteran of the Vietnam era, Shepherd works diligently to make the "Veteran's Ride" an event to remember for all current and past military members in attendance.
Shepherd began his association with the sport in the early 1970s. At first a club member and enthusiastic rider, he recognized a need for Youth Snowmobile Safety Training and became a certified instructor in 1976. In 2006 he was honored as the "Minnesota Department of Natural Resources Snowmobile Instructor of the Year."
As a member and officer of various snowmobile clubs and trail groups, Shepherd works with both local and state legislators to keep them up to date on issues relating to snowmobile activities. A member of various of MnUSA committees, he is remembered as turning the "merchandise committee" into a moneymaker for the state association. He has served as MnUSA president and worked with state, local and federal authorities to provide increases in grant-in-aid funding. He also worked tirelessly to promote a bill to protect landowner liability for recreation.
In 1990 he was appointed to Minnesota's snowmobile task force to aid in the development of trails policies for user groups. He also helped create a non-profit recreational trail users coalition of six non-motorized and four motorized groups to seek out the commonalities they share.
In 2006 he was named "Minnesota Snowmobiler of the Year" by MnUSA and was named "2007 Snowmobiler of the Year" by the American Coalition of Snowmobile Associations.
As a snowmobile volunteer, Shepherd has been active from his earliest days as a snowmobiler up to spearheading the 2014 Veteran's Appreciation Ride for MnUSA.
Inducted into the International Snowmobile Hall of Fame for his many contributions as a Volunteer, Shepherd has helped better the sport of snowmobiling for Minnesota's young snowmobilers and for its military veterans.
For more information about the 25th ISHOF celebration, contact: ISHOF, 1521 North Railroad Street, Eagle River, WI 54521 – Telephone:  (715) 479-2186 or Email World Snowmobile Headquarters at [email protected].