Snowmobiling's International Hall of Famers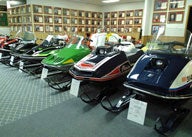 An exclusive club with international reach adds five new members
The weekend of September 12-15th, the International Snowmobile Hall of Fame will add five new inductees to its roster. These five make up the Class of 2013 and will join a total of 90 distinguished snowmobilers, who include industry pioneers Edgar and Alan Hetteen, Joseph Armand Bombardier, and the first snowmobiler to the North Pole, Ralph Plaisted.
The 2013 class includes long time club and association volunteers Jim Duke of Michigan, Bob and Marie Linn of Minnesota as well as Wisconsin's Jerry Wanty. Russ Lemke of Mosinee, Wis. will be honored for his history as a snowmobile innovator and inventor. Rounding out the Class of 2013 is Lowell Swenson, the entrepreneurial manager who led Arctic Cat from 1965 to 1978 and helped make the brand Number One in snowmobiling.
But, the weekend of September 12th is to honor the people of the sport as many previously inducted Hall of Famers return to celebrate the newest inductees. While not all 90 current International Snowmobile Hall of Fame members will be on hand, those who do return represent four countries – Russia, Sweden, Canada and the United States – five Canadian provinces and 16 states.
Of the 90 current International Snowmobile Hall of Fame inductees, 86 percent are from the US. Minnesota snowmobilers account for 29 percent of the US membership with Wisconsin second. New Hampshire claims the third spot with six inductees.
VIEW: A Hall of Fame Volunteer
Canada supplies 13 percent of the International Snowmobile Hall of Fame membership. Interestingly, despite a significantly smaller population base, Saskatchewan has supplied as many hall of fame snowmobilers as Ontario.
When Elmer Cone founded the International Snowmobile Hall of Fame, he envisioned a showcase dedicated to the "grunt" work of creating and managing a sport from its infancy of the mid-1950s through a series of difficult times arranging an international system of trails and hard-won acceptance by local, state and provincial governments. That is why you will see that 60 percent of all International Snowmobile Hall of Fame inductees represent "volunteers." Another 13 percent earned recognition for their efforts in developing snowmobile clubs, associations and creating trail systems. The International Snowmobile Hall of Fame is as much about establishing the grass roots of the sport's infrastructure as the glamour of developing hot, new sleds. There are honorees who did just that.
The folks honored at the International Snowmobile Hall of Fame helped make possible a sport that counts nearly two million registered snowmobiles being able to utilize more than 225,000 miles of groomed and marked trails. Inductees helped establish a network of more than 3,000 snowmobile clubs that develop and groom trails and helped raise more than US$3 million for charity last year.
In September these five snowmobilers will be honored for their contributions and efforts on behalf of snowmobiling. They include:
Jim Duke from Munising, Mich., who became interested in snowmobiling in the early 1980's and immediately became an avid supporter of the sport. In 1984 he joined the Michigan Snowmobile Association (MSA) and has chaired or worked in membership, legislation, by-laws and public relation activities. He was named "Snowmobiler of the Year" in 1996 by MSA.
On the national level, Jim was elected Vice President of the American Council of Snowmobile Associations in 2002 and President in 2004.
Bob and Marie Linn from Waterville, Minn. have been front and center for snowmobiling since 1976. They have a tireless devotion and commitment to promoting safe and enjoyable snowmobiling that includes teaching snowmobile training for 34 years and being recognized by the Minnesota DNR as "Snowmobile Safety Instructors of the Year" in 2007.
Bob has served three terms as president of Minnesota's state snowmobile association and was named the "2011 Snowmobiler of the Year" by Minnesota United Snowmobilers Association and recognized as "2012 Snowmobiler of the Year" by the American Council of Snowmobile Associations.
VIEW: The Best Snowmobile Club in North America
Jerry Wanty of Mosinee, Wis. took a 1969 Johnson in trade for his carpenter services and has been an avid snowmobiler ever since. He has started clubs, been a leader in county and state associations, trail developer, officer and director in numerous other snowmobile organizations.
As a co-founder of the Antique Snowmobile Club of America (ASCOA) in 1976, he found his true passion, which is preserving the heritage of the sport through the preservation of the older snowmobiles that started the sport. He holds membership #4 in the Antique Snowmobile Club of American and can be seen at snow shows across the snowbelt showing and displaying the old sleds, many of which he has restored to perfection. He served as vice-president of the club for 11 years.
Russ Lemke from Mosinee, Wis. is a quiet but innovative "behind the scenes" man. He has a great natural talent when it comes to mechanics and has been successful in numerous innovative mechanical contributions to create winners, be it snowmobiles, chain saws, pulling tractors or automobiles. He takes it as personal challenge to always look for ways to make it better.
His ability to innovate led to Scorpion hiring him as its sales/service person, a position he continued while establishing a very successful career in snowmobile racing and engine performance building.
A serious accident in 1969 ended his racing career but not his love and talent for developing high-performance engines, which led him to concentrate on total sled performance innovations and designs. Local, state and national records were set with his engines powering the sleds of top drivers, be it on the grass, snow, water or on ice over the next two decades.
Lowell Swenson of Minnesota sunk his net worth into Edgar Hetteen's fledgling Arctic Cat operation in 1965. Operating out of a converted creamery in downtown Thief River Falls, Arctic Cat snowmobiles were just beginning to transition snowmobiling from bogies wheels to slide rail suspensions. The company's innovative suspension led to an increasing demand for its snowmobiles and needed a financially oriented business man to direct the company's future. Swenson took the company from sales of a few hundred snowmobiles in 1965 to just over 112,000 by 1971.
Swenson's leadership was the key in making Arctic Cat a leader in the industry. He stepped aside in 1978, but when Arctic Cat attempted to rebound form a bankruptcy in the 1980s, he returned to the new Arctco company to take an active role as a director until 1999. He was instrumental in raising needed capitol to get the new company started and rebuilding the Arctic Cat brand.
If you would like to visit the International Snowmobile Hall of Fame or attend the induction ceremonies Saturday, September 13th, please contact World Snowmobile Headquarters 1521 North Railroad Street, Eagle River, WI 54521 (Tel: 715-479-2186). You can visit World Snowmobile Headquarters online at http://www.worldsnowmobilehq.com/.