Have We Seen the Future of Snowmobiles?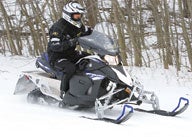 Today's sleds provide a glimpse into the future
Let's not waste time with the model year 2012 present, what about the future for snowmobiling? Looking at certain 2012 designs can give us a hint of what's to come. We expect some surprises, but not too many.
Looking at the latest Arctic Cat gives us a clue as to what we can expect for the next four to five seasons. Impressed as we were with the ProCross design, we'd bet that it will evolve out of necessity. The Cat hierarchy has already stated it will make its own snowmobile engines after 2014. Some new motors may be coming on-stream about the end of the ProCross life cycle, if you give it four years or so. That probably means that the latest chassis design, which can accommodate the existing turbo four-stroke, could adapt to whatever Cat engineers have planned next. We expect that some Arctic Cat ProCross models may well house anticipated new Cat-built engines.
As long as we're conjecturing, what's the likelihood that those new motors will be four-strokes? Arctic Cat's St. Cloud, Minn. engine facility churns out the Thundercat thumper and that nifty 550 four-stroke for the ATV line, so do we expect to see an upsurge in split technologies for both four-stroke and two-stroke development? Not likely as it may be cheaper to job out two-strokes if they are needed.
Let's not forget that Arctic Cat has shown everyone that it can build a seemingly light enough sled with awesome turbocharged four-stroke power. Will Cat see a need to go two-stroke when it can produce light, good handling sleds with four-stroke power? We'll figure no.
ProCross Shows The Way?
With any luck the many engineering types from non-Cat camps will take a hard look at the 2012 ProCross models. Yamaha comes to mind as a company that might be inclined to see something in the new Cats. While the Yamaha models are exceedingly well built, they don't come with the handling and lightness of being that we experienced on the trail with the four-stroke Cats.
Plus, we figure Yamaha is due for a makeover in the next few seasons. Something's up in the Yamaha camp as some heavyweight decision makers have been touring North America this winter looking at the snowmobile biz. With dollar-yen ratio difficulties and now the uncertainties of the Japanese home economy thanks to a giant earthquake, devastating tsunami and nuclear power crisis, who knows how Yamaha may be affected short or long term. Let's face it, not so long ago we were seriously thinking it made sense for Yamaha to pull the plug on its sled group. But they didn't and surprised us by committing to four-strokes when no one else would. Will that happen again?
All we know is that Yamaha is holding on in the powder market and hopes to boost its sales numbers with an incredible offer to encourage turbo and supercharger sales for its Nytro MTX models. Even that is a stop gap as what Yamaha needs are lighter sleds that can fuel excitement the way Polaris' newest RMK did this past season.
What do we expect from Yamaha? If the company remains serious, borrows some concepts from Arctic Cat's ProCross and ProClimb chassis, then we expect a Yamaha future. Oddly, Yamaha is incredibly strong product-wise everywhere but snowmobiles. The company offers incredibly innovative and quick motorcycles, produces a superbike quality TMAX scooter with a unique chassis, is strong in outboard engine technologies, and fields world-beater wheel sport racing teams.
Oddly enough, back in the 1970s Yamaha built a reputation for quick, quiet, quality with its series of SL, GP and, later, its original Phazer snowmobiles. These were products that gave a mass audience what they wanted, light, nimble, reliable sleds for a good price. Of course, looking at the top of the line pricing for most sleds these days, Yamaha is on the money, but somehow there is a perception that Yamaha is in its own niche. Maybe that's not a bad thing, because the niche Yamaha has is one that assures value, quality and reliability. But that's not the tickler to excitement.
Low Buck Sled
We used to think that building a mass audience 340cc type lightweight sled for under $7,000 would be a winner. That barge has shipped out. Snowmobiling has yet to capture any excitement that will see it become a mass audience sport. The reasons are amazingly simple. The sport takes place in the cold of winter in states that most people fly over on their way to warm weather destinations. Televised snocross, as exciting as it can be, hasn't created a big surge in snowmobile demand. Skiers may get bored with gravity pulling them downhill and actually rent sleds for a day, but that doesn't convert them to the sport. It may be fun for a day, but they aren't interested in marrying a sled. Why buy the sled when you can ride it for nearly free?
After more than a half century, snowmobiling has become a very mature sport. It was always a niche sport, despite what market analysts in the late 1960s thought. They envisioned sled sales hitting close to a million units a year. They didn't foresee tough economies, the first gas crisis and so on. But, hey, these were the same types of folks that didn't see a stock market collapse, a housing bust and so on.
Over the years various sled makers have tried ideas to create "buzz." Most recently Yamaha tried to entice the market with its latest Phazer, which is actually quite a technological gem considering the 499cc four-stroke twin that propels it. We don't see the Phazer listed as a best selling unit. So, the prospects of sub-$7,000 low-powered sleds creating a new boom are slim.
Crystal Ball Thinking
So, what happens? What will Yamaha do? We expect Yamaha to hold on, seek out answers and hope that it means a renewed commitment to lighter, more exciting four-stroke sleds. Despite the run of technologies we've seen like electric power steering, EXUP exhaust and such, Yamaha will have to create an all new lighter chassis and, perhaps, some new high performance engines — boosted or not — that can build power, speed and excitement.
For the coming future, we see Polaris as playing its latest technologies down the line as the Switchback Pro-Ride chassis relieves its IQ models in its touring sled future. With a solid 800cc and revised 600cc Cleanfire engine base, we still expect Polaris to utilize its four-stroke engine developer in Europe to spring a series of new four-strokes to power select sled models. That can't be that far into the future.
Ski-Doo may have enticed snowmobilers with its rMotion suspension, but there will be a new chassis and sled design to come within a couple of seasons, you just watch. We won't be surprised if Ski-Doo through its unique ultra-secret research and development center in eastern Quebec doesn't come up with a totally new snow concept not unlike its Can-Am Spyder three-wheeled motorcycle. This company definitely thinks outside the box.
Will any of the above create a new growth spurt for the sport? Probably not a huge one, but it should be interesting to see what happens in the next five years or so.