King of the North Dragway + Video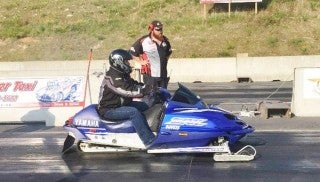 Who Says You Have to Wait Until Winter to Snowmobile?
Driving up to the main entrance to King of the North Dragway and Event Park was like driving up to the entrance of Jurassic Park. The massive gate and sign were welcoming, yet intimidating and mysterious at the same time. It dared me to enter the park, and explore everything that it had to offer. At that time, I had no idea what I was getting myself into, but that's the beauty of going to Northern Ontario; it's always an adventure!
I slowly drove down the winding driveway into the park, and in the distance I could hear the high pitched braap sound from two-stroke snowmobiles ripping down the dragway. Now that right there was music to my ears! I could feel the excitement in my chest as I jumped out of the car, eager to explore this new park.
Snowmobiling year round is not something we are used to in Ontario, Canada – but if you need to get your adrenaline fix on a sled, why not take it to the dragway during the summer months? Made sense to me! I met the owners, Clark and Nicole North, and learned that the dragway started operating last year. The IHRA-sanctioned dragway features a downhill staging lane and an uphill shutdown, which is a huge attraction for racers across Canada and the United States. It also features a bracket racing format that allows racers with all types of vehicles to compete against each other. Located in Bonfield, Ontario, the park is a short 15 minutes from North Bay. It offers a wide variety of events and activities for all ages, and is the perfect place to bring your family camping for the weekend.
They Don't Call it Snow Country for Nothing – Sledding in Ontario's Highlands
Driving into the park was an experience in itself. I passed RVs and trailers nested in wooded areas, most of which had some sort of racing vehicle parked in front of them. My neck was craned as I drove through, looking at cars, motorcycles and of course snowmobiles! The landscape at the park is just beautiful; it is a rustic spot situated on 200 acres of land.
In addition to the drag strip, the venue also has a newly built stage for entertainment, onsite washrooms and showers, and food concessions. Looking around, I could immediately see why King of the North Dragway boasts about being an incredibly safe place to race. Spectators are located a safe distance from the dragway, which appeared to be well equipped to handle any sort of emergency situation.
Northern Exposure – the Remarkable Abitibi Canyon Loop Tour
If camping isn't your thing, the area offers many great hotels and bed & breakfasts to stay at. That weekend, I was thrilled to return to Cedar Gables Lodge. I had stayed there during my last adventure to Bonfield in the winter, and I couldn't believe how different it looked. The soft white snow had been replaced with luscious green grass and beautiful flower beds. I could see where the OFSC trail was located, just off the main parking lot. I was already looking forward to returning with a group of friends in the winter to get some serious snowmobiling in.
Back at King of the North Dragway, I met Jason Pierce from A & S Racing. He brought his 2000 Ski-Doo Mach Z 800 Triple to the track and told me that he has been racing it for two years now on asphalt. Pierce enjoys spending the weekend camping at the dragway, and commented that "it's like family" there. Pierce doesn't consider himself a serious racer, and mentioned to me that he's more focused on having fun. Despite not being a serious racer, he has clocked some serious speed at the dragstrip – his fastest time was 6.2 at 108mph!
I figured it was my turn to try and beat that time, and lucky for me, Pierce graciously offered me his sled to take down the dragway. With a devilish grin on my face, I suited up and hopped on that sled like it was made for me. I'll admit, I've been on many sleds throughout the years, but never down an asphalt dragstrip! After a few quick instructions, I found myself staring hard at the tree, waiting for the green light to give me permission to squeeze the throttle – BRAAPP! Before I could blink, I was at the end of the dragway and it was over. Adrenalize was coursing through me, and I couldn't believe that I just raced a snowmobile down a 1/8 mile drag strip. After getting a quick tow back to the staging area, my devilish grin returned and I asked "can I do it again?"
It's Worth the Drive – My Experience in the Backwoods of Northern Ontario
Like I said, it's always an adventure when I head to Northern Ontario, and this trip did not let me down. I got my adrenaline fix on a 200 hp snowmobile, in the middle of summer. Who says you have to wait until winter to snowmobile?