Meet Yamaha Hill Climb Guru Troy Johnson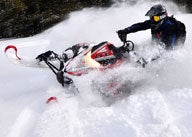 The man behind Yamaha's hill climb resurgence
For many years, a lone mountain soldier has carried Yamaha's banner for its mountain line, marching stride-for-stride with many other fellow mountain soldiers from Arctic Cat, Polaris and Ski-Doo.
Troy Johnson, Lincoln County Customs (LCC), Alpine, WY, is the best frontline workman to push Yamaha's mountain and deep-powder crossover products. The former Yamaha dealer, and now custom mountain snowmobile builder, Yamaha snowmobile performance smart-guy, backcountry tour guide and team manager for Yamaha's snowmobile hill climb program, remains highly involved in Yamaha's future and in snowmobiling in general. He and his wife Cari are busy.
Read our 2015 Yamaha Snowmobile Lineup Preview
While being manager of Yamaha's hill climb program, Johnson builds Team Yamaha's hill climbers, which for this year are turbocharged RS Vipers that must be long, lean and mean. But this man wears many hats, along with his responsibilities as Team Manager for Yamaha's hill climb program, he also manages a backcountry tour guide operation.
For more than 20 years I've enjoyed ample throttle time with Johnson. He is genuine in his opinions, straightforward, and always honest; you know where he stands. When exchanging views on the politics and religions of snowmobiling, Johnson does not challenge others or me on a personal basis, for he is fair and above board, but if sparring with him, ensure you've done your homework. Sometimes his questions hurt.
Johnson is also loyal, which makes him perfect to be a guide and team manager.
Troy Johnson: The Guide
When asked of his goals for his guided backcountry tours throughout the Grey's River District on the Bridger-Teton National Forest, he explains, "It is to help people [snowmobilers] experience the backcountry how it should be; the way I know it should be, the way I perceive it."
Johnson said his view on backcountry reality drives him to deliver the best guided tour experience to his customers. "I know the dangers and I know the beauty." And he laughed when he added, "I've spent my share of nights in the woods."
Johnson says to be a good mountain rider takes energy, but that energy must be coupled with skill and confidence. "It takes more than just a quick throttle," he notes.
Johnson said he wants people to be honest with him when they approach him on their goals, but more importantly he wants his customers to be honest with themselves.
Often times he said ego and testosterone get riders in trouble. He added, in order for riders to be teachable, they must be humble. "When an ego gets in the way accidents happen," he said. However, he likes competitive people who bring with them a good skill set.
Johnson's guide permit allows him to escort snowmobilers throughout the Greys River drainage and Smith's Fork, on the South end of the Salt River Range.
Another goal Johnson has is to deliver a riding experience that allows the customer to see different country on each outing – and do it safely.
Read our feature – Amber Holt Teaches Backcountry Basics
Johnson stresses his business is a guide business, not a riding clinic, with the difference being he covers vastly more country and he doesn't have a classroom-like agenda. He guides customers to locations of their choosing by helping them gain the skills along the way to arrive at the end point smarter, brighter and more in tune to the dangers and the beauty of backcountry riding. He said with his 28 years snowmobiling experience, 24 of those in Alpine, WY, he has a vast knowledge of the area where his permit allows him to guide. Johnson's marketing pamphlet states, "Improve your riding skills, challenge yourself, and have fun with friends exploring the Wyoming backcountry."
Johnson and his guides are all avalanche and first-aid trained.
For more information call LCC at 307-654-6637 or navigate to http://www.lccwy.com/.
Troy Johnson: Team Manager
For the 2012 hill-climbing season, Yamaha approached Johnson to help its fledging program be competitive at one race, the mother of all hill climbs, the Jackson Hole World Championship. For the first time, a Yamaha four-stroke, a Nytro, eclipsed Snow King Mountain.
Johnson intimately knows the Nytro MTX Team Yamaha he drove as its competition hill climber. Now a new era has opened up for Yamaha with the RS Viper. Though it is heavier than the two-strokes from Cat, Polaris and Ski-Doo, Johnson reminded us, "It's not always about light weight and horsepower, it's about getting the power to the ground and keeping the power and snowmobile planted on the ground."
This mindset, rather this fact, according to Johnson, caused Yamaha's corporate folks from its snowmobile division to tell Johnson that the success at Jackson Hole exceeded their goals by three years. One race, one podium and a three-year goal knocked off in one event. That's success.
After the Yamaha sled rolled past the third catwalk on Snow King and slipped up over the top in season 2012, Johnson became Yamaha's hill climb technical coordinator, mechanic, builder and on-site support master.
For this hill-climbing season, Johnson says the RS Viper sidehills much better than the previous hill climber, the FX Nytro MTX.
Though there was not a RS Viper MTX, Johnson takes the 2014 RS Viper XTX and stretches it out to be a contender. For this competitive season, Johnson must build six sleds for three full factory supported riders. Yamaha will also help support three additional riders on the RMSHA circuit.
The factory-supported riders are learning the Viper chassis. He said they like how it's much more "flickable" than the Nytro. When asked about the Viper's weight, due to the snowmobile's three cylinder four-stroke motor, Johnson quiets the naysayers by saying, "The Viper, when I'm done with it, will be about 25 pounds heavier than a Cat M8000." We believe that to be true as we have ridden his wicked Apex MTXs and Nytro MTXs.
FLASHBACK – Yamaha Returns to Cross Country and Hillclimb Racing
Who are the six riders? They are Nathan Titus, Chad Jorgenson, and Gavin Balls, who all compete as full factory-support riders. The "Support" riders are Cable Willford, Kolton Malmborg and Bryan Pack. The factory riders will be sponsored by Fox.
The custom-built LCC Viper will build horsepower from a Johnson/LCC custom designed turbo setup. The modified Garrett turbo will use a Tial housing where the intake and compressor are altered to spool up with quick speed. Turbo boost will be approximately 12 PSI.
Other changes will include a lighter seat, LCC-designed exhaust, header, air box, 154-inch or 162 K-Mod rear suspensions, the length being driver choice. A Camoplast 2.5-inch paddle track walks the snowmobile up the hill with the Camoplast track of choice being the "Peak." Johnson is not about to show his hand in his Viper XTX muscle-building secrets, but he did add that the team is still experimenting with many aggressive aftermarket mountain skis such as Hell Hound, Sly Dog, the Powder Pro and Mohawk skis from Starting Line Products, and Curve. He said, ultimately ski choice like track length will be driver choice.
Johnson is a perfectionist. Tell him he is not and you'll be led out the door by his two gruff guard dogs. Drive, perfection, and good old school competition is what Johnson has and these traits push Team Yamaha to the peaks of its performance.