Spring Sled Adventures in Algoma on the North Shore Loop
Don't put away those snowmobiles just yet
It's amazing how a couple of days of sunshine and above zero temperatures can, in an instance, erase weeks worth of memories of deep freezes and deep snow. In the southern cities, you might be getting ready to pull out the motorcycle, but the calendar plainly shows mid March and just a few hours north there is still a month's worth of snowmobiling to be had. In fact spring can offer some of the best sledding of the season with its longer days, warm temperatures and low trail traffic.
Getting to the snow from the Toronto and surrounding areas is as simple as getting on Highway 400, 11 or 17 and driving north. While the long convoy of trailers are heading for such classic spring sledding destinations in Timmins and Cochrane, following the crowds is not or us. With a bit of planning assistance from the Ontario Travel website, we chose to head west and set Algoma Country in our sites. Specifically, we aimed to experience the newly laid out North Shore Loop.
Our group assembled at the Lake Lauzon Resort in Algoma Mills. Located  smack dab in the middle of the southern arm of the North Shore loop is this  quaint three-bedroom B&B with friendly hosts, home cooked meals and a super comfy sitting area; it's perfect for a small group.
Day One
It's time to have some fun. After a delicious breakfast we are joined by a local sledder/guide, Tom which brought our group to eight. Most of the group is from Michigan, and for many of us this is our first snowmobiling experience in Algoma.
Sault Trailblazers and the Early Season Power Tour
It quickly become obvious as we skip over the odd patch of grass that spring has sprung in the southern reaches of Algoma, but the spring conditions are short lived. We turn north on to D trail and were back into winter. By the time we reach Elliot Lake it's full snow coverage and grooming perfection. We spend a couple of hours exploring the Elliot Lake trail system while spring shows its face again, this time in the form of rain. By the time we step off our machines at the FireSide Classic Grill for lunch we are covered in ice, but still smiling.
After a long lunch with the rain still coming down, we made our way to Dunlop Lake Lodge. Some of the group take the time to dry out while a few of us drop off our luggage. With the sky clearing we head out to explore the area. This is where a local guide shines. Tom leads us along groomed trails, single track short cuts through the forest and wide open lakes. We take in spectacular vistas and ride beneath towering cliffs of some of the oldest rock in the world. To quote my newly acquired friend from Michigan who's been sledding for six year "The best sledding day of my life."
Back at the Dunlop Lake Lodge the food is spectacular – kudos to the chef. Saturday night live music, Sunday Brunch and of course a trail side location make it a sledder's delight. We spend the evening hogging some bar stools chatting with the owners, Jess and Tricia, about the improvements they made and plans for the lodge's future. A great ending to a fabulous day.
Day Two
It's still misty as we turn north on D trail. Our destination is Black Creek, one hundred kilometers to the north. The trail is looking amazing, but looks can be deceiving. Yesterday's rain left an icy top coat on the trail making the ride a bit of a challenge. Spring can be unpredictable and today is no different. Halfway to our destination, we find ourselves in a snowstorm and pull into Black Creek setting first tracks in ten centimeters of fresh powder. We drop our bags at the two bedroom cabin where we will be staying the night, grab some lunch and head out to explore the area.
A Newbie Explores Ontario's Snowmobile Trails
Located in the heart of Algoma, Black Creek Outfitters offers gas, cozy cabins and a general store. Electrical power is courtesy of a generator and the nearest cell service is one hundred kilometers away. Cool!
Day Three
Early in the morning, I'm in bed staring at the stars. The sky slowly glows blue as the sun paints the tree tops yellow. So far on this trip we have had rain, ice, a snowstorm and now it's looking like a blue bird day; you gotta love spring.
We retrace our steps along D trail back towards Elliot Lake where the only tracks we see are ours from the day before. We drop in at Dunlop Lake Lodge for lunch then let Tom show off his local knowledge all the way back to the trucks. Blue sky, sunshine, fresh snow and above zero temperatures, simply amazing.
Northern Exposure – the Remarkable Abitibi Canyon Loop Tour
So what are the secrets to a successful spring trip? Adaptability, good rain gear, and a local guide. Our plan to ride the North Shore Loop didn't quite pan out due to conditions, but we did sample enough of it to have reason to come back.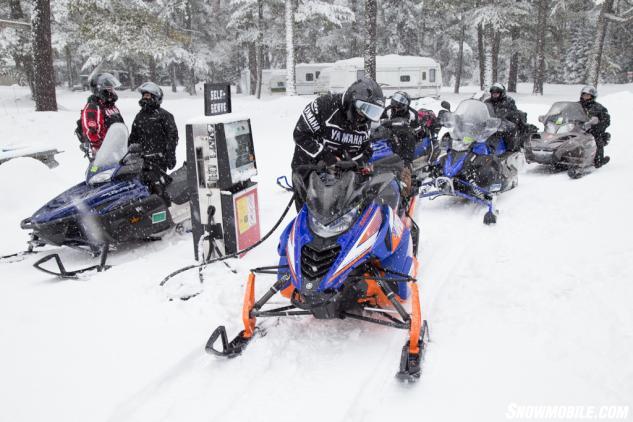 For all the information you need on sledding in Ontario, visit http://www.ontariotravel.net/en/play/powersports-touring/snowmobiles
For information on sledding the North Shore Loop visit http://www.sledalgoma.com/
For permits and trail status, visit http://www.ofsc.on.ca/
For accommodations, restaurants and gas availability, visit http://www.algomacountry.com/