Polaris Pioneers 50th Anniversary Allagash Ride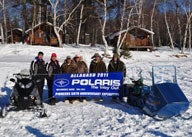 Polaris founder Allan Hetteen and others rode Maine's Allagash in 1961
When Steve Campbell of Millinocket, Maine called to say that he was putting together a ride to commemorate the 50th anniversary of the expedition that our fathers — Allan Hetteen and Earlan Campbell and seven others — did back in February of 1961, I knew that I had to be on that ride. The thought of being able to travel over some of the same trails, paths, lakes, and stay in one of the same camps they stayed at in 1961 and to also use the same type of transportation was an opportunity that I had take part in.
To keep the ride as authentic as possible, we would be using old rear-engine Polaris Sno-Travelers. Steve owned, restored and would use one of the units that was on the original 1961 expedition. While the intent was to try and keep the ride as authentic as possible, there would be a few modern snowmobiles along just in case there were issues. After all, when using Sno-Travelers built 45 to 50 years ago, you know some breakdowns are going to happen and you want to be prepared.
I had previously been on the 2008 ride for which Steve had borrowed a 1963 OE13 Sno-Traveler for me to use. Knowing how much fun that was, I decided that I needed to have my own Sno-Traveler on this ride. Steve located a 1964 OE16 Voyager that had been rebuilt and was in running condition.
Since I had bought this 1964 Voyager and needed to get it back to our home in Roseau, Minnesota after the ride, I asked my son Travis if he would like to go on the ride so we could drive out and haul my "new" sled back. It was an opportunity to share this ride with my son and would represent the third generation on the ride.
By driving out, we would keep another part of the 1961 ride authentic as my father also had driven out from Roseau. After making the nearly 4,000 mile round trip, I can't imagine what it was like to do that drive in 1961 using a half-ton GMC pickup with a V6 engine, two rear-engine machines in the box and pulling a trailer with two more Sno-Travelers. The only part of this leg of the expeditions that would be authentic would be the miles, and pulling a trailer with a couple of snowmobiles in it. Since we were driving, I decided to bring along a 2011 800 Switchback Assault so we would not only recognize the 50 years of the expedition, but also 50 years of progress and improvements in snowmobiles.
I was not able to be in Maine at the start of the ride as I attended the memorial service for Edgar Hetteen, my Dad's brother and Polaris co-founder. But I would catch up shortly after it got started.
Steve got everyone underway on Sunday, Feb.  20. Participants trailered about 65 miles into the Allagash from Millinocket to Nugent's Camps on Chamberlain Lake. This is one of the same camps that the 1961 group stayed at.
Steve Campbell notes that on Sunday we arrived at 11:00 AM and got everyone to their respective camps, had lunch and then headed out on the trail to the Chamberlain Farm a distance of about ten miles.
There was a lot of snow yet to be packed as the modern sleds weren't venturing far from the trail. The old Bullcats, Voyagers, and Mountaineers performed very well in the four or better feet of snow and if they did get stuck as a couple of them did, it was just a matter of backing up and going again. It was very obvious how the evolution had taken place in the early 1960s as the Rangers and the K-95C we had with us couldn't get far off the beaten path.
It was a beautiful first day, cold and clear. We reached The Farm by about 2:30, had coffee, shrimp, and other goodies and headed back to Nugent's, arriving at about 5:00 as the sun was setting. It had been a 20-mile afternoon.
Monday our goal was the Locomotives on Eagle Lake, a distance of 16 miles. It was zero degrees to start the morning and mine was the only machine to need preheat. But it still has the propane tank mounted on it for that purpose that was put there in 1963. We made the 10 miles to the Farm again quite easily. My concern then though was six miles of Chamberlain Lake, which had seen a lot of slush recently.
We got to the trains about noon and fixed hot dogs on Dan Field's snow-cooker. There were 16 antiques and about 10 newer sleds. After a lot of story telling about the history of the locomotives and the sleds we headed back. There were a few minor breakdowns, such as Ed Carr's clutch and generator falling apart, but all the parts were still there, so it was just a matter of putting it back together. Once again we got back in the late afternoon having covered 32 miles for the day.
After the funeral and 32 hours of nonstop driving my son and I reached Millinocket to hook up with the rest of the group at Nugent's Camps. Upon arrival we got checked in and unloaded our modern sleds. The rest of the group was out on a ride and not knowing where they had headed for we just venture out on some of the local trails. It was a great afternoon of enjoying some fresh snow and great scenery.
Later in the afternoon we found Steve's trailer and unloaded my 1964 Voyager.
Getting back to camp we met up with the rest of the group and got caught up on how the day's ride to Eagle Lake went. After having a great evening meal, the stories began to flow. There were many questions about specific models and comments on how best to do some of the restoration work on the Sno-Travelers. It was great to be with so many enthusiastic and knowledgeable people on these rear engine units. While many people have fixed up old rear engine Sno-Travelers to put in museums or to run in a short parade, these guys fix them up to use them as they were first intended to. Most of the units were in better than new condition because many of the problems these models had when they were new had been corrected and improved upon during the restoration process. Even with this amount of effort and attention, some of the same items keep breaking and some of the same problems come up just like they did back in the early 1960s. It seems that the problems didn't go away with age — only harder to find parts needed to make the fixes.
Tuesday morning the plan was to take about a 20-mile ride out to a couple of the lakes in the area. The fixes that we had tried on the 1964 Voyageur the day before didn't fix the problem. So rather than have problems on the trail, my son and I took our modern sleds for the ride. Who knows, 50 years from now someone might be trying to reenact this ride and want to do it with a 50-year-old 2011 800 Switchback Assault.
The route took us down some logging trails with a lot of fresh three to four-foot deep snow. Steve Campbell took the lead with his Mountaineer and everyone else fell in line. The trails and scenery really do look different when you are going along at 9 to 12 mph instead of 50 to 60 mph. It really is amazing to see 16 old rear-engined Sno-Travelers all in a line going down the trail and being used as they were intended. Once in a while a brave soul would take his Sno-Travelers off the trail and venture out into the fresh snow and do some "boon-docking." I would take my 800 along their track to try and see what unit carried up better. Based on how far each unit sunk into the snow, I think it was pretty even. While I had much less weight, the 30- and 36-inch tracks that the Sno-Travelers had carried them up quiet well.
Outside of a few tight corners where help was needed to get a few of the Sno-Travelers to turn, the ride was going along well for quiet a while until the 1960 Ranger (a 51-year old Sno-Traveler in original, unrestored condition!) blew a belt. While we stopped to fix the belt, Wayne Campbell noticed that a bolt had broken on the clutch and got out the tools and repair kit. After about 20 minutes of fixing, everything was good to go and we were on the trail again.
After a trailside lunch, we headed back the 10 miles to Nugent's Camps. Going back brought to an end the 50th Anniversary ride of the early Polaris Pioneers expedition in the Maine Allagash country. Overall the ride totaled 70+ miles. The original ride in 1961 had been close to 200 miles over six days. Having read all about the tough conditions of cold temps, deep snow, deep slush, and mechanical breakdowns, I don't think this group was quite as "hardy" or adventurous as the original group. Or maybe it was that knowing what they went through nobody was wanting to "push it" too hard if we didn't have to. This memorial ride was not out to prove anything like the ride in 1961 was.
Back at camp we lined up all of the machines for a group picture on the lake in front of the camp. Here we had a 1961 Sno-Traveler that was on the original ride in 1961 and a 2011 800 Switchback Assault — representing 50 years of snowmobiling history and product improvements. We also included among the group six descendants of two of the original people on the ride. Polaris co-founder was represented by Mike Hetteen (son) and Travis Hetteen (grandson). Earlan Campbell: was represented by Wayne and Steve Campbell (sons), and grandsons Jeff and Steve Campbell, Jr. This was quiet a picture of history!
Later that evening in camp, we heard stories of previous rides and the challenges of making these old "iron dogs" live again. I think it was Vaughn Waterman that commented, "Just look at these machines, not a single part on them was ever designed to be used on a Sno-Traveler outside of maybe the skis or sheet metal. You can still find these parts on the shelf of some parts store or you can easily make them!"
As for the modern 800 Assault, I don't think there is a part on it that was not intended to be used on a snowmobile! What a difference 50 years makes. In 2061 it is going to be a lot harder to restore the 800 than it is today to restore the 1961 Ranger.
Throughout the evening I got a lot of tips and pointers on how to restore the 1964 Voyager if I decided to. What an opportunity to talk with these "pioneers." While this group of guys may not think of themselves as pioneers, I do. They are pioneers of an era of restoration to bring these old "iron dogs" back into a condition that they could be used as intended. They have ventured out into the unknown and found sources for parts, found people to make new parts, found two machines to make one out of, found ways of taking current technology and hardware to fix problems that were a constant problem back in the early 1960s. Thank goodness for Loc-Tite and lock nuts!
Come Wednesday morning it was time to pack up and start the drive home. Every time I get to take a ride on my 1964 Voyager, I'll always remember this trip and be thankful that I was able to share it with my son.
Allagash ride participants included: John McGuire, Past President ASOCA (Antique Snowmobile Club of America), Ohio; Dick Hummel, ASOCA Director, Illinois; Lloyd Drew, New Hampshire; Fud Chinnock, Maine; Dave Gallant, New Hampshire; George Drew, Maine; Dan Gibbs, Maine; Ed Carr Jr., Maine (Ed was riding a 1963 Bullcat that his father bought new and used on many of the early Allagash rides); Dan Field, New Hampshire; Fred Sawin, Maryland; Steve Campbell, Jeff Campbell, Wayne Campbell and Steve Campbell Jr., Maine; Alan Whitford, Maine; Frank Lowell Jr., Maine; Vaughn Waterman, Maine; Jim Catell, Maine; Frank Scott, Maine; Mitchell Johnson, Minnesota; Travis Hetteen, Minnesota; and Mike Hetteen, Minnesota.
Related Reading Polaris history and heroes Edgar Hetteen Dies 2011 Polaris 800 Switchback Assault 144 Review