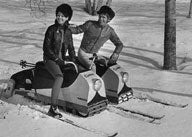 Will new concepts evolve from quirky sleds of the past?
Not all snowmobile designs have long and happy life cycles. Sometimes many of us snowmobiling enthusiasts look at certain sled concepts and simply ask: "What were they thinking?" We don't look too far ahead into the future of the sport, we just know that what we are seeing and being asked to buy is not what we want.
That doesn't mean the idea was without merit. Indeed, most new concepts come from inventors who perceive things a bit differently than we do. They look at the everyday in ways that we do not. They seek what they think will be a better way or, at least, a different way of solving a problem. Of course, sometimes there never was a problem. We have seen a number of new ideas come and go over the years. We've reached into the musty recesses of our memory to bring you a few inventive concepts. Remember, though, as you age it is quite possible that some of these old concepts could become new ones. We've seen it happen.
Lenko Larven
A truly unique design, the Lenko Larven explored the idea of using actual cross-country skis to direct a tracked vehicle through the snow. The brainchild of Sweden's Lennart Nilsson, the Larven actually enjoyed a good shelf life, beginning in the mid 1960s and continuing into the 1970s, although in very limited production.
While Nilsson had seen existing snowmobile designs, he just thought they were too complicated. His agreed to the concept of using a single track for propulsion, a two-stroke motor for power and raised grab bar. Since he already had his own skis, why add them to the powered chassis? By sitting on the powered vehicle, he could lean side to side and direct his concept vehicle with his own foot-mounted skis. Since he would first use a very modestly powered chainsaw motor for his prototype, the idea should work. He simply wanted to travel back into the snowy areas to reach his cottage.
His invention exuded simplicity. A single track virtually ran the length of the powered device, creating very good traction and flotation in a vehicle that weighed less than 150 pounds. Of course, once his caterpillar-like device became known and he started to produce the Larven commercially, he needed more power. Eventually he opted for a larger Husqvarna motor.
Lenko, a manufacturer of machinery used in forestry, eventually produced the Larven snow machine, with an estimated production of 4,500 units. With its lightweight, easy maneuverability and compact size, the Larven was used by various armed forces. Today, production has ceased but you can still find some parts available. For some interesting videos of the Larven in action, we encourage you to visit YouTube and type "Larven" into the search criteria.
Leisure Vehicles
One of my personal all-time favorite snow machine concepts were the Raider and Manta, twin-tracked sit-in snowmobiles built by Leisure Vehicles and its various other entities promoted by snowmobile entrepreneur Bob Bracey. The original Raiders came to market in the early 1970s and made it into the middle of the decade. Various other iterations followed, most notably the Manta, which finally evolved into the Trail Roamer.
This twin-tracked, sit in snow car gained a loyal and enthusiastic following. Unfortunately for the brand, the following was small. The various Raider designs, like most other sleds of the days, used whatever power sources they could negotiate. In 1974, Raider snowmobiles featured CCW twin cylinder engines with Salsbury clutching to drive twin tracks. Steering from the cockpit came via a handlebar that turned dual skis with coil spring damping. While the sleds looked a bit top heavy, they had amazingly good handling, especially on the trails.
These first twin-trackers proved uniquely suited to groomed trails, but the simple fact was that they were, perhaps, too different. Owners loved them. Non-owners felt they looked unsafe, too big to pass safely, slow and uncomfortable. Interestingly, about the time Troy, Michigan-based Leisure Vehicles stopped production, the company had 956 dealers across the North American Snow Belt.
A few years later, Bob Bracey and some investors reinvented the twin-tracker under the Three R Industries nameplate. Based in Romeo, Michigan, the Manta team gained credibility for the design by racing it in top-level oval circuits. By 1982 there was a trail version Manta, complete with nifty low-slung styling and a fiberglass body. Like the Raiders, the Manta was rear-engined and twin-tracked. The 1982 sled was priced at US$4,295.
The initial trail versions featured leaf sprung skis up front, but later versions would offer a trailing arm design that helped give the sled exceptional handling. The major problems leading to the sled's demise came from lack of a solid dealer network, trouble in securing a consistent engine supplier and undercapitalization, which was the bane of many snowmobile companies of the time.
The appearance of the 2001 Trail Roamer was Three R Industries final effort to revive the twin-tracked Raider/Manta concept. Basically a Manta, the Trail Roamer featured a 725cc V-twin Kohler four-stroke industrial/commercial engine. The trail sled's price had shot up to US$8,499.00, putting it in the same price range as Yamaha's SRX 700 and Ski-Doo's top of the line MXZ performance sleds.
The Trail Roamer followed its predecessors into history with the death of Bracey, who had championed the sit-in, twin track trail sled concept for decades. Today you will find an occasional twin-tracked model in snowmobile collections, but for now the twin-tracked trail sled is gone.
Chrysler Sno-Runner
Snow bikes as a concept keep showing up from time to time, so it's realistic to say that they have never left the market. Many of today's snow bikes consist of specialty kits to retrofit an existing dirt bike. Of course, most recently there was Boivin's Snow Hawk series of Rotax-engined snow bikes, which were sold as complete units. But Chrysler Marine sold one of the first and supposedly well-financed products. The Sno-Runner appeared in 1981 powered by a 134cc Chrysler outboard-sourced single cylinder two-stroke. Delivering seven horsepower at 7,000 revs, the single-track, three-ski design retailed for about $900.
We would love to pretend that the Sno-Runner was misunderstood, but simply put; it was not a very good product. It would motor well enough on hard-pack, but in any serious powder it would falter. The diminutive powerplant just wasn't strong enough. Its price, while low, wasn't low enough to convince non-snowmobilers to pick up a pair for playing in the back yard.
A creative design, the Sno-Runner housed 1.3-gallons of fuel in the frame. While it looked as though the device utilized a single ski, in fact, there were three: the obvious front steering ski, which was constructed of long-lasting nylon-plastic; a center ski under the seat that would flex over the terrain to smooth out the ride; and, a third ski that worked with the track to keep its 27-inch length on the snow.
Unfortunately for the Sno-Runner, Chrysler was going through some very tough economic times and the entire Marine group wouldn't survive. That meant that the Chrysler Sno-Runner would be liquidated by COMB, which renamed the snow bike as the Sno-Rabbit and sold them at US$288 while supplies lasted. Ironically, COMB liquidators were part of the group that bought Arctic Enterprises for its boats, but shunned the Arctic Cat snowmobile brand.
Although the Sno-Runner failed to appeal to winter sports enthusiasts, the snow bike concept of a lightweight, nimble snow vehicle is not dead. Polaris, among others, has played with the concept to the point of creating working prototypes. The idea makes sense, but the timing hasn't been right – yet!
As with all of these snow vehicle ideas, we'd bet on a revival of the snow bike and the reappearance of the twin-tracker. Those two concepts could exist thanks to today's marvelous network of trails, which makes a sit-in sled viable if weight, performance and pricing can be accommodated enough to make it attractive to snowmobilers, especially aging ones!
Related Reading Ideas for the Future of Snowmobiling A Future for Lightweight Fun Sleds Personal Snow Vehicle Concepts