Schulz Wins 53rd World Championship Snowmobile Derby + Video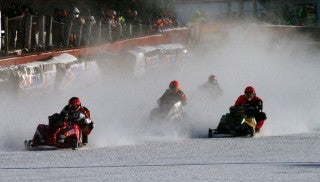 First win since 2010 for Schultz at Eagle River
Every other snowmobile oval track pales before Eagle River, Wis., where the 53rd World Championship Snowmobile Deby brought the best snowmobile racers from across the Northern US and Canada.
Twelve racers were competing, each determined to fly fastest over 30 laps. On Jan. 18 it was Matt Schulz on his #38 Ski-Doo who won it all, just like he did in 2010.
"It's been so long since I won! That first one was really, really special," Schulz remarked. "I dreamed about winning this once. We've come so close. It's been six years since I won. I just kind of thought maybe we got lucky that one time and just never would do it again. We knew we had a good sled and today it paid off."
Schulz led every lap almost unchallenged and won every race all weekend except the Friday night qualifier.
"In 2010 when I won, I didn't win that Friday night deal neither, but I came back and won on Saturday. It just made it a little bit tougher for us on Saturday, but it worked out," he said.
Powering a brand-new Polaris through the pack to take home second place was #13 Nick Van Strydonk.
"Matt's got a phenomenal team and a phenomenal sled. We knew he would be hard to catch. He's always got smoke and speed," said Van Strydonk, before walking over to give the winner a friendly embrace.
Van Strydonk's new sled was reworked just hours before the race in the fully-stocked brand new trailer of T&N racing. "We put the sled together last week and it's the maiden voyage for it. So we can't be too upset coming out and taking a second place at the world championship on a brand new sled. Every time we hit the track we're better and better."
Windchills of nearly 30 below zero were "pretty brutal," Van Strydonk admitted. "I had double handwarmers in the gloves, closed off the helmet as much as possible and even wore a t-shirt under my race jacket, which I never do. I've been here enough and been racing long enough to know when it's this cold it doesn't matter that it's uncomfortable. You've gotta do what you've gotta do to stay warm. It's definitely been way colder than this before."
And the track has been just as rough, too. "It's been a really long time since I remember a smooth track. This track gets beat up pretty good the week before we're here," Van Strydonk said, referring to the vintage, amateur and women's classes. Track crews keep busy over the nine-day event. "They do a great job getting it back to shape for us and then we beat it up some more. My hat's off to the crew here. They do a phenomenal job."
In 2012 Van Strydonk swept in to beat Schulz at the last possible moment, taking the championship in a photo finish. Malcolm Chartier Won in 2013 and 2014, just moments ahead of second-place Schultz. Chartier didn't race in the final this year, and 2015 champ Cardell Potter finished in third place. The only four-time Champ, PJ Wanderscheid, missed his chance in the Last Chance Qualifier.
Glen Hart did qualify in for that last chance, but sparked confusion and frustration in the main race by sliding into the hay bales on turn two on his ninth lap. He was unhurt, but the red flag meant only some of the racers finished the tenth lap before the scheduled pause for on-track refueling and maintenance. After several rejected proposals to settle the discrepancy, officials decided to just continue with everyone lining up to restart the last 20 laps.
That pit-stop wasn't part of the championship race when Schulz's uncle Al Fenhaus won it. Family and tradition are central at Eagle River, he added. "My grandpa raced in the '60s. And then Al took over, ran in the late 80s and early 90s, won in '93, and then I took over from him."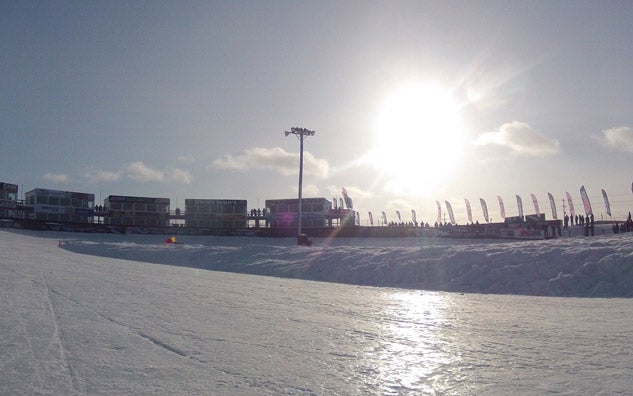 Schulz knows he can't be in his prime forever. "I'll be 32 in February. I think I'm one of the oldest out here. I'm going to go as long as my uncle Al wants to go. I wouldn't be as competitive as I am without him, so when he decides he doesn't want to do it, that's fine with me. He makes this thing go fast. We work out of his shop. He keeps us all in line."