Snowmobile Touring With Your Kids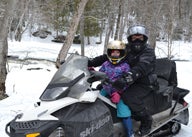 Ontario's Back Country Tours helps us introduce a young rider to the sport
As a father to two young daughters, it feels like I've been waiting forever to introduce them to many of the things I like to do. I had a chance to check one of those things off my list recently when I took my oldest daughter, Maya, snowmobiling for the first time near Huntsville, Ontario. I'm not sure who enjoyed the experience more.
Beyond just zipping around on a sled, I really wanted to make this a special experience for both of us, so I decided to build a whole weekend getaway around the snowmobile ride. My first call was to Dudley Hookong at Back Country Tours, who arranged a two-up snowmobile and a guide for a 2.5-hour tour of the area trails. When I told him we were planning to stay the night, Dudley suggested I call Hidden Valley Resort, which is just a short drive from Back Country Tours' Dwight location.
We packed up the car and hit the road late on a Saturday morning. It's only about a two-hour drive from my house in Toronto to Huntsville heading north up highways 400 and 11. The timing of our departure was no accident, though, as I wanted to stop for lunch at Webers, just north of Orillia on highway 11. It's a hugely popular burger joint right off the highway with old train cars you can eat in. As this was a special daddy/daughter trip, I ordered two chocolate shakes with our burger, hot dog, and fries. Six-year-old Maya loved eating in the train car and I laughed watching her try to eat a hot dog with no front teeth.
A Newbie Explores Ontario's Snowmobile Trails
With bellies full, it was just a short drive up the highway to Huntsville and I pointed out all the trucks towing snowmobiles, which got Maya more and more excited about what was to come.
Besides the snowmobiling, Maya was most excited about staying in a hotel. When we got to our room at Hidden Valley, we had a play fight to decide who got what bed. She let me choose the one by the window. We then checked out the resort, which is across the road from a ski hill. When we found the pool I realized I'd forgotten to pack our bathing suits, much to Maya's dimay. We played around in the games room and decided to head into town to check out Huntsville.
We'd been to Huntsville several times in the summers when it is bustling with cottagers, but the town is still active in the winter. We spent the afternoon window shopping and grabbed an early dinner at The Mill on Main. Before catching a movie at the Capitol Theatre, we stopped in at Family Place Restaurant for our second sweet treat of the day – chocolate-raspberry cake for Maya, coconut-cream pie for me.
Spring Sled Adventures in Algoma on the North Shore Loop
Excited for Sunday's snowmobile adventure, we went back to Hidden Valley where a giggling Maya gleefully stole my bed by the window. I took the bed by the door and smiled my way to sleep.
After a buffet breakfast at the Birches Restaurant, Maya and I headed over to Back Country Tours for some sledding. About half a dozen riders were being given some instruction when we arrived, before they took off on their rentals. We suited up, grabbed a child's helmet for Maya, hopped on our Ski-Doo 550F Grand Touring, and headed to the test track behind Back Country Tours to get comfortable with the sled. Though there is a seat in the back for a passenger, I kept Maya in front of me as I worried about her hanging on by herself. Fortunately, I'm fairly tall so I scooted back on the seat, squeezed the throttle and had some fun while Maya squealed with joy. The test track is a brilliant way to get used to a new sled, as it is fairly low speed and features some technical off-camber turns. Back Country Tours uses it so riders can get an idea of what a sled feels like before going out on their own.
We rode for a few laps before our guide, Kim, led us away to the trails. Though the snow in Toronto had pretty much disappeared, the snowmobile trails in this area were in surprisingly great shape. Kim kept a comfortable pace in front and Maya and I followed behind. After 10 or 15 minutes of riding through the tree-lined trails, the trail started following the fast-moving Oxtongue River. Kim pulled over near a picnic table, giving me a chance to break out the camera. It was a beautiful spot for photos and Maya was visibly thrilled with the start of her snowmobiling experience.
It wasn't long before we came to one of Ontario's many well-built snowmobile bridges and crossed the Oxtongue River. We stopped for more photos and played in the snow before continuing on to an area Kim called the Magical Forest. Here the trail was lined on each side by thousands of almost identical looking tall, skinny trees. Maya kept her eyes peeled for magical fairies, but we had to settle for some stunning views.
Northern Exposure – the Remarkable Abitibi Canyon Loop Tour
Kim continued to lead us through the trails and eventually to the shore of Lake of Bays. The ice was still in great shape, so we took the snowmobiles for a ride across the wide-open lake and stopped in the middle for a snowball fight. After our break, we continued across the lake, hit another trail on the other side and made our way to Peninsula Lake, home of Hidden Valley Resort. We crossed the lake, arrived at the resort and took some more photos. At this point, Maya and I were both getting hungry for lunch, so we retraced our steps and returned to Back Country Tours.
Maya was about asleep by the time we arrived, but loved every minute on the sled. I can't speak highly enough about Kim, Dudley, and Back Country Tours. They also offer ATV and Personal Watercraft rentals and tours, so it's a true four-season operation (and one I hope to revisit in the near future).
Before heading home, we walked across the parking lot to Erika's Bakery for lunch. Since this was the end of the trip, I let Maya pick out one final treat – a giant brownie – which she was kind enough to share.
While this trip felt like a long time coming, it was absolutely worth the wait. Snowmobiling is a fantastic family activity and I feel lucky that I got to share an amazing weekend with my daughter. The best part is I get to introduce her little sister to the sport in a couple of years. I'll be counting the days.