Snowmobiling's Decade of Change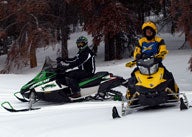 Snowmobiling evolved nicely from 1999 to 2009
You might not realize how much snowmobiling has changed unless you stop and look back on the 21st Century's first 10 years. We admit being surprised at how sleds and the snowmobile experience evolved in this seemingly slow first decade from 2000 to 2010.
The last year of the 20th Century, 1999 showed us mainline snowmobiles more similar than different. Arctic Cat used its own A-arm front suspension, while the other three mainstream manufacturers — Polaris, Ski-Doo and Yamaha — used a trailing arm front end. All of the popular sleds featured two-cycle motors with 700cc twin cylinder engines regarded as the "hot" power for trail riders. Most mountain sleds used 141-inch length tracks and we were just starting to see the sled makers pay serious attention to this deep snow market.
Heading into the new century we had four major snowmobile builders with a hint of some others. The FAST Blade showed promise, but by the time the sled reached production, its innovative features wouldn't offset its premium pricing for a sled that wasn't really all that different from its competition. There were other names seeking entry into the sport. Redline promised to be a unique brand with extra-long travel suspensions and use of a four-stroke powerplant. Scorpion hoped to resurrect a popular Midwest brand name. A&D Boivin would achieve a modest amount of success as it produced its SnoHawk single-track, single ski snow machines for a very limited clientele. And, like Scorpion, Three R Industries hoped to reintroduce an old brand with a modern replacement. The sit-in, dual track Manta was rebranded Trail Roamer 2000 with a Honda commercial four-stroke powerplant. This re-invented Manta sit-in snow machine would get into very limited production, but would fail to ignite much enthusiasm.
Good Years
The 1990s had been good years and snowmobilers and snowmobile manufacturers looked to continue the upsurge into the new century. There would be changes all right, but not all of them were good ones.
As any snowmobile marketing executive learns, snowmobiling is driven by snow. You can manufacture the most innovative snow vehicle ever invented, but if there isn't any snow to use it on… well, you got trouble, no matter how clever your marketing team or advertising agency may be! For the first few years of the new century, snow seemed consistent only in the mountain areas of the North American Snowbelt. Fortunately that problem seems to have passed as places like New England and the Great Lakes states have returned to bountiful snowfalls. And the western areas remain consistent with snow. Sleds should be selling extremely well.
Oh, well, there seems to have been a problem. When consistent snow began to fall, fuel prices managed to reach all time highs in key US markets. The spectre of $4 per gallon fuel crimped the lifestyles of many, including powersports fans who found filling up their toy haulers — pickup trucks and SUVs — stretched their disposable income a bit too much.
As we head into the next decade of the 21st Century, we find economic turmoil impacts our sport. Funding to finance our powersport toys is getting untracked, meaning that we should be able to once again finance sleds and ATVs in US dealerships.
Then & Now
If we look back a decade, we note that a top line Ski-Doo MX Z 700 cost about US$7,000. Today's top line sports Ski-Doo REV-XP MXZ with an 800cc twin would retail for more than US$10,000. Annual unit sales in 1999 totaled more than 230,000 units. For 2009 the industry reported worldwide sales of more than 147,000 units. There is good news as the snowmobile industry's lobby group reports recent sled registrations increased in Canada by eight percent and one percent in the US.
As we head into the second decade of the 21st Century, be aware that snowmobiling is a sport for all ages. While the average age of a snowmobiler riding on North America's more than 225,000 miles of groomed and marked trails may be 43, fully 37 percent of snowmobilers are more than 50 years of age, with 18 percent of sledders 60 years of age or older.
Major Innovation
But how has snowmobiling changed over the past decade? If you look at each sled manufacturer, you can say that Ski-Doo and Yamaha made major marks on the sport in this initial decade of the 21st Century.
Like every other sled maker heading into the 21st Century, Ski-Doo featured snowmobiles with a "feet forward, butts back" riding style. But not too far into the new century, Ski-Doo re-invented the way we ride and gave us the REV, with its ride-forward seating. Headed into 2010, virtually all-modern snowmobiles feature some copy of the REV platform. Even Ski-Doo evolved its original REV design and brought us the REV-XP with a more relaxed ride-forward position.
Whatever it's called by whichever sled maker, the concept of ride-forward design is here and has changed how we ride.
Ski-Doo also brought us electronic reverse, which is available on virtually all modern two-stroke sled motors. Ski-Doo pioneered it, but Polaris and Arctic Cat adopted it and we all are the better for it. Of course, not all sled makers can benefit from electronic reverse.
Yamaha went its own way and has to rely on mechanical reverse. That's because Yamaha successfully brought 4-stroke power to snowmobiling. Granted, Yamaha wasn't the first to put a 4-stroke engine into a sled, but Yamaha was first to make us want a 4-stroke and realize that 4-stroke power could be as fast, as quick and as powerful as a two-stroke.
4-Stroke Acceptance
Acceptance of 4-strokes seemed slow to Yamaha, but changing a half-century of two-stroke mindset couldn't happen overnight. Although, when we look back at where we were in 1999, you could argue that it only took a single decade to get snowmobilers to recognize some of the advantages of the Yamaha 4-stroke direction. And it has been a success. If not, why do Ski-Doo, Polaris and Arctic Cat all offer 4-stroke options? To date, only Ski-Doo seems to have taken the Yamaha 4-stroke move as a serious threat. Arctic Cat has raised the power level of such engines by turbocharging its 4-stroke option. Polaris has yet to really retaliate with a serious 4-stroke choice, although the one it currently uses works well enough.
Yamaha peered into the 21st Century and saw hampering regulations designed to doom two-strokes. Eschewing the two-stroke, Yamaha has developed a series of engines designed to give increased fuel economy while reducing emissions and meeting current environmental standards that most likely will change in the second decade of this century. Yamaha appears to anticipate a more stringent environment in years to come. Two-strokes may survive as engineers develop clever direct injection technologies, but even those engine builders are exploring other alternatives.
Challenges To Come
Will the new decade bring us along as far as the previous one? We entered the decade with engineering that had served the sport well for the first 50 years, but in this past 10 years snowmobiling has evolved quickly. We ride differently and sled power is not all the same. Will we find electric hybrids powering our sleds as we head into the century's third decade? Will new materials lead to lighter sleds? And will we buy our sleds at dealerships, or order them online?
Our sport changed significantly from 1999 to 2009. What will we say in 2019?