What's Up for Yamaha's 50th Anniversary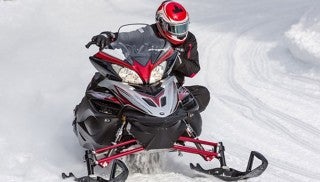 Does Yamaha's all-new YXZ1000R four-wheeler hold clues to a 50th Anniversary sled?
Yamaha recently announced its all-new 2016 YXZ1000R "wheeler" and we were ready to let it pass without comment. It's not a new snowmobile and, probably, not much translates to sleds. But when we thought about what Yamaha had done to get to this point, we started thinking that maybe the YXZ1000R foretells a shift at Yamaha; one that could have significance to us snowmobilers.
When Yamaha entered into its partnership with Arctic Cat, speculation suggested that Yamaha was either buying Arctic Cat or leaving the industry. Yamaha officials knew the rumors would start immediately and tried their best to circumvent them. At the time, Yamaha spokespeople suggested some basic realities of life in the sled lane and how the partnership was meant to help out both partners.
With Cat's assistance, Yamaha would get immediate relief by offering a proven sport performance model to its dealers. Yes, the then-new Yamaha Viper looked like an Arctic Cat with different colors and styling. It was. But it was a sled that placated Yamaha dealers, who got a lighter weight, proven sport package that Yamaha didn't have.
COMPARISON: Read our review of the Understanding Yamaha's SingleShot Suspension
Arctic Cat gained a new four-stroke engine partner, expected to ultimately replace the Suzuki four-strokes that still manage to soldier on into the current model year. The move allowed Arctic Cat to save the millions in development and manufacturing that would have to be spent to develop a four-stroke of their own. You think that's not a big deal? Consider that Polaris, with far greater financial resources than Cat, still hasn't developed a four-stroke specifically for snowmobiling. But, like Cat, Polaris has developed a next generation two-stroke for its mountain and sport performance sleds. Developing a new four-stroke ties up lots of money and engineering. The return on investment needs to be significant. Polaris put its efforts into its Side-by-Side super sport RZR model and, yes, that super sweet 111-cubic-inch Thunder Stroke Indian motorcycle V-Twin.
But back in 2013 when Cat and Yamaha decided to play nice and share Yamaha's 1049cc fuel-injected Triple, Yamaha pointed out that the sharing was a step to the future for its snowmobile group. 2018 marks the 50th anniversary of Yamaha's entry into snowmobiling with the 1968 SL350 and Yamaha hinted strongly that a new "something" would make its 50th anniversary memorable.
Well, we wonder if the recently announced 2016 Yamaha YXZ1000R Side-by-Side serves up a hint of what may be coming to sled-dom? Yamaha states quite boldly that its all-new YXZ1000R is "60 years of performance and innovation brought to life." What happens 50 years after the first SL350 hit snowmobile dealerships?
We can't help but look at the YXZ for hints. There is a new engine, one that measures 998cc in overall displacement, but borrows some snowmobile influences. Or, at least engineering cues that we could imagine fitting into a new 2018 Yamaha high performance snowmobile. The three-cylinder mill is canted a bit like the current Genesis 1049cc with potential for forward-mounted intake and rear, under seat exhaust routing.
COMPARISON: Read our review of the Will a Sidewinder Join Yamaha's Viper Nest?
Show stoppers for us tend to be the new 998cc Triple's match up to a gear box system, which is a key component of the YXZ1000R. Plus the engine is said to have a 10,500 rev peak, too high for existing snowmobile-type CVT drive components. Remember, both the 500cc Phazer Twin and 998cc Apex four-cylinder engine utilize gear reduction systems to get engine revs down to about 8500 rpm to sustain clutch life. Interestingly, though, Yamaha specifically invokes "CVT" in its YXZ press materials, which state: "A beefy hydraulically-actuated clutch system is operated by a foot pedal for light, consistent feel – delivering power up to 20% more efficiently than most automatic CVTs."
Do we expect a new 2018 Yamaha power sled to come with a gearbox? Not likely. Still, Yamaha did market a couple of 1970-era sleds with a hydraulic snowmobile drive system.
What we take away from the unveiling of the YXZ1000R isn't so much what we see fitting nicely into a new 2018 Yamaha snowmobile, but, rather, the reinvigoration of Yamaha engineering to go for it in relation to a specific – and limited – market niche. We see the YXZ as Yamaha flexing some engineering muscle, muscle that we now think may be flexed for snowmobiling. This is a proud company that has built its reputation on can-do knowhow.
The engine may not be totally suited to sleds, but the technologies inherent in the YXZ1000R engine may be key to a new sled engine. The YXZ engine features a double overhead cam 12-valve cylinder head. The 11.3:1 compression ratio and 10,500 rpm redline indicates Yamaha engine designers expect performance to rule. Again, remember this company builds some of the world's top racing motorcycles, from which technology like YCCT eventually dribbles down to us lowly sled buyers.
COMPARISON: Read our review of the The Power of Yamaha
The YXZ suggests that Yamaha may have been telling the truth, the whole truth, about its intentions for its 50th anniversary edition snowmobile. Looking for hints of that promise as we near the 50th anniversary season, we see an all-new SingleShot rear suspension, a commitment to Yamaha's Performance Dampers, advanced YCCT electronic fuel injection, the use of proprietary Yamaha technology to create its Deltabox housings and now creation of a new-from-scratch Side-by-Side expected to knock the competition off their game.
Yamaha may be getting very, very serious about its role in 21st century powersports. The doldrums may be over and Yamaha could shake up the status quo in modern day snowmobiling. We don't expect a 50th anniversary Yamaha snowmobile to share much, if anything, with the YXZ, but we do suggest that the mere fact that Yamaha built the YXZ1000R could be a prelude to the thinking and engineering we may be seeing Yamaha put into future snowmobiles. Could there be lightweight dirt bike-inspired snow bikes? Higher performance lake racers? Higher marking mountain sleds? Model year 2018 may be quite interesting from a Yamaha point of view. Let's hope so.