Understanding Yamaha's SingleShot Suspension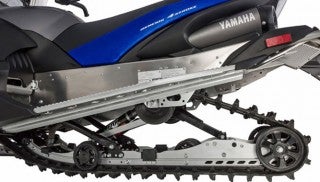 Making simple simpler
Suspension systems in snowmobiles used to be oh, so simple. As vintage sled riders know, there are few things as simple as a bogie wheel suspension. On the early Ski-Doo bogie suspensions you just hoped that the wheels didn't flip around, but if they did you knew it almost right away. Massey-Ferguson's Ski-Whiz used a strap to keep its bogies wheels from flipping over. Rupp innovated and evolved its bogie suspension by placing all of its bogies in a trailing linkage behind the supporting cross shafts.
With this innovation permeating the late 1960s and well into the 1970s, some manufacturers followed different lines of thought. Credit Arctic Cat with effectively leading snowmobilers out of the bogie zone and into the more enlightened and comfortable slide rail era, which continues in various forms today. Ironically, where Arctic Cat was recognized as forward-thinking in the 1960s with its innovative sled designs, modern snowmobilers look to Ski-Doo's rMotion and tMotion rear suspensions and Polaris' outside the skid frame AXYS as advanced designs compared to the simpler, but highly effective Slide-Action suspension used in many Cat models. The simple fact that Yamaha Vipers are manufactured by Cat and share many components means that its suspensions earn the same lack of respect as Arctic Cat, despite Yamaha using its own nomenclature for essentially the same designs.
When you look at the suspensions supporting the 2016 snowmobiles, you see a bit of sharing – stealing? – of ideas. When Arctic Cat revealed its tall spindle front suspension design, it was unique, and remains so. But, check out how the other companies have reworked their front ends to bring in similar action to the Cat. None are as dramatically visual as the Arctic Race Suspension, but their competitive engineering has slyly worked ARS benefits into their products.
The one snowmobile company that seems to get overlooked in today's modern marketplace of good ideas is Yamaha, which is absolutely amazing to us. Yamaha offers incredible innovation. Have you ridden an Apex lately? Oops, probably not as more Cat-built Vipers get sold annually than top line Apex models, even if they lead the technology parade with the world's only four-cylinder motor. Yamaha has the only sleds with electric power steering, a unique rear-exiting exhaust, the EXUP power-boosting exhaust design, an innovative performance damper, and a die cast delta box frame. But what has Yamaha done in the realm of suspensions?
Considering that for much of the past few seasons Yamaha has worked to establish and grow its partnership with Arctic Cat, not much outwardly! When you look at what Yamaha offers for model year 2016, you understand that Yamaha has been the proverbial duck on the pond. While everything seemed smooth and casual, the duck's feet have been paddling like crazy. The Cat hook-up might be just a quick and distracting feint as Yamaha quietly revamps its core Yamaha-built models.
The Viper line certainly offers Yamaha a trail sport persona that it lost with the underperforming Nytro. Those Apex and Vector models retain a loyal following, but that niche needs a boost. We suspect that Yamaha may be using its Viper project to re-invent its core products.
Consider what 2016 offers in Yamaha products. Yes, there is a boost in the Viper presence that maximizes both on, off and deep powder capabilities for Cat riders who want that Yamaha logo and reputation for service and support on and for their sleds. But look beyond the Viper. Yamaha's utility model, the 2016 VK Professional II, is quite a sled. With heavy design influence by Yamaha Russia, this sled sets a tone for Yamaha's utility and, perhaps, serious touring sleds. Check out the serious upgrade to the mid-performance 1049cc Genesis three-cylinder four-stroke. While the version used in the VK Professional II is tuned for torque, this engine gained Yamaha Chip Controlled Throttle technology and appears in virtually all of Yamaha's Vector and Venture models for 2016. With that investment made, we doubt that Yamaha will kill off this engine anytime soon. Just the opposite, we envision this engine powering a new or, at least, a revamped line of Yamaha-built future models.
We base our guesswork on more than Yamaha's engine upgrade. We figure that Yamaha's suspension investment signifies a future direction as well. This is the first new suspension effort in a number of years. Model year 2016 welcomes a replacement for the Mono Shock suspension. Named SingleShot, it is new but could be considered an evolution of the previous monoshock design as it also features a singular shock to control ride travel.
Inside Yamaha's Throttle by Wire YCCT
Yamaha calls its SingleShot a drop-link design, which contrasts to the Mono Shock that placed the shock mounting on the upper portion of the suspension's front arm. The SingleShot triangulates the shock from the rear arm forward to the lower portion of the front shock arm. Fox shocks are common to both suspensions, with the top line versions offering extra volume shocks to allow greater tuning flexibility. You'll find that the single shock of the SingleShot 129 suspension handles11.8 inches of travel versus the 12.4 inches controlled by the previous Mono Shock II.
Key differences from last year include a return to a pull-through track tensioner, which immediately will be more user-friendly for solving any track stretching issues during the season. Where the Mono Shock offered tuning via control rods, the SingleShot simplifies things by doing away with them entirely.
We never felt that Yamaha's suspensions were all that tricked out and hard to tune. This, after all, was a suspension that once featured a remote adjustment dial on the side of the tunnel. There was even an electric Ohlins suspension that could be adjusted on the fly. Gone. Gone. And gone.
Also gone is about 10 pounds. That appears to be a direct result of simplified front and rear suspension arms and the disappearance of the control rods, which have been replaced by control blocks set inside the rail to provide the stability and control of the old control rods. Unlike the adjustable blocks in some competitors' suspensions, the SingleShot blocks are not adjustable. While we suspect that clever aftermarket suspension tuners will create a tunable block before next season, Yamaha plans to stay the course for now.
One reason for the change to the SingleShot design was to accommodate longer length tracks. Yamaha claims that the old suspension limited them to a maximum of 136 inches. The SingleShot already extends that to 146 inches, plus the standard 129-inch length.
To achieve more or less weight transfer, you'll need to make adjustments at the front limiter strap. This requires getting out and under and pulling in or letting out strap length. This would be an excellent place for something like Ski-Doo's tMotion Adjustable Limiter Strap that utilizes a spring-loaded cam, allowing you to quickly shorten or lengthen the strap.
Fitted with Fox Float shocks, the SingleShot suspension should be initially set up by your Yamaha dealer. Once you take delivery, you can fine-tune the ride and characteristics you want. On the SingleShot suspension sag of 20-25 mm will be about half of that designed into the older Mono Shock. When making pressure changes to the Float shock, keep in mind that adding 10 pounds per square inch of pressure is considered a large adjustment. Yamaha claims that 5 psi is a small adjustment and that adjusting air pressure up and down in those increments can noticeably increase or decrease ski pressure. Yamaha recommends a maximum air pressure of 300 psi for a 300-pound rider and 250 psi for a 200-pound rider, including gear.
With the advent of the SingleShot rear suspension, we anticipate seeing a revamped model line that more neatly incorporates and embraces Yamaha's trail technologies, such as the power steering, exhaust designs, multiple modes of performance from the mid-performance Genesis 1049cc triple, performance damping and next generation upgrades. We're guessing that the changes we've seen this season are merely a precursor to new sleds.
We note that the age of the bogies died to be replaced by slide rails; now we are seeing complex slide rail designs, at least in Yamaha's case, going from complexities to more rider-friendly and basic tuning. It seems to be in Yamaha's nature to let the rider enjoy the ride and not be flummoxed with too many distractions. The SingleShot suspension certainly seems to fit in with that thought.