World Snowmobile Headquarters Continues Expansion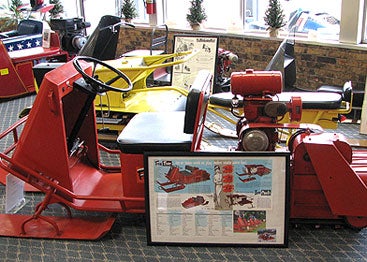 WSHQ to showcase seven snowmobile groups
The World Snowmobile Headquarters recently announced the beginning of its Phase II Expansion that will open up another 1,250 square feet of display space. First opened January, 2007 in Eagle River, Wis., the WSHQ will have a total of 6,250 square feet of displays to showcase seven different snowmobile organizations and groups.
"We have seen attendance increases each month over our 18 months of operation and are happy to be able to open up another section for snowmobilers to visit," says Tom Anderson, WSHQ president.
Located just 200 feet north of the famed Eagle River Derby Track, the WSHQ facility sits alongside a major highway and close to a major snowmobile trail.
Explains Anderson, "Our original concept was to provide more exposure for the International Snowmobile Hall of Fame, but we soon learned many other snowmobile organizations would benefit from having a physical presence to showcase their agendas and programs.
"Soon we had seven groups interested in being part of the World Snowmobile Headquarters. They are: International Snowmobile Hall of Fame, International Groomer of the Year, Antique and Vintage Snowmobile Museum, Derby Walls of Fame, Women on Snow, Iron Dog Brigade, Thirsty Dogs and Kitty Cat Racers. We finished off the project with a snowmobile oriented gift shop and video room.
"The concept of having several groups under one roof gives snowmobilers more to see and learn about our sport's beginnings as they wander about our multi-faceted facility," Anderson says.
According to Anderson, many visitors remark about how this or that particular sled was what they grew up on, or that it was their first ride and they wished they had kept it. Or, some see themselves in one or more of the over 200 Derby action photos of the past 45 years of World Championship racing.
Lining the walls of the facility and keeping watch over all the antique and vintage sleds are photos of the 64 past inductees into the International Snowmobile Hall of Fame. Founded by Elmer Cone in 1984, the Hall was located in Bovey, Minn.
Before the facility opened, the Antique Snowmobile Club of America brought in more than 20 old sleds; Vintage Snowmobile Club members brought in another 20. Currently the WSHQ now has over 65 sleds on display with a dozen more stored in an adjacent garage.
The facility's Derby Walls of Fame showcase Derby action photos and program books that had been stored in a shed at the Derby Track. Some of the items date back to the first Derby.
The Iron Dog Brigade and Women on Snow displays soon followed with the Thirsty Dogs also joining the mix.
The WSHQ lobby features a special snowmobile-oriented gift shop with a large selection of snowmobile books and magazines.
The WSHQ, which currently operates on visitor donations and profits from the gift shop, is a non-profit corporation.
"Currently we are occupying 6,250 square feet of space with another 1,250 square feet currently under development that will house more Derby history," says Anderson. "Another 1,250 square feet is available for Phase III development in the future. This may happen as early as next year with some innovative ideas for its displays and a reference library area."
To date the WSHQ has registered its best visitor counts during the Derby and Vintage weeks. More than 260 snowmobilers came to the facility during each of those weeks.
"Having seven different snowmobile organizations under one roof creates a super attraction for sledders to visit," explained Anderson. "There will be room for more snowmobile groups should they wish to be included."
The WSHQ is open Monday through Saturday from 10 am till 4 pm. The facility is closed from Oct. 15 until the snowmobile trails open on Dec. 10.
For more information, contact: World Snowmobile Headquarters 1521 N. Railroad St. Eagle River, WI 54521 715-479-2186 http://www.worldsnowmobilehq.com/