Yamaha's Ulterior Motives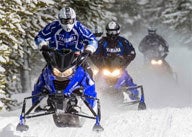 Is Yamaha's relationship with Arctic Cat a tactical move to protect its dealer network?
Is Yamaha staying in the snowmobile business? It's even one of the first questions mouthed by veteran Yamaha snowmobile dealers. Is Yamaha staying in the snowmobile business? Or, is Yamaha buying Arctic Cat?
As best we can tell, the answers are: Yes and No. Yes, Yamaha is staying the snowmobile business. No, there doesn't appear to be any interest in a merger or acquisition at this point.
Since Yamaha flew a huge contingent of Japanese executives into Minneapolis, Minn. for its biggest snowmobile dealer launch in more than a decade, we tend to believe the assorted managers who kept telling the assembled dealers that this was part of a long-term business plan to stay viable in snowmobiling. All the representatives from the Yamaha Mother Ship in attendance went way out of their way to assure dealers that this was all a good thing for both them and the company.
Despite 40 years of having been lied to by various parent company executives of many now defunct snowmobile brands, we tend to believe the Yamaha representatives from Japan. Over the years we have witnessed some pretty slick customers selling snake oil and insisting that they were in the sled biz for years to come, only to have already pulled the plug as they were speaking to their dealers. The difference here is that none of them were Japanese and none were Yamaha. If Yamaha were getting out of the snowmobile business the executives would be forthright. They wouldn't bother spending hundreds of thousands of dollars on a major dealer event and then immediately following that up with thousands of new product "demo" rides across the snowbelt.
There is a little thing referred to by us "gajin" (outsiders) as "face." We view it as a complex, but essential part of how we outsiders view the Japanese business culture. To insiders "face" is honor, both personal and representative of a corporation. Maybe the Donald Trumps don't get it, but Japanese business people do. It's old school. It's giving your word as bond, perhaps a foreign concept in today's business world, but very real in this instance. Yamaha's top executives came from Japan to give their word that their company was behind its network of snowmobile dealers and that the commitment to snowmobiling would be highlighted by the company's 50th anniversary as a snowmobile manufacturer.
When representatives of Armco Steel's recreational products group told its Chaparral snowmobile dealers in the 1970s that it had new products and a long-term vision for them, they were lying. Chaparral sleds died.
When Arctic Enterprises' "savior" bought up enough stock to take over the company and profess a bright future for the troubled company's snowmobile dealers, he was lying. He wanted the side of Arctic Enterprises that had successfully expanded into boat manufacturing and never intended to expand the sled side of Arctic Cat and Scorpion brand snowmobiles.
Why did we believe the Yamaha spokesmen, Japanese or gajin? First, because of that "face" thing. And, secondly, because tactically it makes great sense.
If Yamaha doesn't offer its northern tier dealers a snowmobile to sell, how will they maintain profitability? Keep this question in mind, because we will come back to it. Without a sled to sell, Yamaha dealers will seek another product to help keep their doors open in the long cold winter months. If a sled vacuum opens up, what will enterprising sales reps from Arctic Cat, Ski-Doo and Polaris do? They'll approach the Yamaha dealers with their brand of sleds. If it were merely sleds, maybe Yamaha wouldn't get too excited. But those three companies also sell other recreational products that are direct competition to Yamaha ATVs, side-by-sides, motorcycles, and personal watercraft. So, as you can see, not offering its dealers a Yamaha-branded snowmobile to sell leaves Yamaha dealers open for significant non-Yamaha business.
Of course, merely having a snowmobile series to sell is one thing, but since Yamaha snowmobiles languish in a very lowly #4 position in the market, having a slow-moving product is only slightly better than not having any. Ironically, Yamaha brand sleds are exceptionally reliable, durable and actually innovative. Apparently not overly exciting and not innovative enough where it matters to today's consumers. They look at electric power steering and, instead of seeing it as unique and exciting, they see it as an answer to the heavy steering and weight-compromised reality of the top line models. EXUP, the exhaust technology that works great in the Apex four-cylinder, would have a bigger impact in a lighter weight, premium-handling chassis. So, as far as Yamaha dealers are concerned, they have a good product to sell, but too few snowmobilers interested in buying a $15,000 Apex SE.
In this game of business tactics, Yamaha wants to keep its dealers as pure as it can and not invite competition to steal sales from other more profitable product lines. As we've mentioned in the past, with an annual revenue base of $16-plus billion, Yamaha is far and away the biggest player in the sled biz compared to the likes of Arctic Cat, Polaris and Ski-Doo. As you can see, snowmobiles can't be what it's all about with the Arctic Cat deal. Taken as a tactical move to keep dealers in the Yamaha family fold, it makes more sense.
Obviously, there is the issue of selling additional motors to Arctic Cat. Those snowmobile-only engines don't have to be purposed solely for Yamaha platforms any longer. Since Arctic Cat is responsible for the intake and exhaust on the 1049cc triple, that's another expense Yamaha doesn't worry about.
Now let's consider that Yamaha can save money by manufacturing its sleds in the USA, because all of the new for 2014 Yamaha Viper models will be turned out of Cat's Thief River Falls facility. What does that do to the US Dollar to Japanese Yen exchange? How about shipping costs and product turn around? International finances play a role in the thinking.
While this may all seem new to Yamaha snowmobile enthusiasts, Yamaha ATV buyers know that their products are built in a facility 30 minutes south of Atlanta that also manufactures Yamaha golf carts, side-by-sides and personal watercraft. So, building its snow vehicle under contract with Arctic Cat would appear to be Yamaha seeing a fit for a business that is currently small, but could grow by utilizing some Made In America cooperation.
Yamaha dealers sit on the front lines of the sled business and know that doing things the way they've always been done up to now isn't working all that well. One Yamaha dealer told us that he sees this move as a "good thing." Of course, he's a combination Yamaha and Arctic Cat dealer. But he also lamented that virtually all snowmobile dealers that he knows make very little per unit profit on snowmobiles overall. He likes the fact that Yamaha has decided to think differently and has noticed an uptick in interest once the word got out.
In the coming seasons, we expect to see a total remake of the Yamaha snowmobile product line. Yamaha's Japanese executives publicly stated to expect a new sled per season up to the 2018 50th anniversary year. Beyond that?
Related Reading The Yamaha and Arctic Cat Collaboration Yamaha To Supply 4-Stroke Snowmobile Engines to Arctic Cat 2014 Yamaha Snowmobile Lineup Unveiled